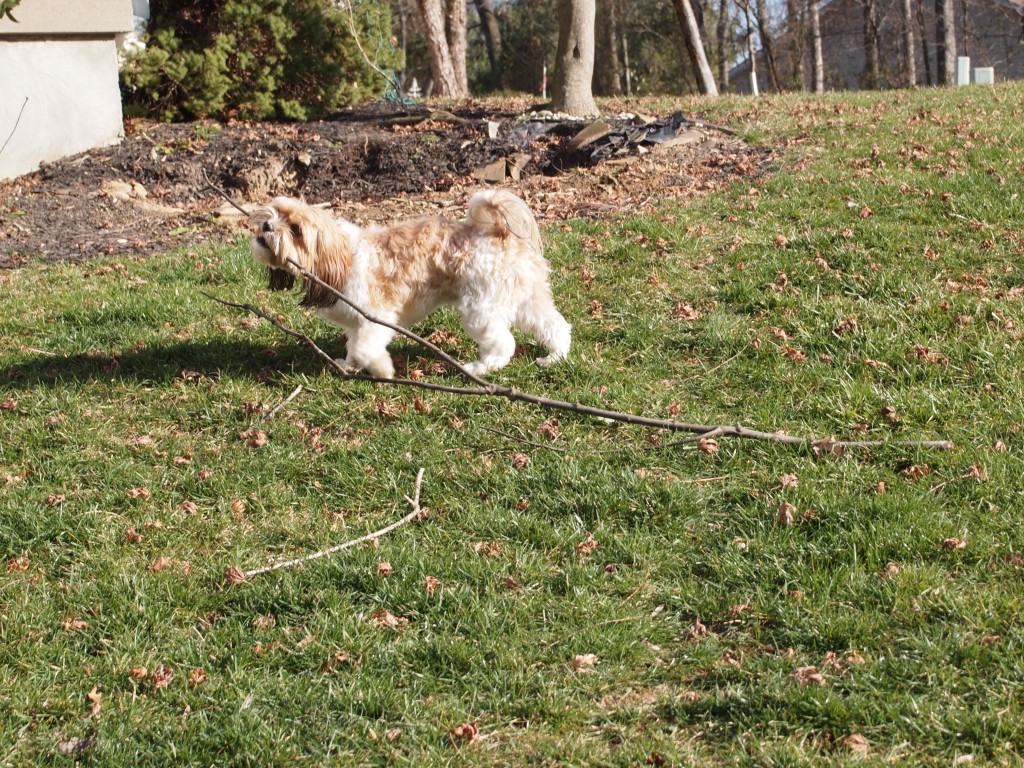 I was tossing sticks for my dog to fetch when I realized I want to be like him.  Not furry and not 4 legged, but his attitude. I tossed branches after a wind storm, he chased and chewed.
I tossed sticks that were so much larger than he could drag back.  Not a problem for him, he just found a smaller part and started chewing away.  He really likes to chew, hence his name, Chewie.  After a while the huge sticks became medium sized sticks, like the one in the photo.  That one he could drag to his favorite place in the yard.  I don't think he has an inner critic.  If he did, he would act very differently.
When I tossed the huge tree branch if he had an inner critic saying, "That is too big for you to get.  You can't do that, " he never would have chased it and never broken it down to more manageable sticks.
When I throw 2 sticks at once if he had an inner critic saying, "Be sure to pick the perfect one, you don't want to make a mistake," he would just look at both sticks and never pick any up.
When I throw a stick and he can't find it if he had an inner critic saying, "See, you can't do it.  You blew it. You took your eyes off the stick and now it is gone forever," he would not want to play next time.
What if I saw a project or idea as just a big branch and started on any accessible part?  What if I made a mistake and moved on?  What if I was just present in the moment?  Sometimes, I just need to chew on the damn stick.