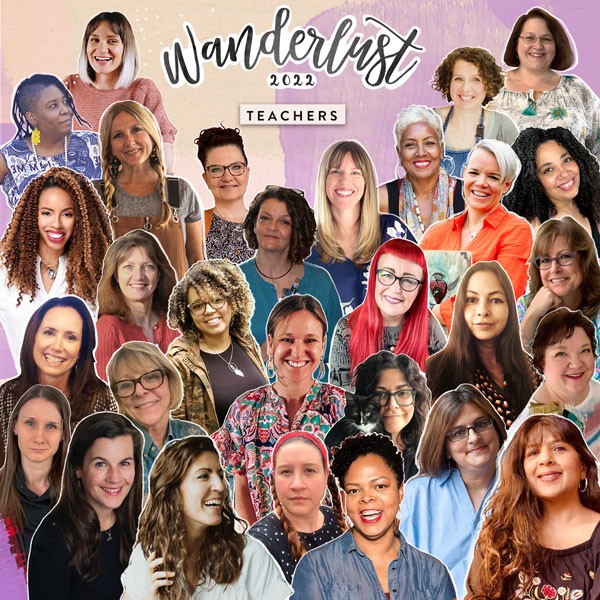 I'm honored to be a guest host for Wanderlust 2022! What's Wanderlust 2022? It's a full year of mixed media art journaling. How does it work? You get a new video each week so 50+ videos, there are 28 teachers, downloadable videos, printable handouts, 18 bonuses for right now, but more importantly, a full year of inspiration and a whole lot of fun!
Before I tell you all about what's so exciting about this year, I need to tell you about the early bird price because it sold out in less than a day last year! It's $99 +tax where applicable for the first 2,000 students, after that it's $125 +tax just until Sept. 26th where applicable so if you're reading this, and thinking about joining, click here to see if the early bird price is still available!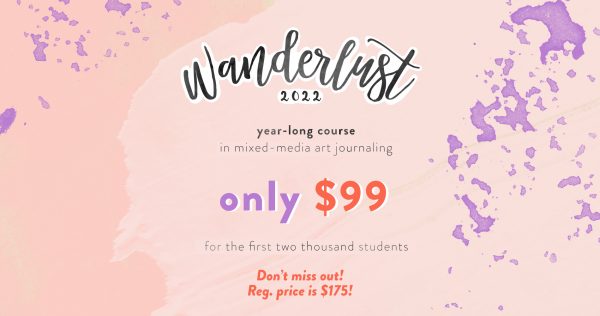 This is going to be the best year yet of Wanderlust! Granted, I am biased, being a guest host with 5 lessons spread throughout the year but also because of the new structure to the year – Star Supplies and Hero Techniques.
The Star Supplies:
Gesso and gel medium
Modeling paste and image transfer
Artist acrylics
Craft acrylics
Watercolors
Inks
Papers and fabrics
Hero Techniques
Each lesson will be built around one Hero Technique. Each teacher chose a Hero Technique for their lesson to provide a focus and a structure to the course. This also ensures that the techniques won't repeat and that your experience is balanced and more varied than ever.
There's so much to Wanderlust that I haven't even mentioned here yet so check it all out at the button below! With 26 guest teachers, you're getting an amazing assortment of styles and techniques! But most of all, you're getting a full year of creativity and fun!
Registration is only open until the end of December and then the course begins in January, 2022!
What's Included in Wanderlust 2022:
52+ video lessons released weekly, on Fridays starting from the 7th of January 2022.
26 Guest Teachers (each teaching at least one lesson) + 3 hosts – Kasia Avery (12 videos), Carolyn Dube (5 videos), Laly Mille (5 videos)
incredibly easy to use platform and help whenever you need it from our tech man Jamie.
printable handouts & supply lists with every lesson
life-time access
weekly encouraging emails
all materials are downloadable, including the videos
18 bonuses already waiting for you in the classroom
introductory pack already waiting for you in the classroom (including beginners guide to art journaling)