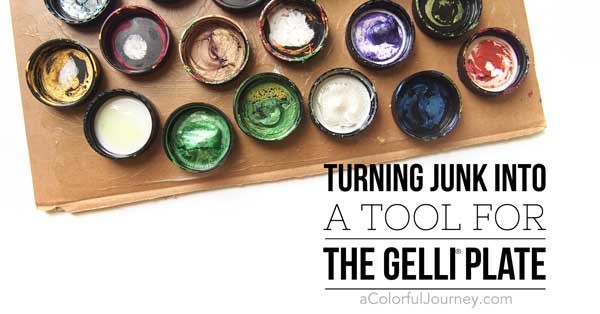 This is a technological marvel that involved intense engineering to create a pattern making tool for the Gelli Plate®.  Okay…no engineering…just gluing.  It might not be fancy technology but it is just as much fun when it comes time to make a pattern! I repurposed old paint lids and cardboard then let myself build up layers on my papers.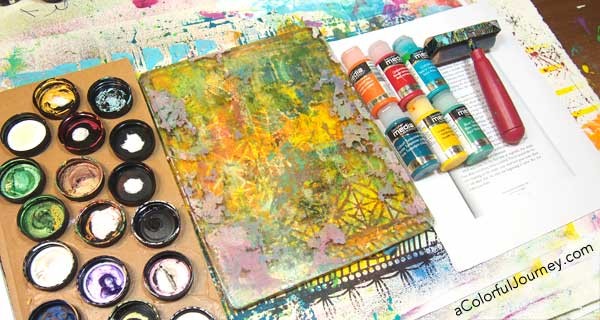 What color did I want?  I couldn't decide so I grabbed the rainbow.  Turns out I didn't use it all…but it's nice to have the option.
In the video, I share how I built the very advanced tool and how the layers of color build up.  The tongue was tied as I talked, but that was just an Oops, an opportunity for you to see how my mind and mouth communicate some days…which isn't very well!
Watch Turning Junk in a Tool for Gelli Printing® on YouTube.
If you're new to the Gelli Plate®, I have a getting started page with all sorts of information for you here.
Here's all I needed to upcycle and repurpose the old paint lids destined for the trash…cardboard, glue of some kind, and a way to spread the glue.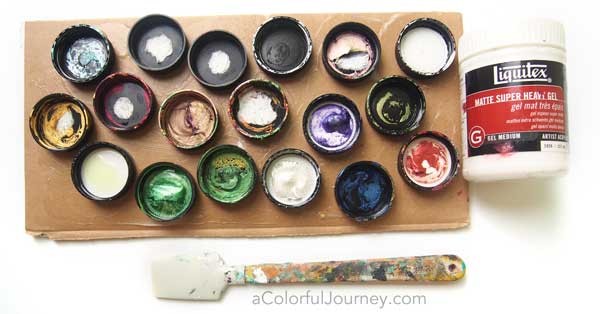 Here are the supplies I used. Some of these links are affiliate links which means I get a small percentage. It doesn't cost you anything extra and you are helping me keep this blog and my videos ad free! Thank you- I don't like ads any more than you do!
Here are the papers you saw me create by building up layers in the video. These will make great papers for collaging!  Or maybe I will rubber stamp on them! Or maybe I will use them for an art journal background!