Who knew when I started playing I would end up in Outer Mongolia!  I've been secretly working on a new free workshop, A Colorful Workshop: Use Your Words and the "stuff" from that is all over my counters.  So are Gelli Plate
papers from the February Gelli party.  Okay, confession time, there is stuff all over the counters from the last Gelli party too!  I am not a big fan of cleaning and it worked to my advantage today!
For the Artsy Fartsy challenge with Maria McGuire I had to use 3 things: letters, PanPastels, and sewing.  I searched on my counters for inspiration and sure enough- I found it in the piles on my counters…Be sure to stop and see what she made!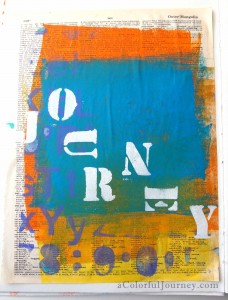 I grabbed a dictionary page that I had cleaned my brayer on while plating and had used it with purple letters on the Gelli Plate
too.  This dictionary page had also been a test page for the white journey stencil (from that free workshop I mentioned above).
In my excitement I glued it into the journal.  Before the stitching.  Oops.  New plan.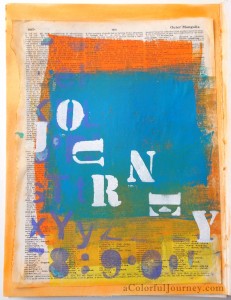 Pan Pastels
around the edges.  Love how much control I have when coloring with them!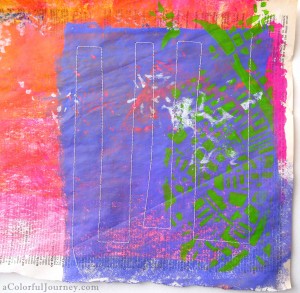 I will build an embellishment with stitching on it!  To get some stitching in here I grabbed a Gelli print and stitched lines on it.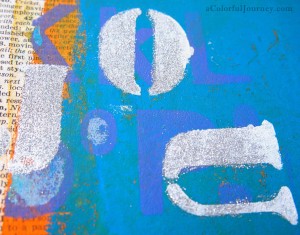 The white letters were too plain for me so I added silver glitter rub-on.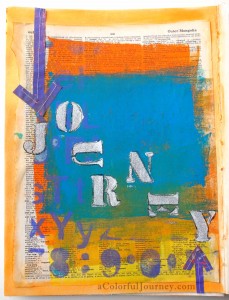 I cut strips of the purple paper into arrows and outlined JOURNEY with a Stabilo pencil
– that thing will write over anything it seems- even glitter!
It was at this point that I noticed the Outer Mongolia at the top of the page…how fitting!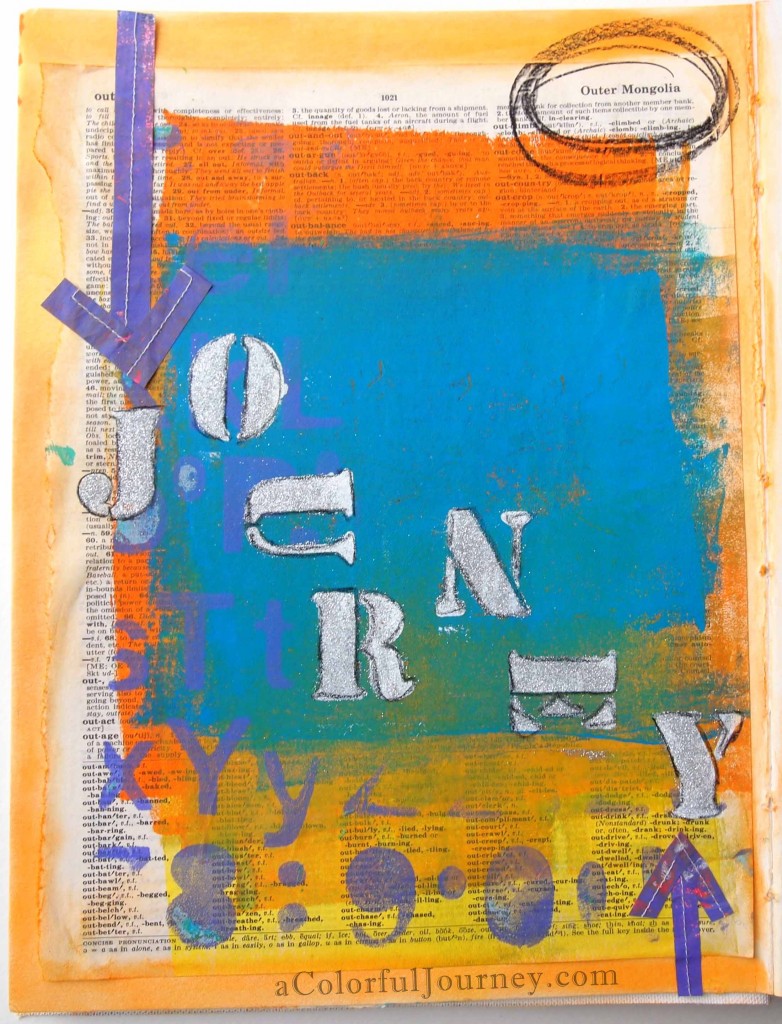 February just started and there are already loads of great Gelli prints happening over at A Colorful Gelli Print Party for February!  Stop on over and check it out!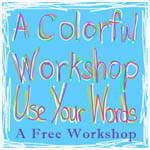 I'll post more details later this week here on the blog about the free workshop but if you want to get a peek at the new workshop, pop over here.
Linking up with Paint Party Friday, Art Journal Every Day, Mandarin Orange Monday, Make It Monday, Inspire Me Monday, and Creative Every Day.