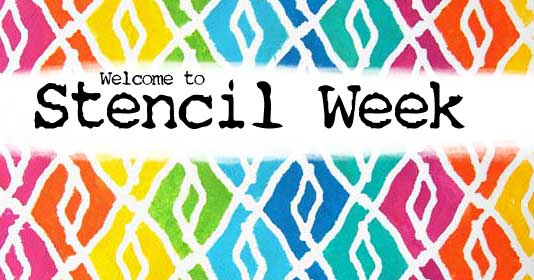 Welcome to Stencil Week! I've got 8 new stencils out at StencilGirl and I want to celebrate!  How do I celebrate?  With a new video Monday – Friday this week and a stencil giveaway everyday!  5 new videos and 5 giveaways!  Be sure to stop back every day to get yourself entered to win!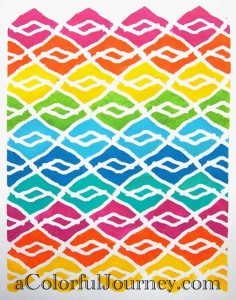 I'm kicking off the week with  Diamond Waves and a rainbow of colors!  In the video, I also show how easy it was to keep the colors from mixing together. Masking things off has to be quick and easy for me since I am patience impaired.
It's obvious I am patience impaired for those of you here on Sunday night since I was just too excited to wait until Monday morning to make this go live!
Want to see all the new designs right now? Pop on over to StencilGirl to check them all out.
I've had lots of people ask about the j hooks I add to my stencils for storage.  There are 2 places I get them:  at Uline and J Hooks from Amazon
 (the ones at Amazon go in and out of availability).
You can watch  Stencil with a quick mask on YouTube here.
The giveaway is now closed.
Want to win this stencil?  I am giving away one of these stencils to a randomly selected winner!  To be entered all you need to do is leave a comment telling me your favorite color of the rainbow.
Want another chance to win?  Just share it (Facebook, Google Plus, Pinterest, Twitter, etc.) and come back and leave another comment tell me where you shared it!
I'll be announcing all the randomly selected winners from Stencil Week next Friday, Jan. 31st. right here.  Be sure to be entered before random.org  picks the winners for your chance to win!  And yes, international folks are eligible too!