What happens when I see incredible wrought iron while in Savannah, Georgia? I get the urge to grab a gel plate and make prints right there! The curves in the ironwork, the details mounted on those windows, it all just screamed gel print with me!
But there are some impracticalities with this. First, I don't own the historic houses, so it would be illegal. Two, it's impractical. Storing wrought iron or getting up to the second floor to do it is fraught with challenges.
There is a much more practical way to get wrought iron patterns onto a gel plate -with stencils! That's what led to my my latest collection, Wrought Iron, at StencilGirl Products.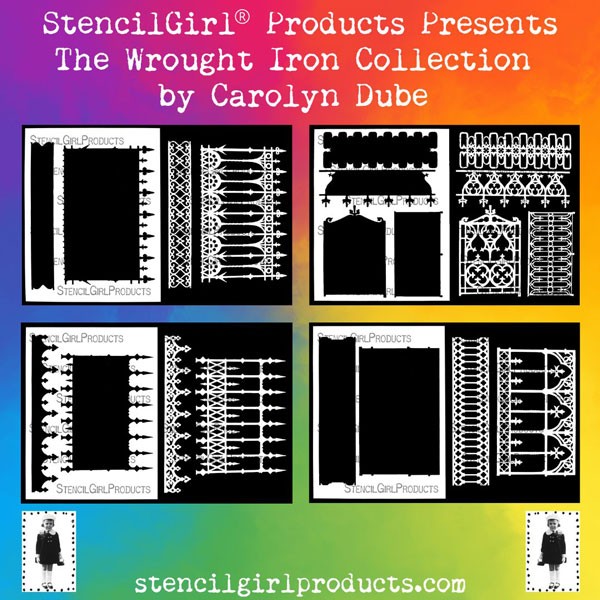 These stencils were inspired by gel printing, but like all stencils, they can be used with any art supply or medium. As you'll see in the examples below, I'm partial to using bits and pieces to combine them to create new looks, but before you scroll down to those prints, here's a gel print where I used the entire image.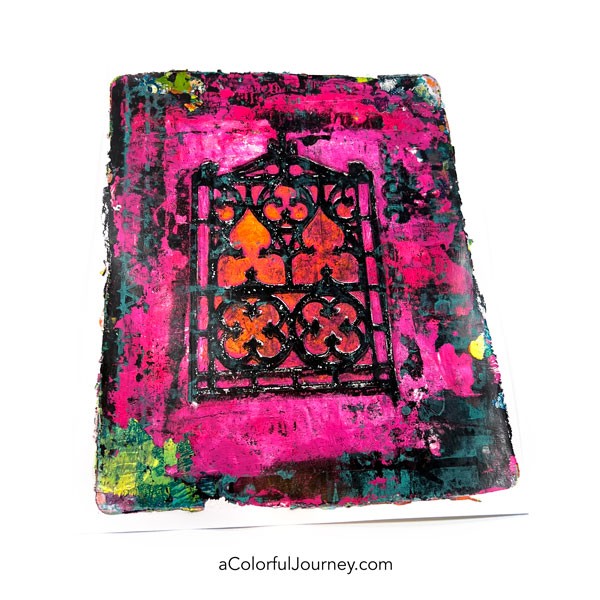 The mystery surrounding the incredible wrought iron work of Savannah drew me in. According to the tour guide, wrought iron is a lost art because our modern day skills and technology cannot duplicate the quality and craftsmanship of the 1700 and 1800s. For this reason, these stencils symbolize the mysterious parts of the creative process.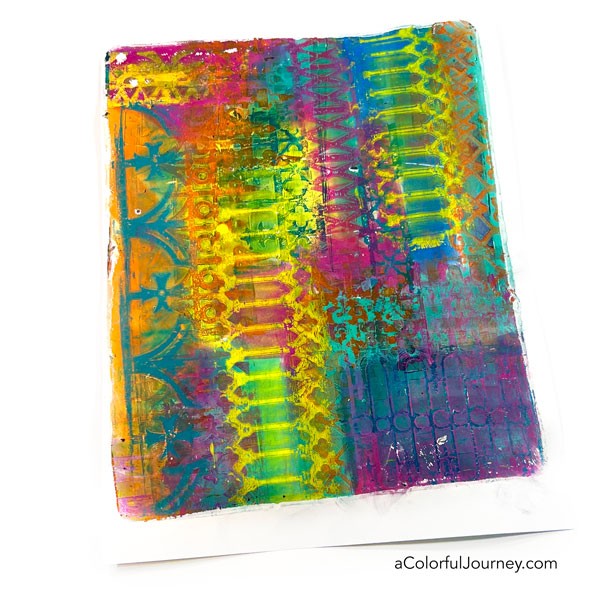 There's also a touch of mystery when you're using pieces and parts of the Wrought Iron stencils. Building up the layers makes it nearly impossible to tell the exact order of how the layers were built.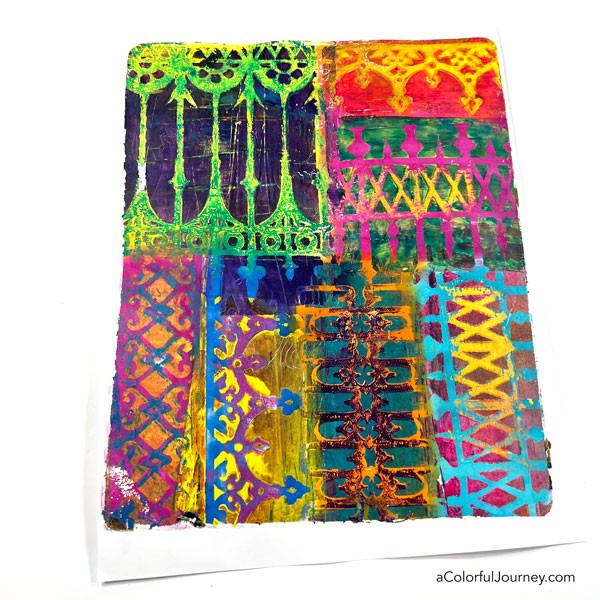 Are these stencils or are they masks? Does it have to do with the positive and negative space? Is a mask the reverse of the stencil? Are all masks stencils but not all stencils are masks?
For a stencil like Wrought Iron, it isn't a clear and simple answer. Rather than get into a lengthy discussion, just know that's why I will interchangeably use both mask and stencil to describe these.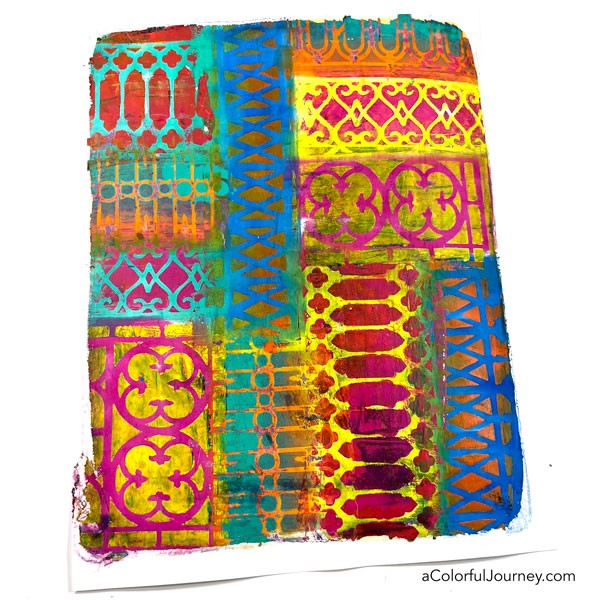 The black and white collage style print that I made in the video (at the top of this blog post) shows you how to grab pieces and parts. You have a myriad of ways to combine the various elements in the Wrought Iron stencils to create papers, prints, and patterns that are uniquely yours.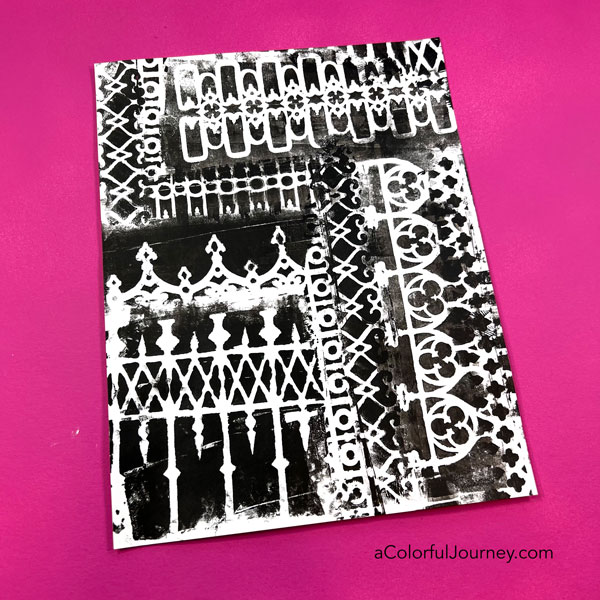 Whatever papers or surfaces you've got around, give it a try with Wrought Iron! I was surprised how smitten I was with the vintage look of black paint on book text. After all, I am usually a rainbow kind of gal.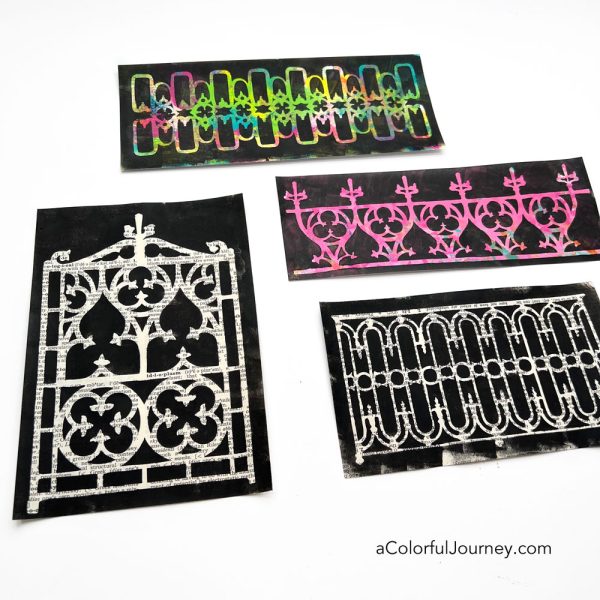 You don't have to use a gel plate to layer these stencils. This start to an art journal page was done with acrylic paint and cosmetic sponges. Any way you like to stencil, you can stencil with these.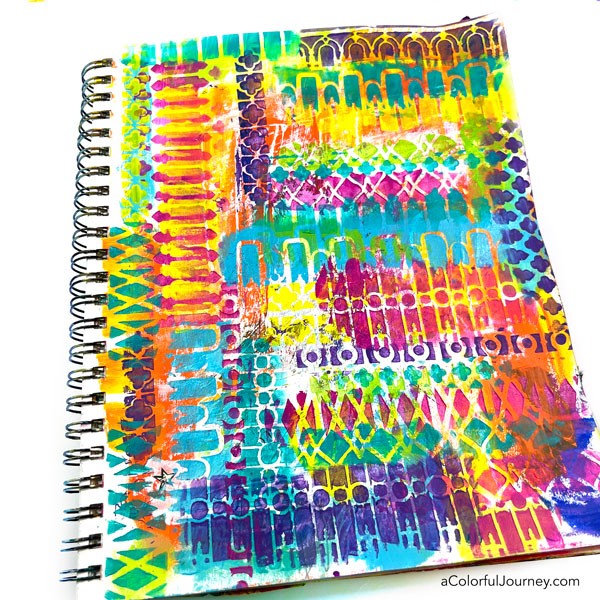 By changing up your colors, you get different looks. On the earlier gel prints, I used the entire rainbow. But here I used just a few colors.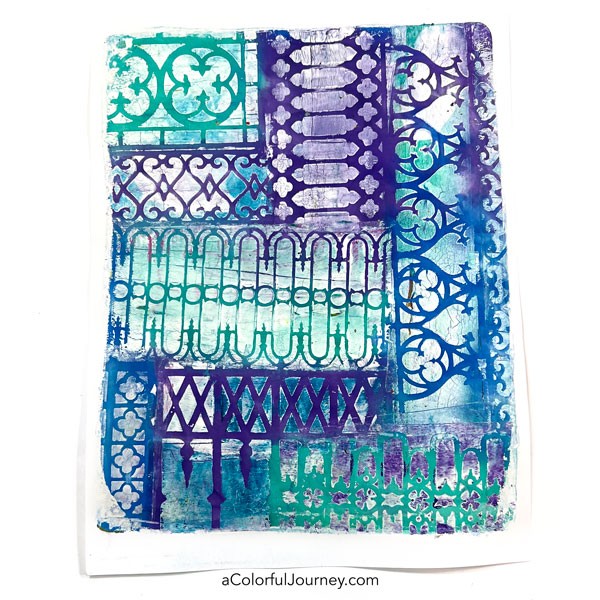 Along with colors, you can vary the number of stencils used. In the yellow print, I primarily used just two of the Wrought Iron stencils. There are an infinite number of possible ways you can combine these patterns! True, I haven't counted to infinity, but for all practical purposes, there's no limit!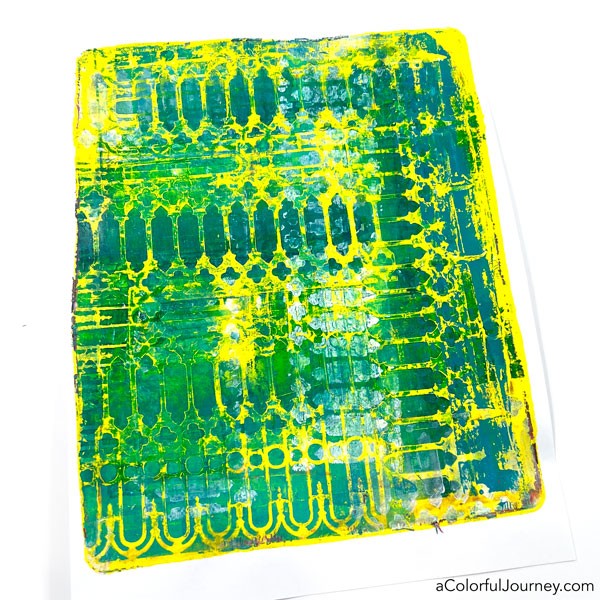 Is this everything you can do with the Wrought Iron collection? Absolutely not! The sky is the limit and I've got so many more ideas and tutorials in the pipeline for you with these stencils, so be sure to get signed up for my weekly newsletter to be in the know! Not only will you get a new free download each week, but you'll also get creative encouragement and inspiration too!
Supplies
Here are the supplies used for the prints in the video. Some of these links may be affiliate links which means I get a small percentage and it doesn't cost you anything extra! And you get a really good feeling knowing that you are helping keep the free tutorials coming!