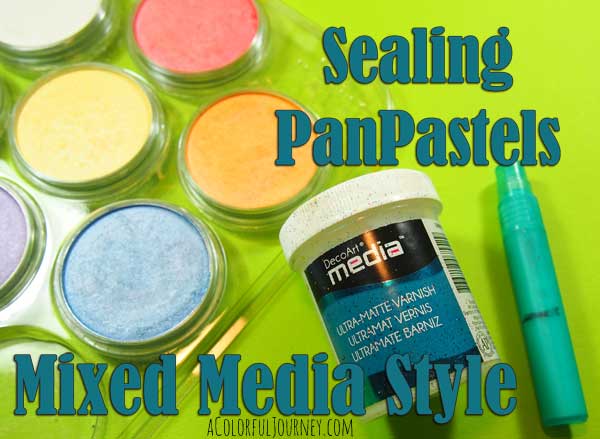 I adore PanPastels and what they do.  Since they are a pastel they need to be fixed or sealed in order to stay put, especially when I add layers on top of them.  When I say I add layers on top what I mean is I like to flood it with spray inks, brush paint around on top, and I am not very gentle about it.
How did I figure this out?  Hope you are sitting down because it will shock you.  I read the directions on the jar.
Using DecoArt Media Ultra-Matte Varnish  to seal PanPastels.
Mix half water with half Ultra Matte Varnish in a small spray bottle.
Shake well.  Really well.
Spray a light mist and let dry.
Spray a 2nd coat and let dry.
Test to see if the PanPastels smudge any and if they do, spray again.
I use a very small spray bottle so I can use up what I mix within the day and rinse out the bottle so that it doesn't clog up the sprayer.
In the video, I show how I use PanPastels with stencils and after showing you how I sealed them add some messy layers on top.  And nothing smears!
Watch Sealing PanPastels Mixed Media Style on YouTube.
You can find my other PanPastel videos on YouTube here.
 Supplies Used
Thanks DecoArts for introducing me to Ultra-Matte Varnish!