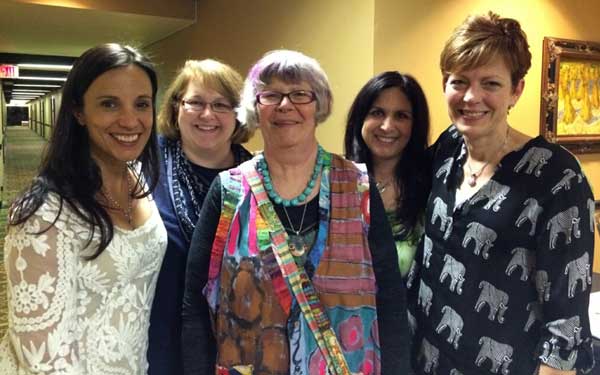 How many people does it take to make an apron?  Well, in my case…a roomful!   
We all wanted to play together while at Art Is You in Memphis so we took Linda Willis's class knowing it would be relaxed, comfortable, and fun because of her teaching style.  She is incredibly generous, both with her knowledge and her supplies!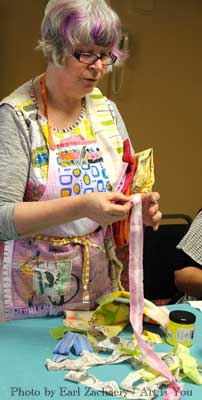 Person #1- The saint.  The person who knows how to make an apron, how to teach,  and how to work with  someone who is patience impaired.  That would be Linda Willis.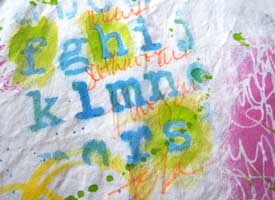 Person #2- The person  who laughs with me and occasionally at me…and I have to say, I do deserve an occasional laughing at…Okay, that is also person 3, 4, 5, 6…the whole room was laughing as we played in class.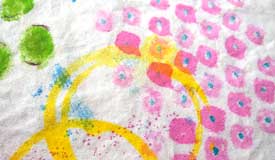 Person #3- The person who babysat  me to be sure I didn't spill any of the various textile paints, mediums, and other liquids.  But it sure was fun to try out all different kinds of textile paints.
Person #4- Someone who listened carefully, taking in all of Linda's directions, then carefully ironed and stitched.  Notice I don't have any even seams or truly straight stitching anywhere but I did have fun!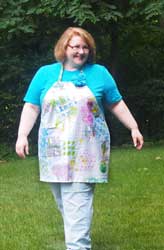 Person #5- Me- the person who did the fun work on the apron…the hard work of sewing some straight hems…
Want to see more aprons?  Well hop over to their blogs and check 'em out!  If you haven't stopped by Julia's  blog yet, take a moment and leave her comment welcoming her to the world of blogging! She's just starting her blog and I am looking forward to all the great things she'll be creating and sharing!
Julia Kellogg
Carolyn Dube- You're here
Maria McGuire
Thank you Linda for a day of laughter and creative joy!  If you want to play with Linda, she will be teaching at Art is You in Stamford , Treasure Keepers and Reversible Apron.    I am teaching Meet The Crazies! in Stamford too.   Hope we can both see you there!