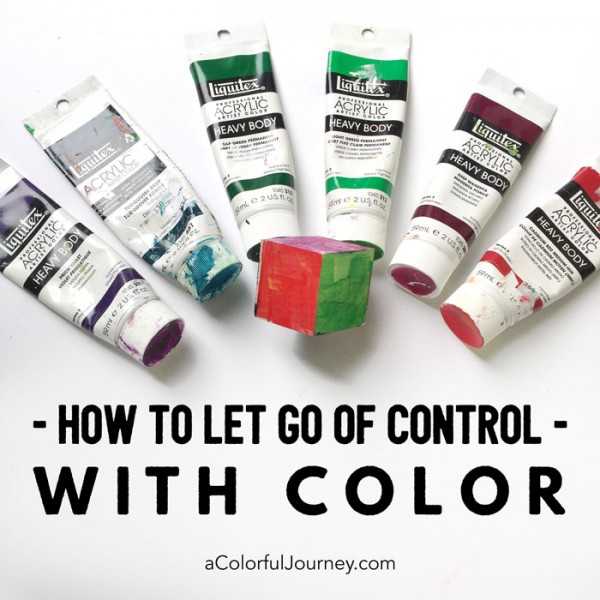 Being in control makes sense in many areas of my life but not when it comes to play and creativity.  Many of the struggles and the uphill climbing that plagued me in the beginning of my colorful journey were due to my attempts to control.
Being in control and making logical decisions was so familiar and ingrained that when I attempted to play, I didn't know how to let go of control.  But I needed to let go so I had to find ways to help myself let go of control.   In this month's Let's Play videos, I'm sharing some of the specific ways that I helped myself begin to let go of control.
In the video, you'll see how I randomly chose the colors…plus you'll see that highly skilled fine art drawing of mine in the very first layer…hint…it isn't really fine art…
Watch How to let go of control with color in an art journal on YouTube.
A simple wooden block painted with six colors allowed me to create a colorful art journal background.  Blocks like this are available in craft stores or you can repurpose an old children's block to create a colorful die for you to roll!  The rubber stamps are from Judikins
What is Let's Play?  It's all about rediscovering the ability to play. Each month, I share a specific strategy that helped me recapture the freedom and fun of creative play.  This month's theme is letting go of control. You can see more of the Let's Play series here.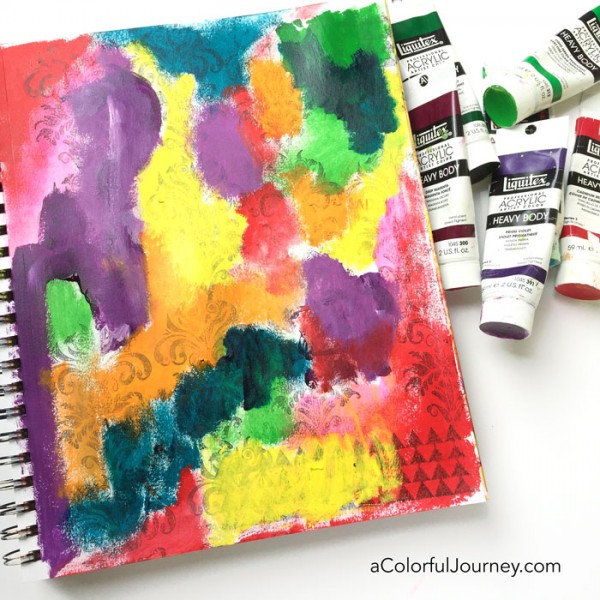 You can see what happened next to this page as I added another layer of play here.
Now you've seen my play, let's see yours!  Share what you're creating with us all in the Facebook group and be inspired by what others are creating! And be sure to leave a comment here to get entered in the monthly $50 gift certificate giveaway!
Want to see more Let's Play videos? You can find all the weekly posts here.
Sharing your play:   I, and a whole bunch of others, would love to see what you're creating!  We're sharing it in the Facebook group called A Colorful Place to Play. Why Facebook?  I've listened to your feedback about how and where you'd like to share your play instead of the link parties.
Monthly giveaways:  Leave comment on any (and all for more chances) of the weekly Let's Play blog posts to be entered and one winner each month will be chosen by random.org.  Want more chances to win a $50 gift certificate to DickBlick.com?  Pin any of the images from the page or share about it on Facebook- then come back and leave a comment telling me what you did and you can have more chances to win! Giveaway closes the Sunday,October 3rd at 11 pm EST and the winner will announced on the blog the following Monday.
Congrats to Barbara, last month's winner!