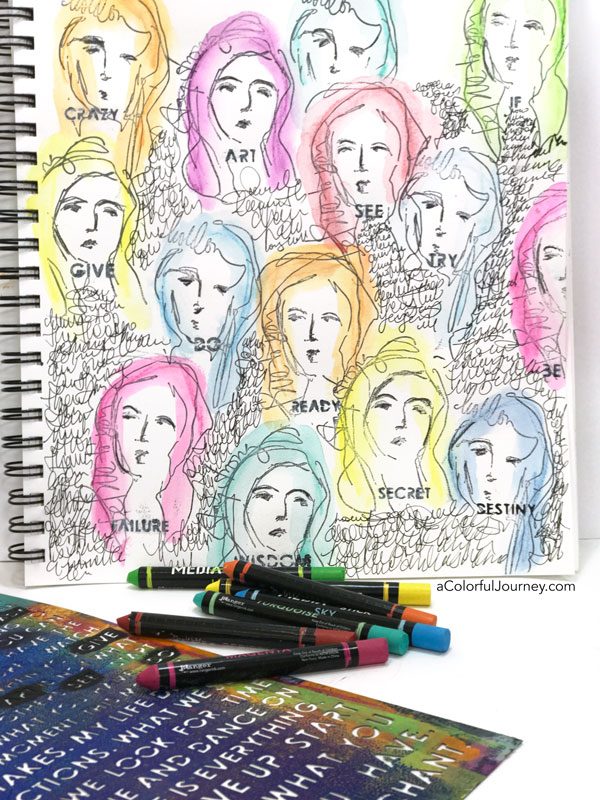 Precision is not my middle name. Happily, not a drop of precision was needed to create this art journal page of rainbow women as I played with Dina Wakley's Scribble Sticks, some stamps, and a stencil. And yes, there was an OOPS (an Outstanding Opportunity Presenting Suddenly). Actually there was more than one.
Watch Scribble Sticks, Stamps, and Stencils with the Women of the Rainbow on YouTube.
Random stamping of the 3 women with Dina Wakley's stamp filled the page.  The ink is permanent, which is important to me because there is going to be water involved and I don't want the images to run.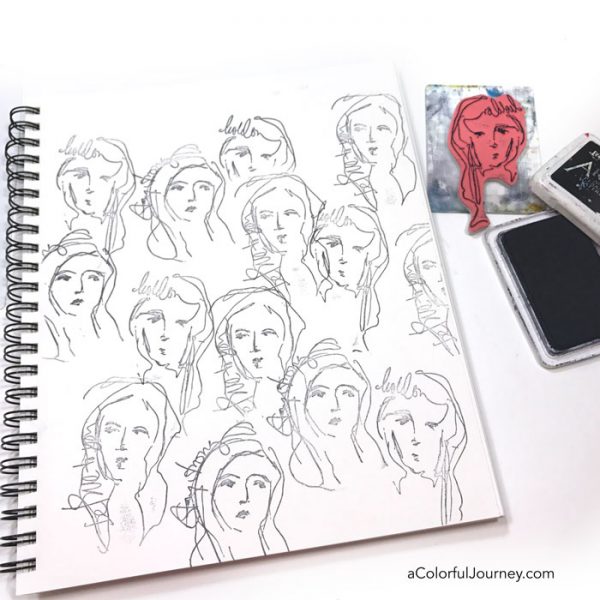 Adding the color was imprecise and loose with the Scribble Sticks.  You can see more about what Scribble Sticks are in this video.  There is absolutely no need to stay inside any of the lines!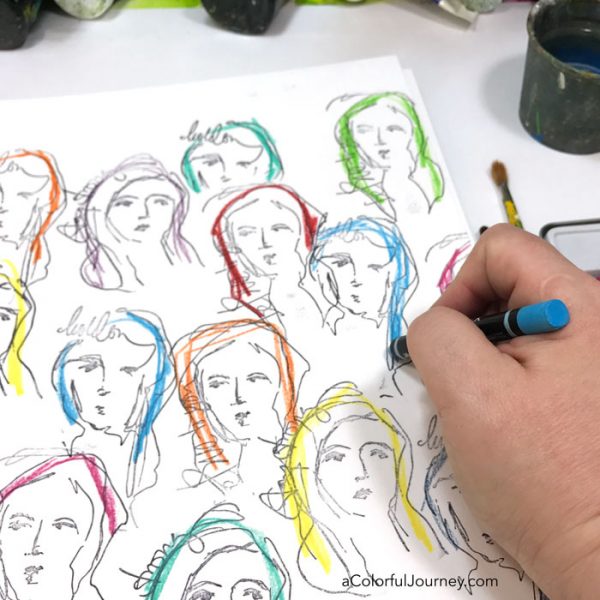 Once the color is hit with the water, it reacts and behaves like a watercolor.  Easy to move the color around without worries of precision.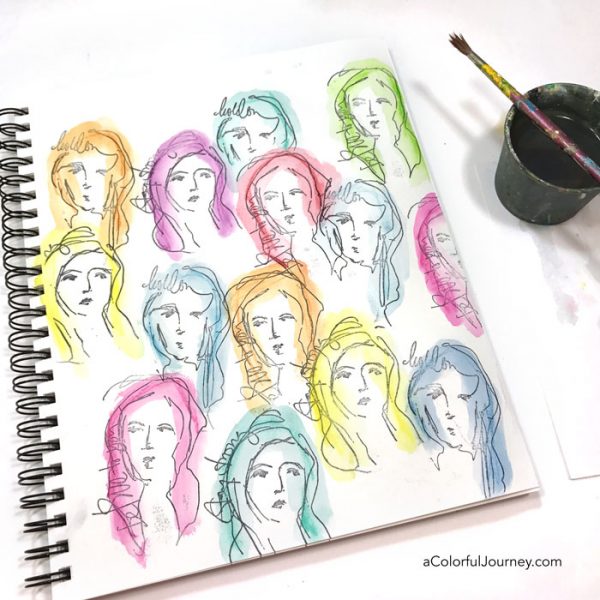 All that white space between these women was an opportunity to journal.  I scribble journaled whatever was on my mind and I was surprised to see what I began to think about.   What did I write about? All the different parts of me through the years.  It was like a walk down memory lane of how I became the person I am today.  Many moons ago I had blue hair in the 80's, and now I would so love to have this entire rainbow happening in my hair.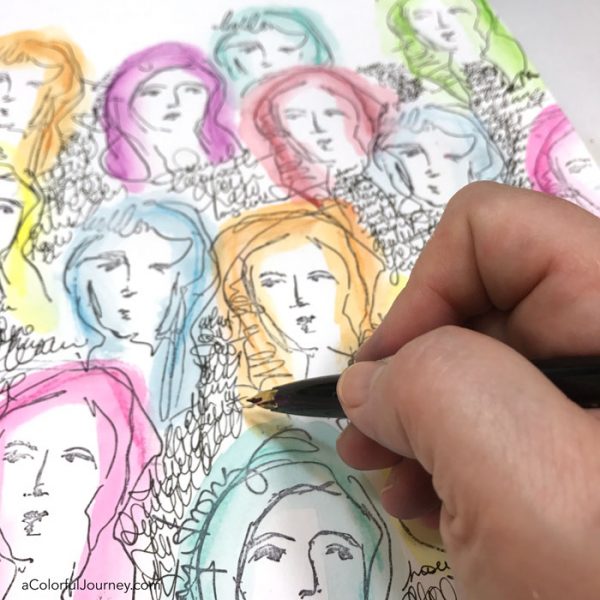 OOPS! There wasn't much room left to put a big title, so I decided to make a zillion little titles.  One for each woman. Using my Wall of Words stencil, I picked out the words that spoke to me for each of them.  There are so many words on this one stencil, I easily found what I was looking for plus each one has a different word.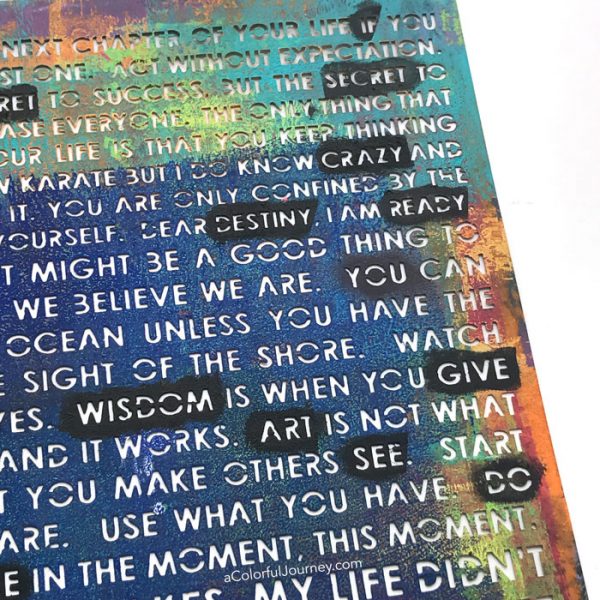 But alas, the paint used to stencil the words was just too dark.  O.O.P.S!  A failure? Nope.  Just an Outstanding Opportunity Presenting Suddenly.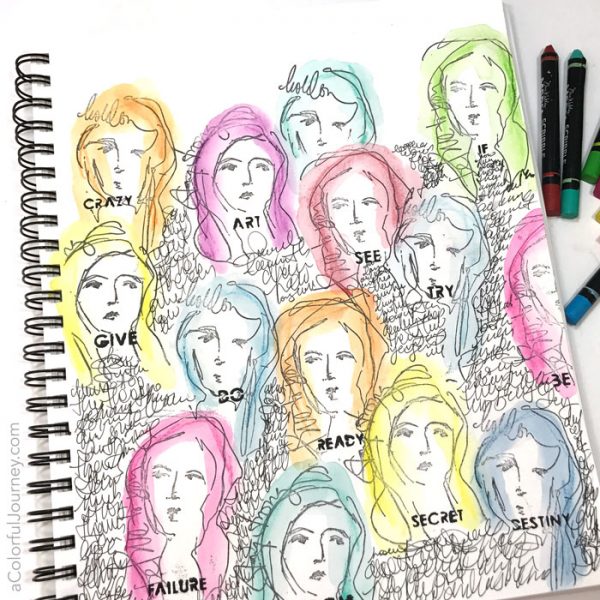 White Scribble Stick to the rescue!  By just doing a sloppy scribble over the words, suddenly they were softened and blending into the page.  Crisis averted.  Okay…it never was a crisis but I am glad the words are blending in more.  While I was doing that, I added bits of black here and there on the stamped images too.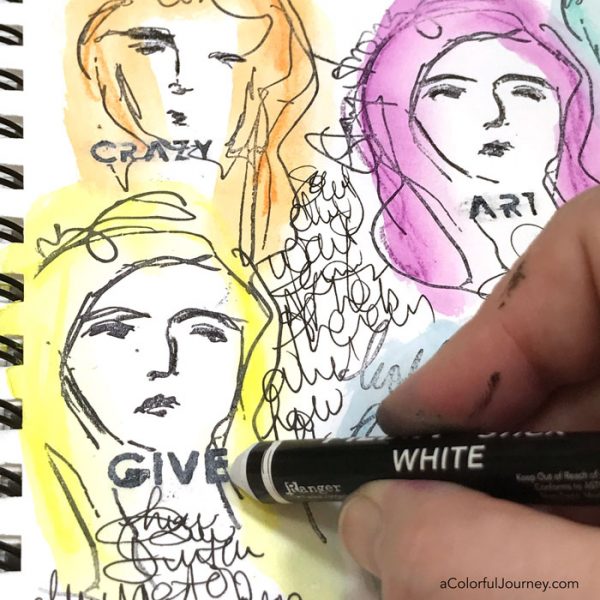 The rainbow, a walk down memory lane, and play time.  What more could I ask for?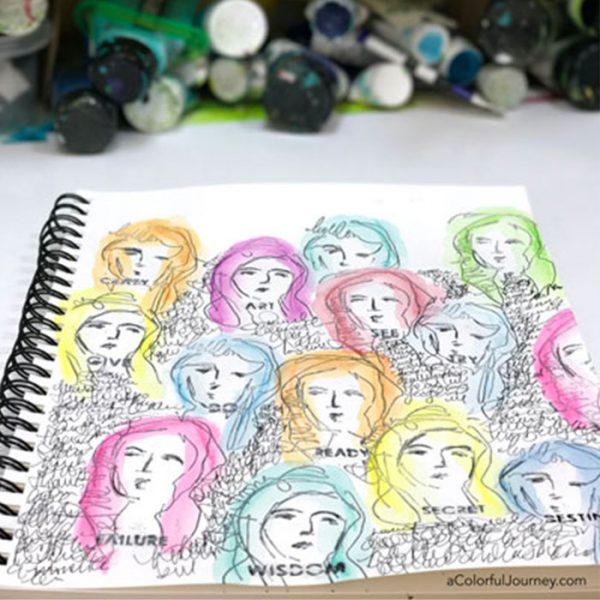 Here are the supplies I used. Some of these links are affiliate links which means I get a small percentage. It doesn't cost you anything extra and it helps keep the free tutorials coming!