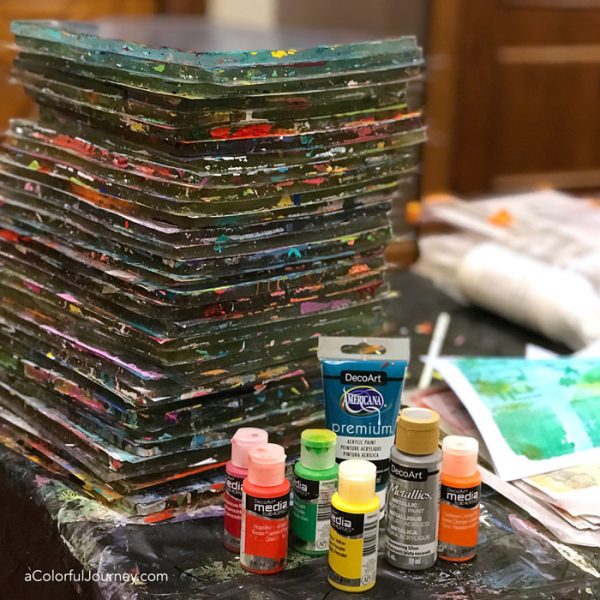 What happens when women spend an entire weekend with art supplies?  Colorful play!  This past weekend I was honored to spend 3 days laughing, arting, and making with these women at Print it. Make it. Love it!  This is usually an all ladies event, but this time, there was one guy who was more than welcome.  Keep reading to find out who!
A huge thank you to our sponsors, StencilGirl Products and Deco Art Media!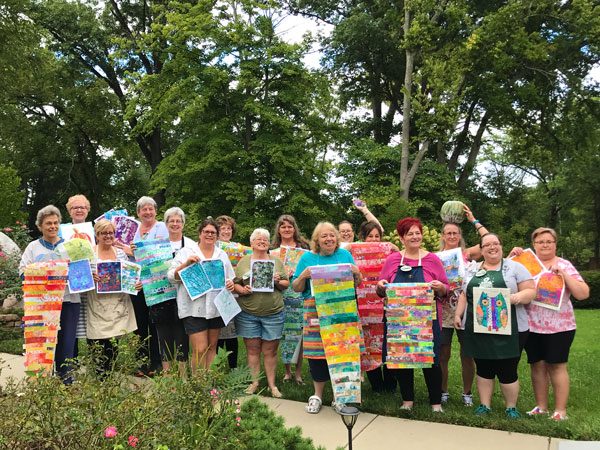 From the moment they arrived, we were playing!  During check in, the demo table was open for printing and getting to know one another.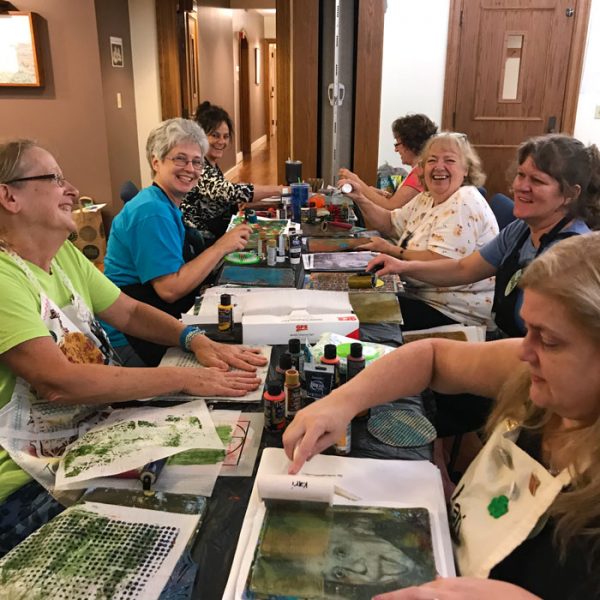 Each one of these ladies had a full size 6 foot table to herself all weekend, which meant plenty of room to spread out and dive in to the play.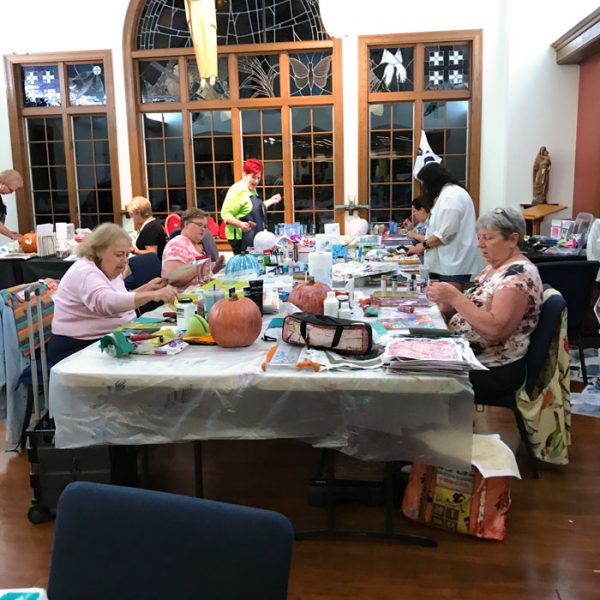 80% of the women here came by themselves but the minute they walked through the door there were friends waiting for them.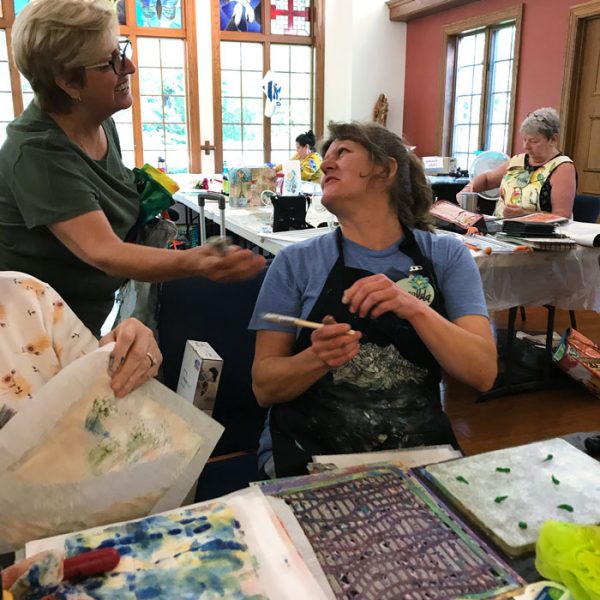 A huge thank you to StencilGirl for all the stencils to play with all weekend and for making possible the limited edition stencil only for this event in their goodie bags. Can't thank you enough StencilGirl!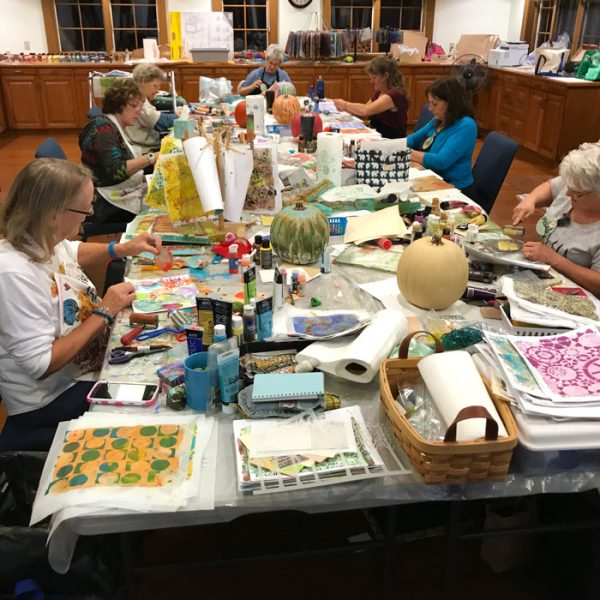 Remember playing musical chairs as kid? We did a version of that but with Gel Press plates.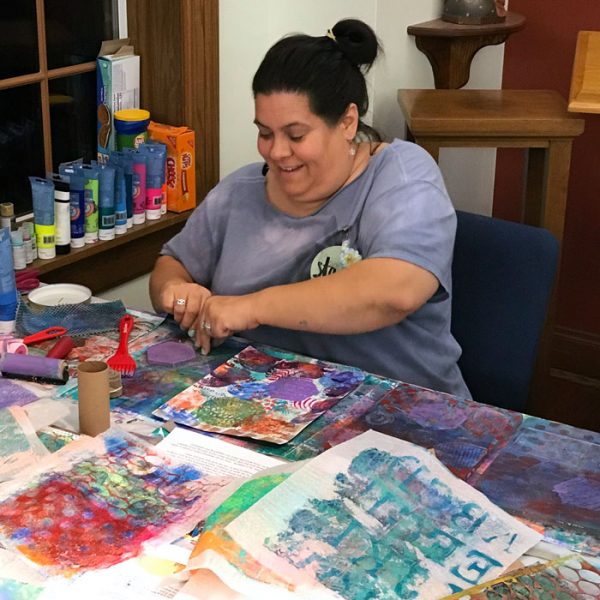 Lots of laughter, frenzied printing, and very talented dancing to the music by the instructors. Okay, Glenda and Kari had talent with that!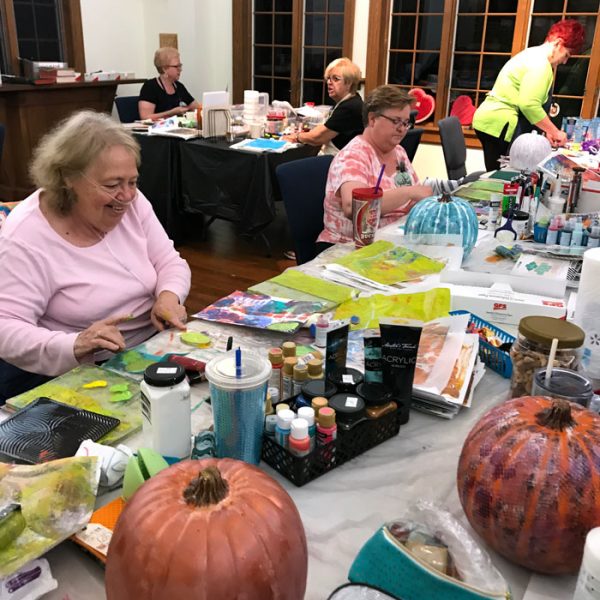 This weekend was all about gel printing and understanding the properties of a Gel Press gel plate to get amazing layered prints.
The kind of prints that make you glow.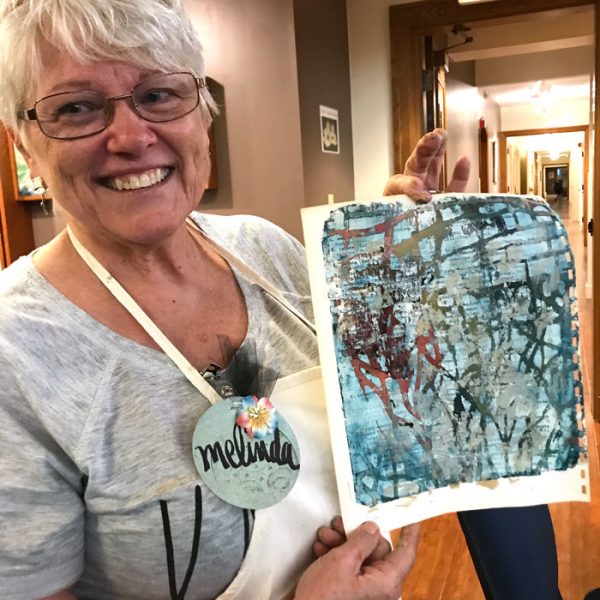 The kind you want to frame.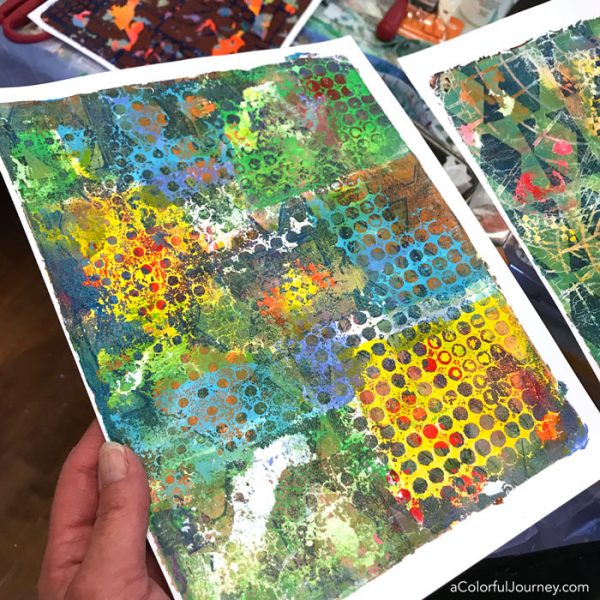 The kind that have layer after layer embedded in it.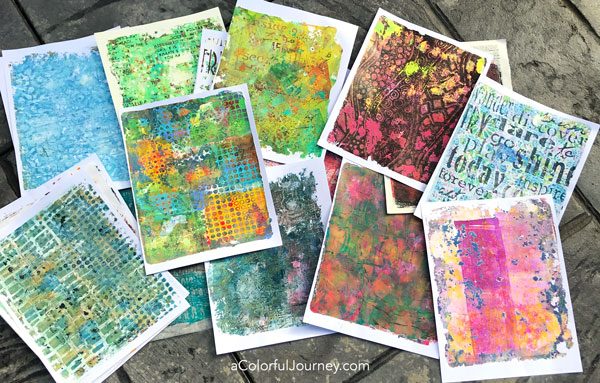 The kind that take on a weathered and aged look but were just printed.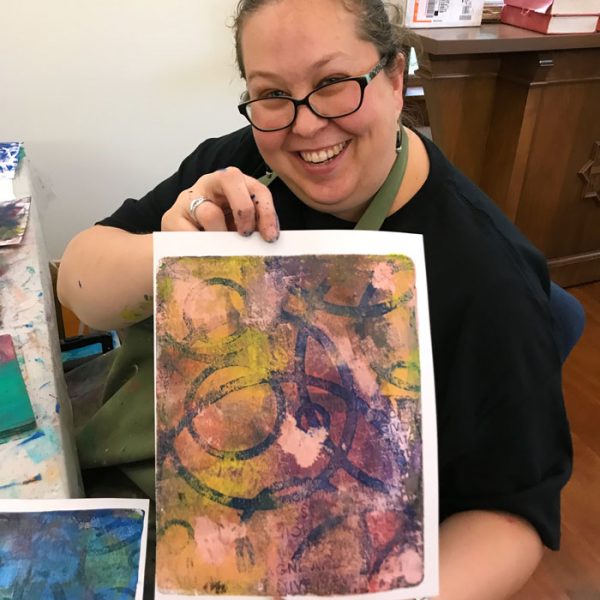 The kind of prints that defy color rules, since that orange and green should have made mud.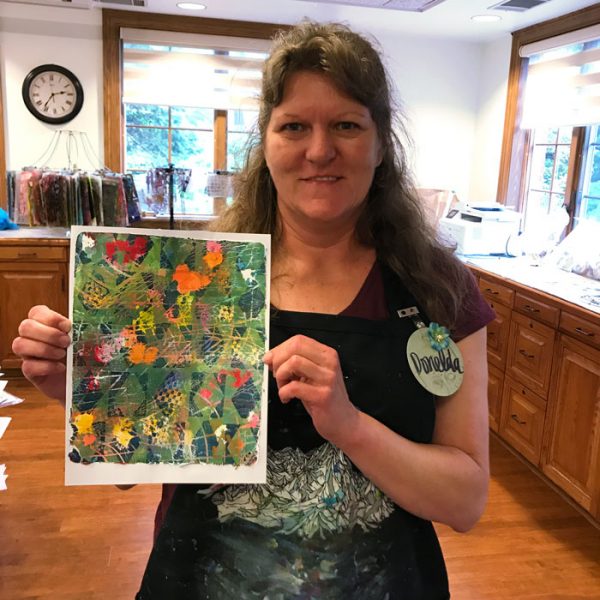 There was an experimentation night, a weird and wonderful Einstein flavored night.  At a creative immersion retreat, the days are art and fun, but every evening have playful happenings too!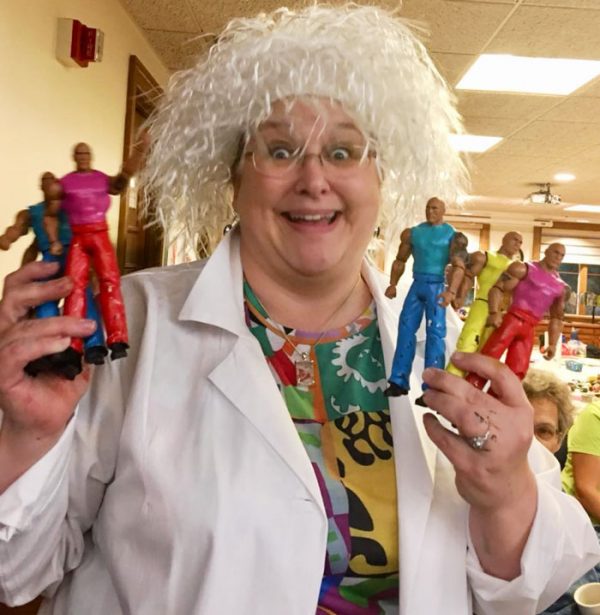 During our Einstein evening, we explored how anything can become a texture and pattern making tool with a gel plate.  Packing materials, rug pads, yarns, syringes, yes you read that right, and more were used for playful monoprinting.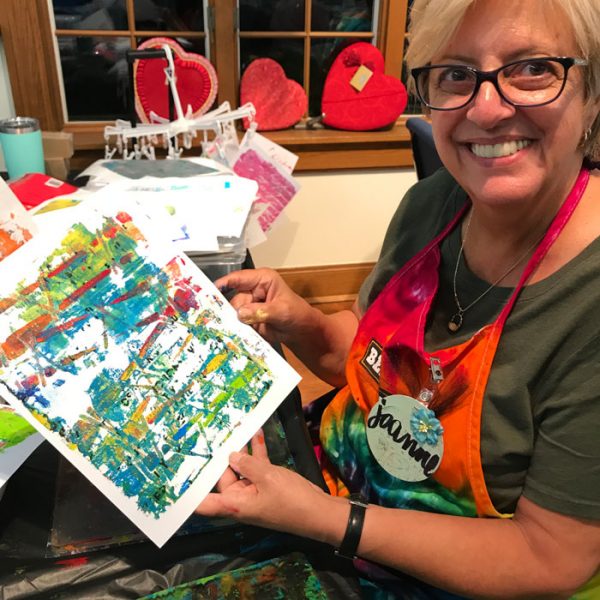 Rainbows were everywhere this weekend, from the paint to the headgear!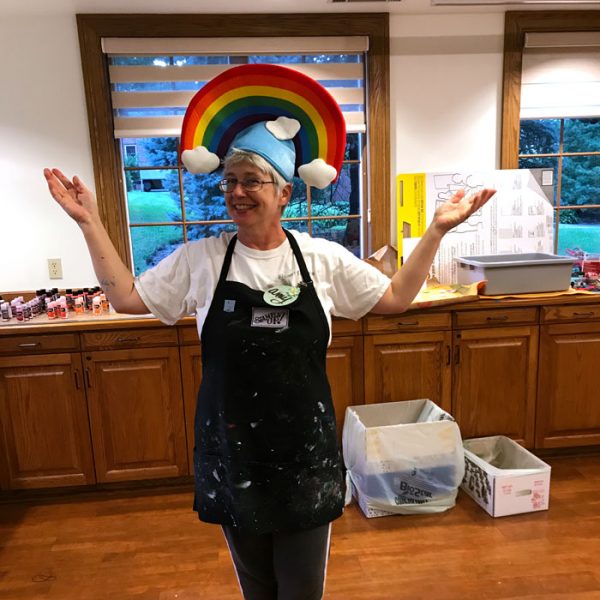 Glenda Miles, the host extraordinaire, handled all the logistics making sure that all our needs were met.  Kari McKnight Holbrook and I were the instructors and mischief makers. But what about that guy I mentioned earlier?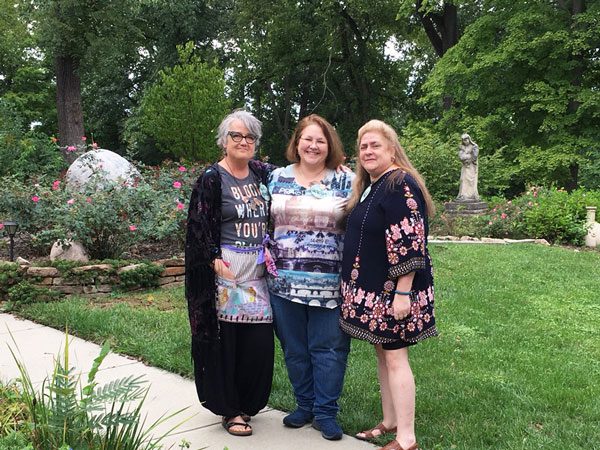 The Rock, Dwayne Johnson. He was the guy.  Actually, there were 6 of him.  He was there to help us understand the rainbow and how to avoid making mud.  Yes, they really make The Rock action figures but that's a custom outfit he's wearing.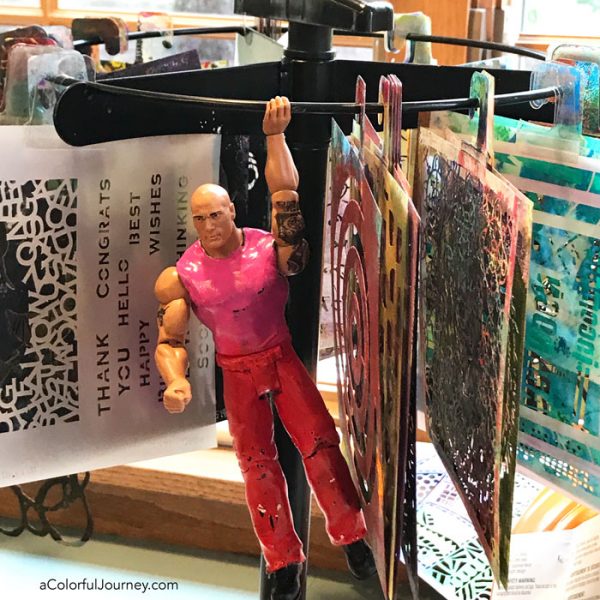 In fact, we had a box of Rocks! Yes, a retreat like this has silliness and plenty of puns!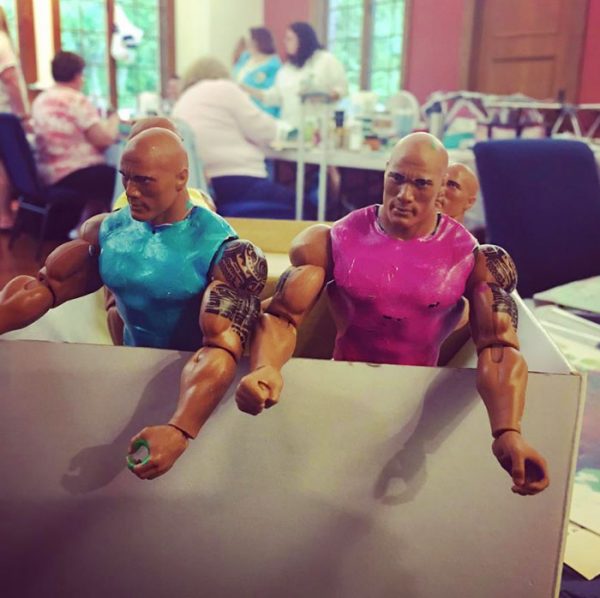 We even gel printed rocks – nothing is safe from being printed upon.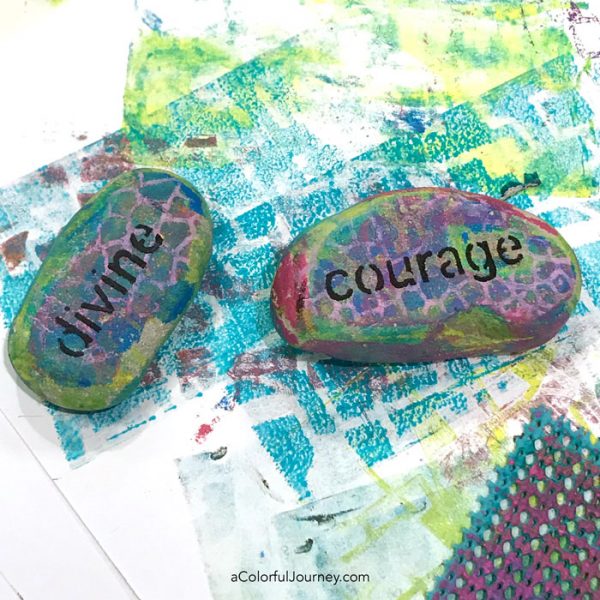 A weekend of creative immersion means you can follow the inspiration where it takes you.  No rules, no musts, just the freedom to follow your creative impulses. Here, Jan turned 2 rocks into a book.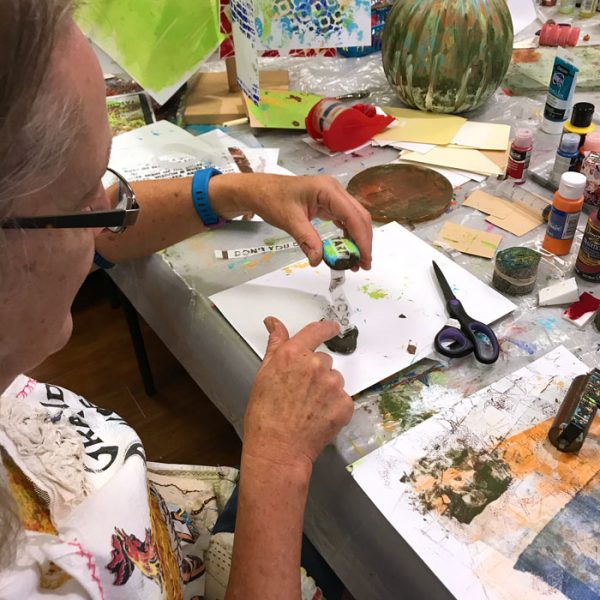 A huge thank you to all the women who came, shared their time, their hearts and stories, and their play this weekend!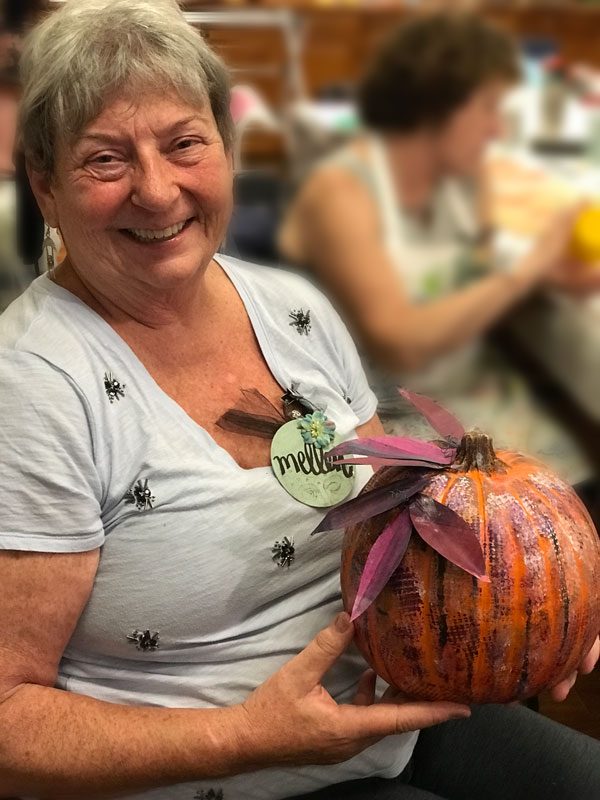 Want to come and play, to let go, and feel the rush of creative freedom?  There is something in the works for 2019, however it hasn't been announced yet. But it's coming soon.  If you're signed up for my newsletter, you'll know know as soon as it is released!