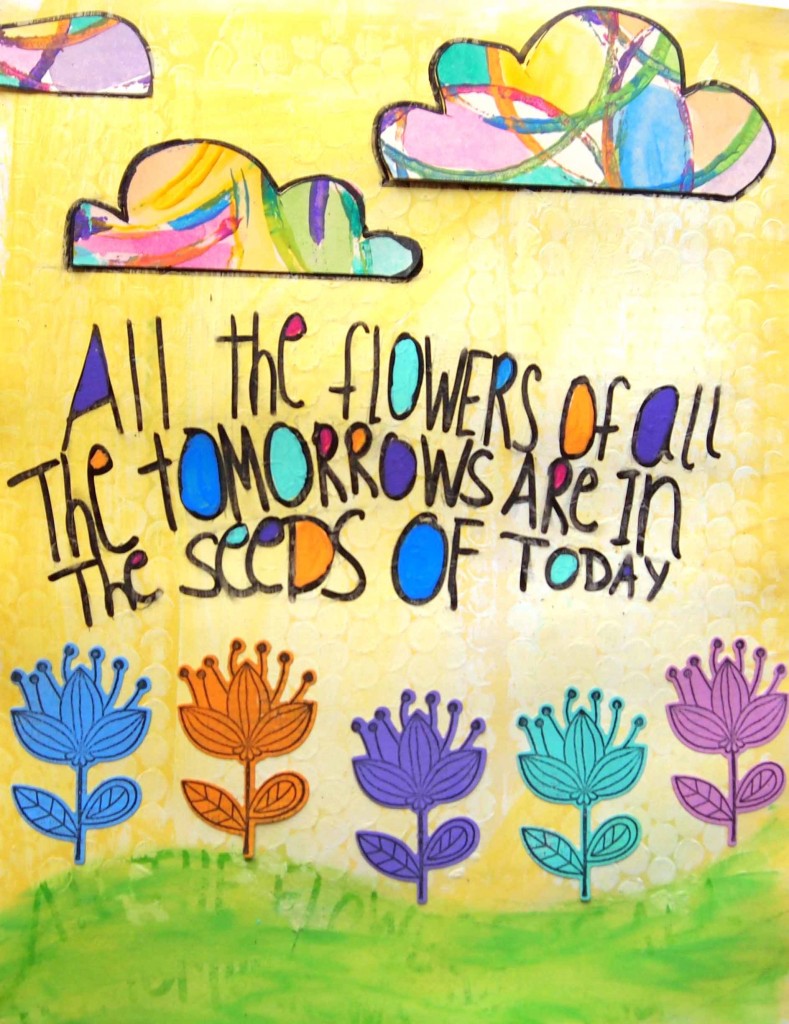 While building this art journal page I just kept thinking about the quote & how true it is.  Who my kids are now – that was started when they were young.  The flower of strange teenage clothing choices came from the seed of individuality.  The flower  of reading came from the seed of bedtime stories as toddlers.  The flower of an odd sense of humor came from the seed of puns and other  jokes.   The flower of loving music came from the seed of 2 tone deaf parents singing along with kid songs and  80's mega hits.  The seeds I am planting now will turn into flowers when they are adults.  I need to plant the seed of choosing a great nursing home so they don't just granny dump me somewhere…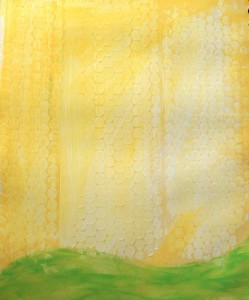 Gesso'd with punchinella and a wash of yellow acrylic paint.  Green for the ground – added with fingers just because I love to get my fingers in the paint.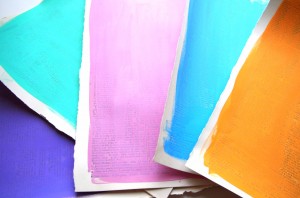 Wanted coordinating paper to die cut the flowers so I just painted old book pages in the colors I needed.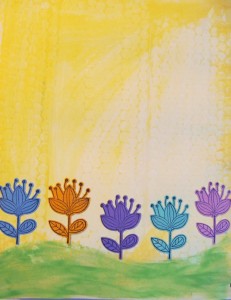 The Hero Arts flower stamped and then die cut.  The die cut was so much nicer than cutting it out by hand.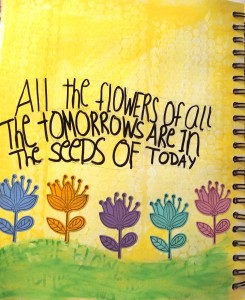 Using a Pitt Pen I added the quote that inspired the page.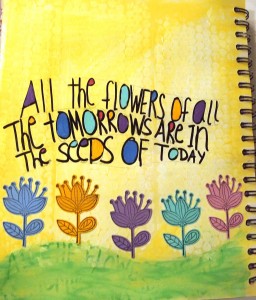 The quote was too plain so I used paint to fill in parts of the letters.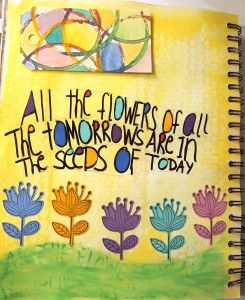 The tag at the top was the inspiration for the colors.  You can see how I made the tag here.  I wanted to use it but it just wasn't working as a tag.  But I really liked it- does that ever happen to you – you love something but it just doesn't seem to fit in the art?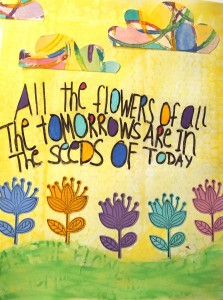 I cut the tag and 2 others into clouds using one of Julie Fei-Fan Balzer's stencils.  A happy accident- when I was erasing my pencil lines from writing the quote I found it erased some of the black Pitt pen.  I loved it so I went over all the letters and it gave them a more weathered look.  The clouds didn't stand out the way I had envisioned so out came the Pitt pen to outline them.
Linking up with Just Journals and Julie Balzer– if you have a moment, stop by and check out all the fun art journals!