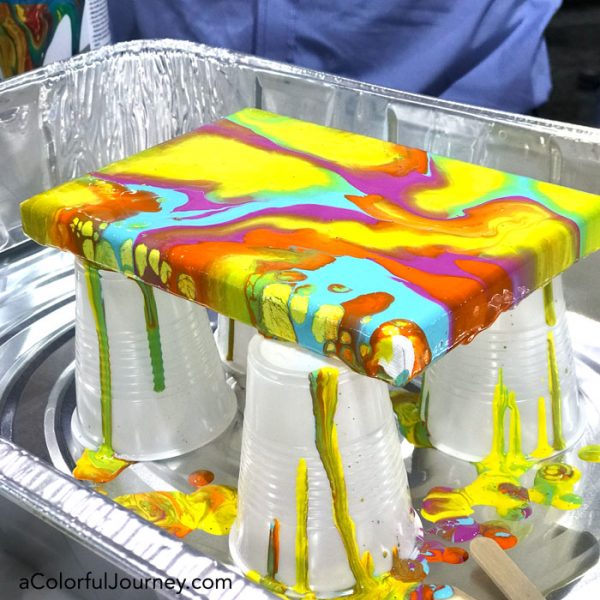 What is Creativation? It is a trade show in Phoenix for the art and craft industry.  Sure there were lots of new products (and yes, I'll be sharing videos in the near future using them) but what I came for was the people.  To catch up with old friends, to meet online friends in person, and make new ones.
Being away from home meant no spill-able art supplies so I was jonesing for a paint fix by the time I arrived at the Deco Art booth.  Mark Montano was pouring paint using their new Pouring medium.
When he asked if anyone wanted to make a pour, heck yeah, I jumped at the chance.  And the photo above is what I made in minutes. By the way, if you've seen Mark Montano in his videos, he is absolutely just the way you'd expect in person.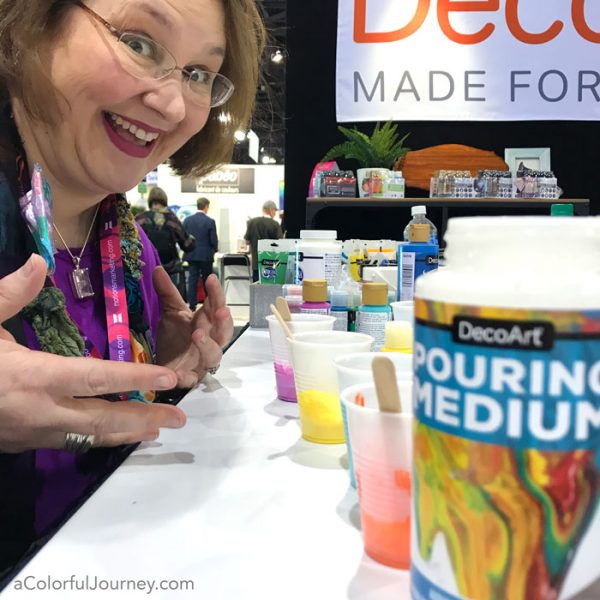 Embossing powders haven't been used in my studio since my card making days but that is about to change thanks to  Seth Apter and Emerald Creek.  His powders, called Baked Texture, create a different look than traditional powders, especially the Vintage Beeswax.  Think the look of encaustic without having to use wax.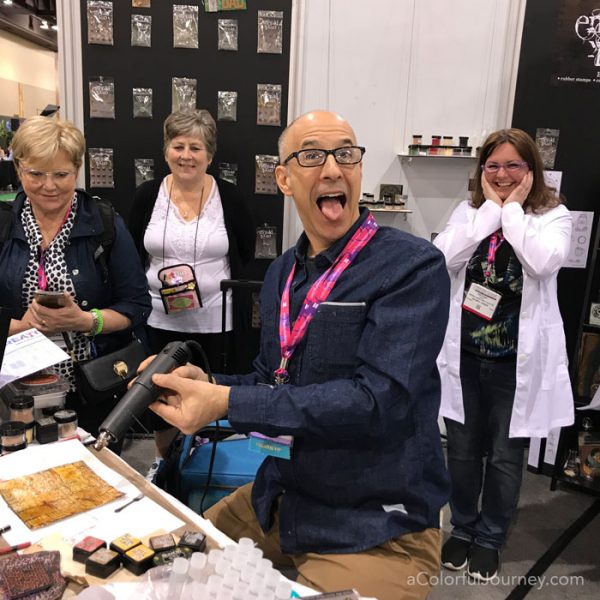 I don't know about you, but I don't get down to Australia very often.  Actaully, I've never been there, so it is a treat to see Darkroom Door Stamp's Rachel Greig in person and her newest stamps.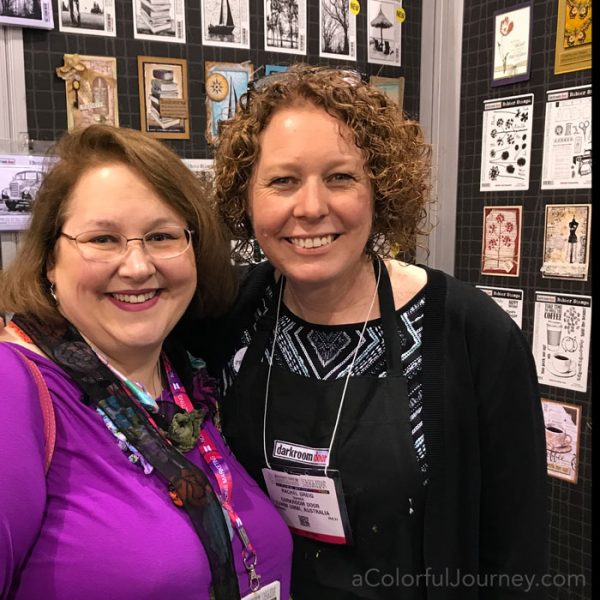 When I saw the Visible Image booth, you know I had to linger there with all that vibrant color.  They had not only fabulous stamps but they are also a wonderful couple behind the brand.  They're from the UK and they met while starting the business but married after they started this fun company.  Art brought them together!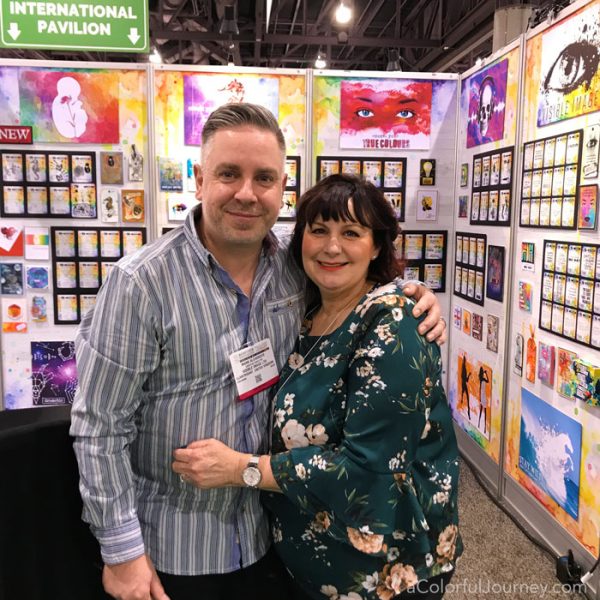 I could have spent all day at the Pebeo booth with all that scrumptious color they have.  Literally.  Just watching the colors move and learning what the different paints do.  They have these smart substrates that have a lip, so that when adding lots of paint, it doesn't run over side.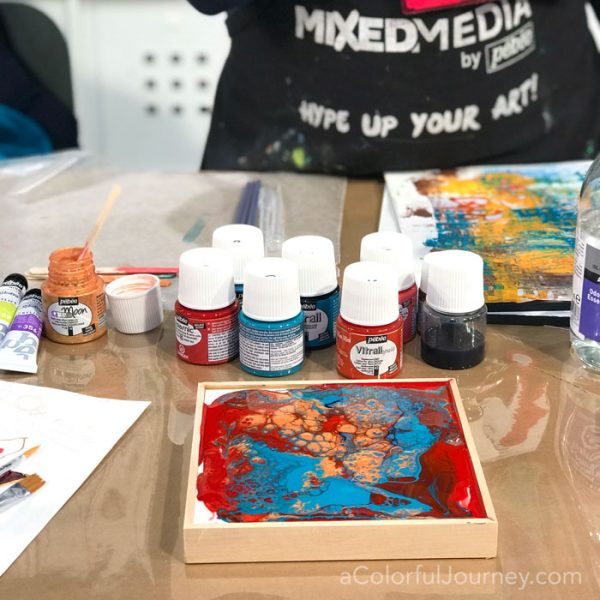 Grunge Paste is not new from Paper Artsy, but I didn't know it existed so it is new to me.  Seeing Leandra Franich make magic with this sandable and tintable treasure had me hooked.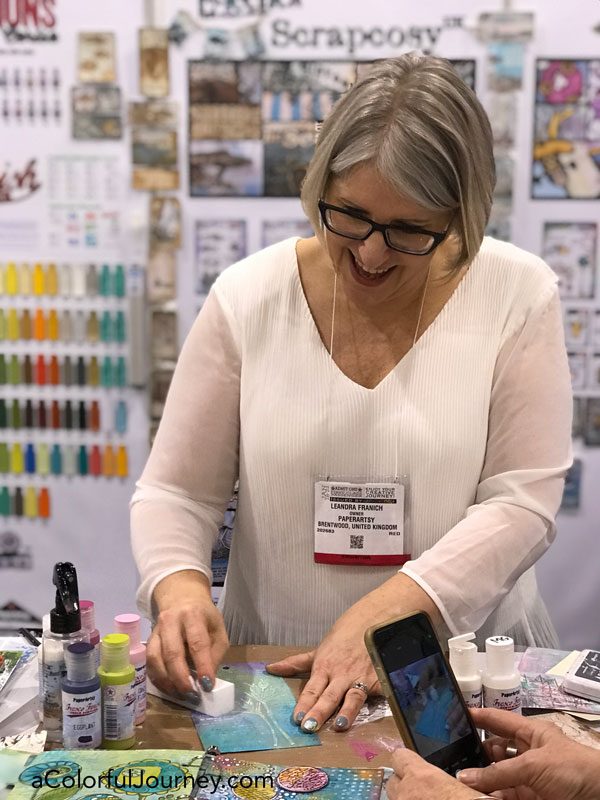 Glenda Miles, my roomie for the weekend and co-conspirator of fun, proudly had her ancestor art on display in the Paper Artsy booth.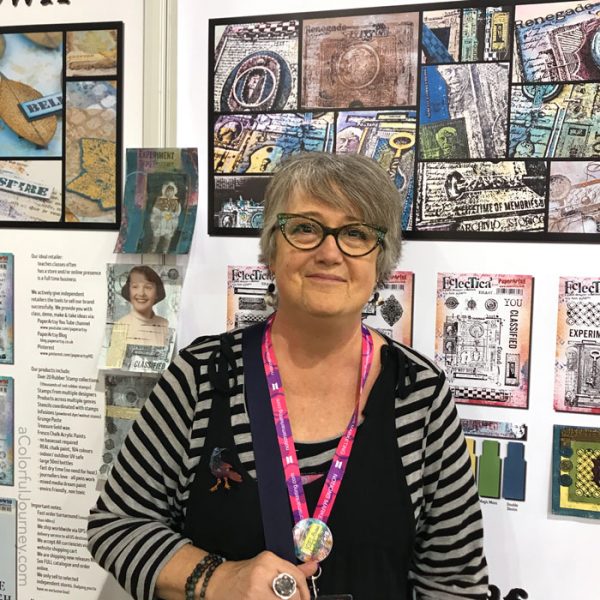 At the Faber-Castell booth I got to hug Mou. Why was this such a big deal to me? We've been on the design team together and I adore her calligraphy talents.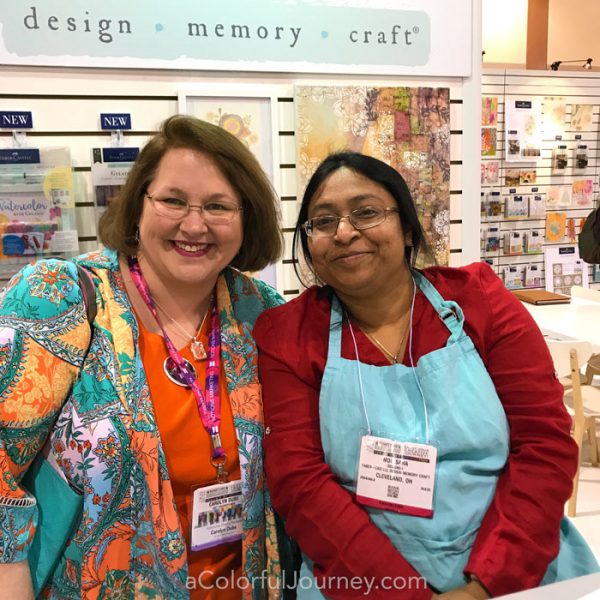 There were lots of playful people like Josefine Fourage in the photo below and Joe Rotella, Donna Salazar, Cheryl Boglioli, Cat Kerr and so many many more!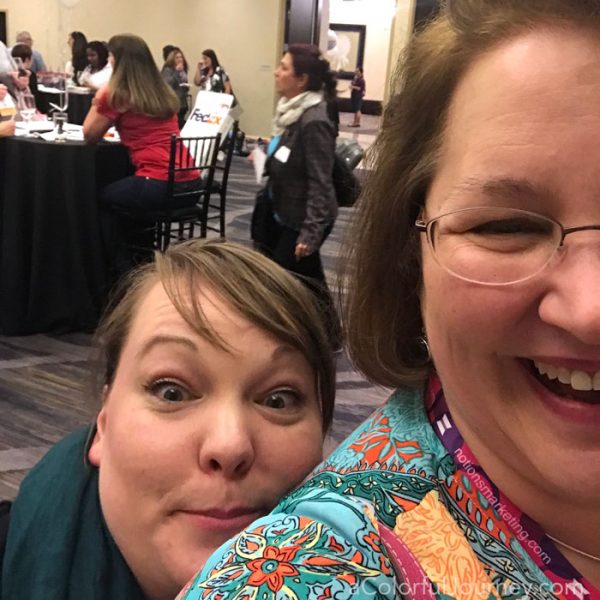 Naturally, I stopped by the Gel Press booth, more than once actually.  Seeing how each artist created in their style with the plate was mesmerizing as they had 3 demos going non stop the entire show.  Here are MaryBeth Shaw and Pam Carriker but I also saw Kate Crane, Donna, Cheryl, Joe, and Keri who released some fun shapes of plates for faith journaling. Sally Lyn also released some fun large Impressables too.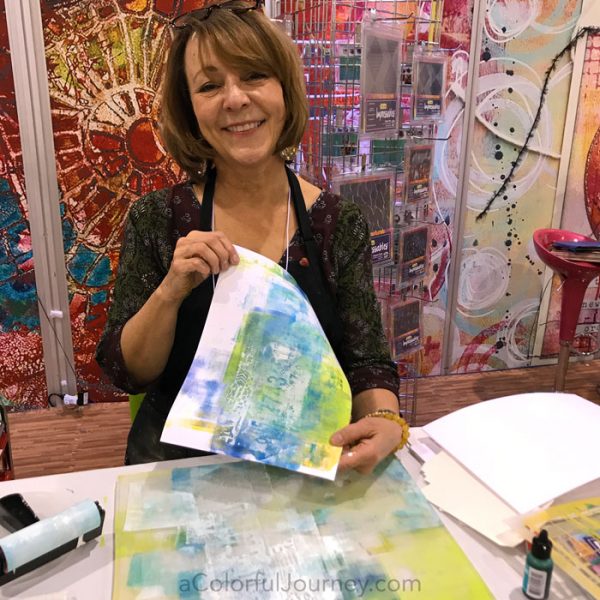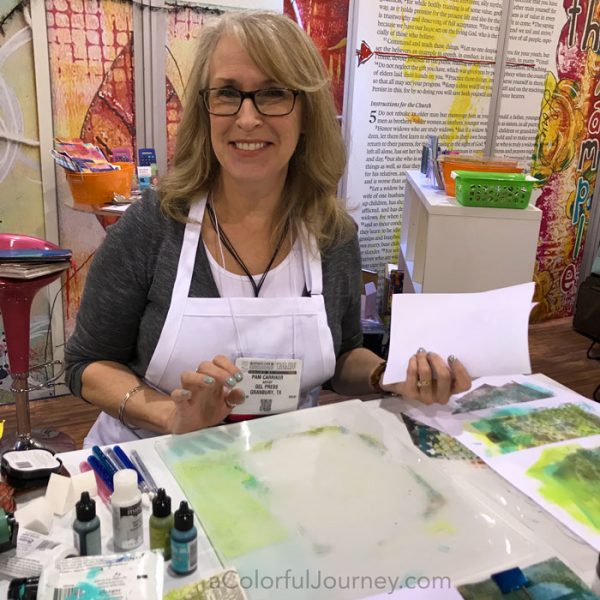 The Professor who invented the Quick Dry Clay for Ranger.  He's really a professor at LSU and this clay was an OOPS that happened while he was making a wood floor adhesive.  This clay is workable for as long as you want, but when you heat it with a heat gun, it completely hardens.  It feels like baked clay without the kiln!  Can't wait for March when this stuff comes out.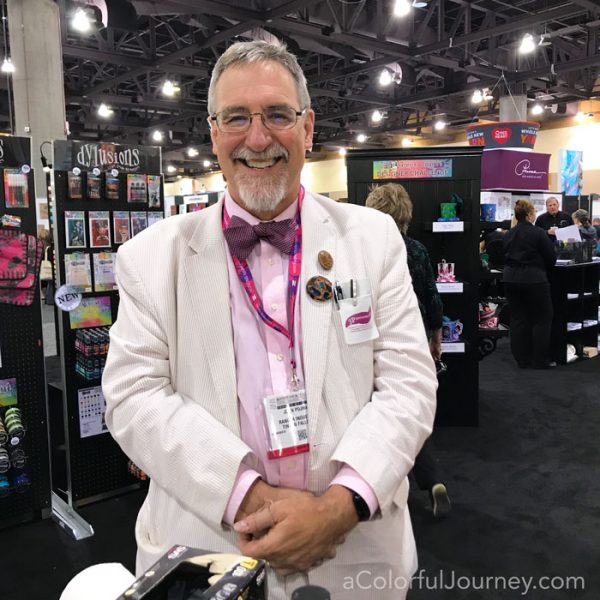 The day didn't end when the show closed, nope, then it was more fun catching up with friends over dinners, both new and old. Not that any of use are old.  You know what I mean!  Here's a crew of StencilGirl people, Mary Beth, Pam, Glenda, Tammy Tutterow, Debi Adams, and Carol Baxter.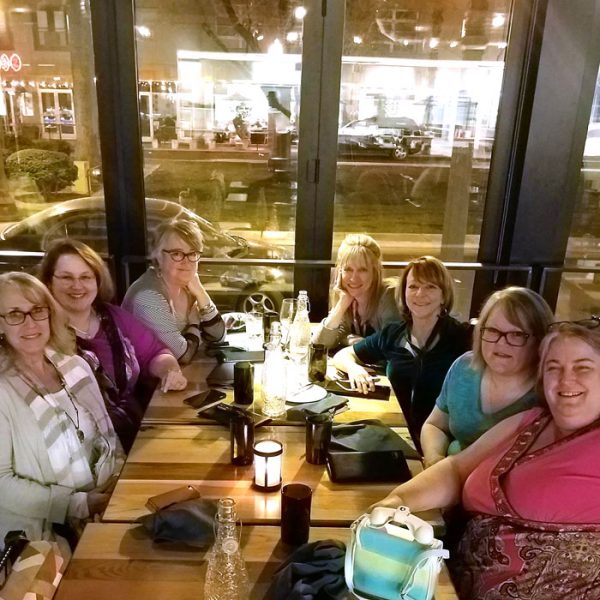 What else did I see? I've got videos using Carabelle Studio and Maribu spray inks coming soon so I'll save that for those posts.  This has become one very long post!