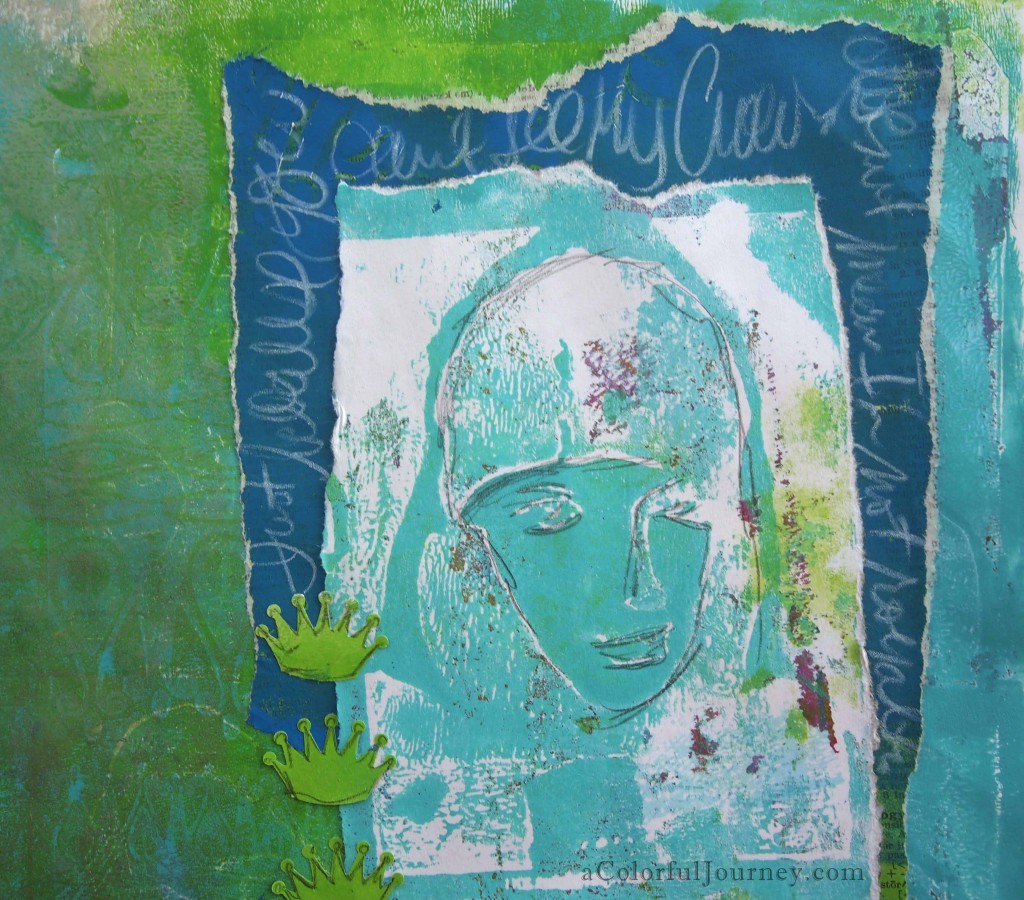 A Gelli Plate
is just like having your own private paper store. Using old scrapbook papers and dictionary pages with the Gelli Plate I unintentionally created a coordinating set of papers!  These papers sparked my art journal page for Artsy Fartsy.
Why did I have my Gelli Plate out?  Because it is time for another Artsy Fartsy challenge with Maria McGuire!  I get so excited for Artsy Fartsy, not only because I am arting but the excitement I feel when I know the posts will go live and I can click over and see what she's created.  Love how we each follow the same guidelines but in our own ways.  Be sure to stop over and see what she made using the same 3 things.  The 3 things for this challenge were a Gelli Plate
, any of the Catalyst tools
, and any stamp by The Backporch Artessa.
Here are some of the prints I made.  There are layers of stamps from The Backporch Artessa, Kari McKnight Holbrook.  Her huge 8 1/2 x 11″ stamps are sturdy polymer that work well on the Gelli Plate
, on polymer clay, with ink pads – anything I've tried them on they have worked.  You can check out my post and video here on using stamps with a Gelli Plate.  The dark blue layer of circles was created with Catalyst tools
.  In the quick video I show you how I used it.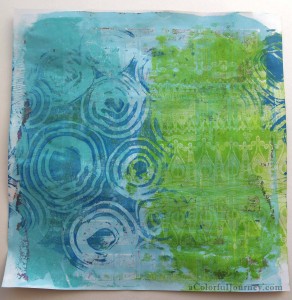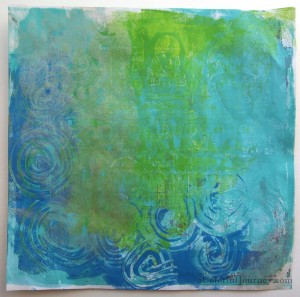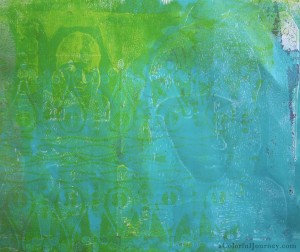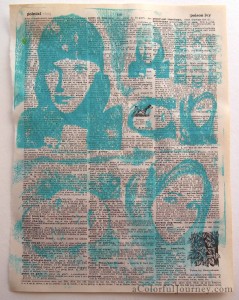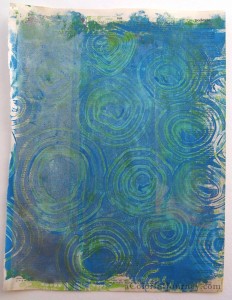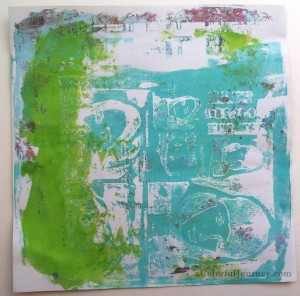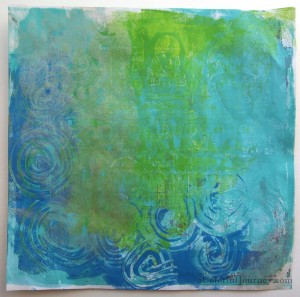 The faces on the top right of this one called to me so I decided to start here for an art journal page.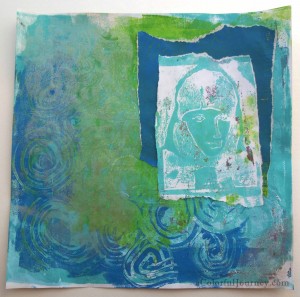 The face was too subtle for my mood today so I ripped out a bolder woman.  The dark blue behind her – well that was from the paper I used to clean my brayer
.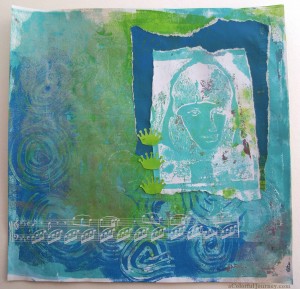 She felt very royal to me but she isn't the type of royalty that wears a crown so I put the understated crowns near her.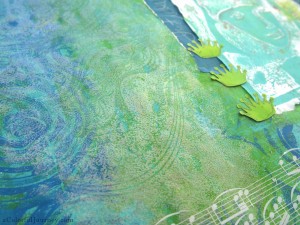 While printing the papers I used a top layer of silver Amsterdam
paint and a stamp.  It left a very subtle shimmer that added to the mystery of her.
A white Stabilo Pencil
(which writes easily on just about any surface) on the blue summed up what I felt about this woman. "Just because you can't see my crown doesn't mean I'm not royalty."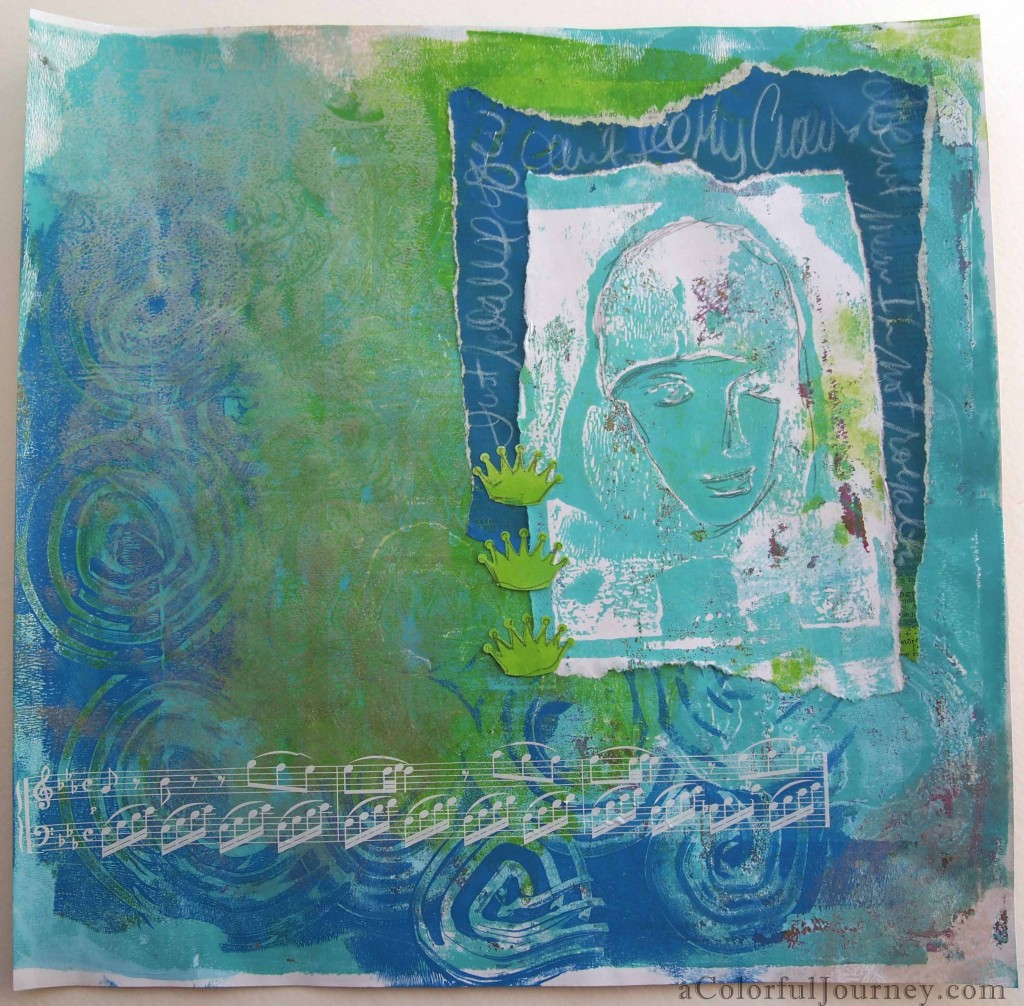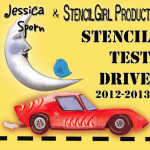 Be sure to stop back on Thursday because it is time for another Stencil Test Drive with Jessica Sporn!  Test driving her random squares stencil will be Diana Trout, Seth Apter, Kristin Dudish, Corrine Gillman, and Jessica of course!
Linking up with Inspire Me Monday, Creative Every Day, Make It Monday, and Art Journal Journey.