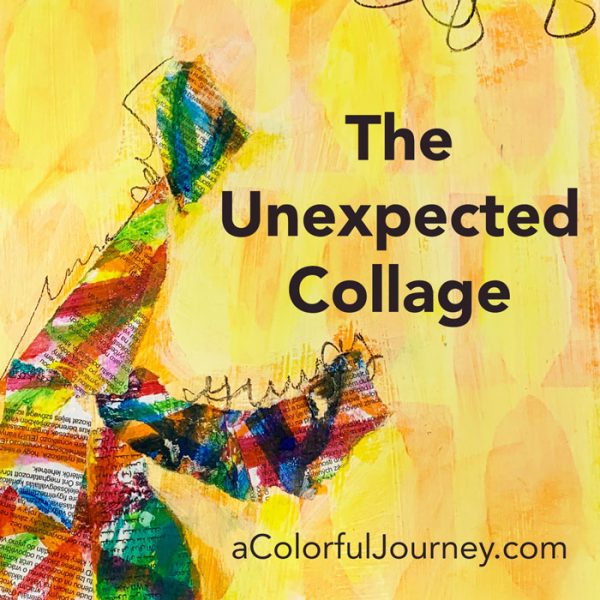 It was an unexpected collage that happened in today's play that started out with intense frustration. Frustration that came from a computer challenge where I was at the point of either getting a sledgehammer or my art supplies to deal with it.
Sure, I got my frustration out through play but just when I thought I was going to have this amazing creature in my collage and it turned into something so FAR from that- let's just say a toilet is involved.  Yup, that was like a head slap from my muse and it was just what I needed to shift my mood.
Curious about what acrylic gouache is? I've got a video all about it here.
Start by scribbling with Art Crayons, and I do mean scribble, all over some paper.  Any paper will do- especially one that has such small type on it you can barely read it!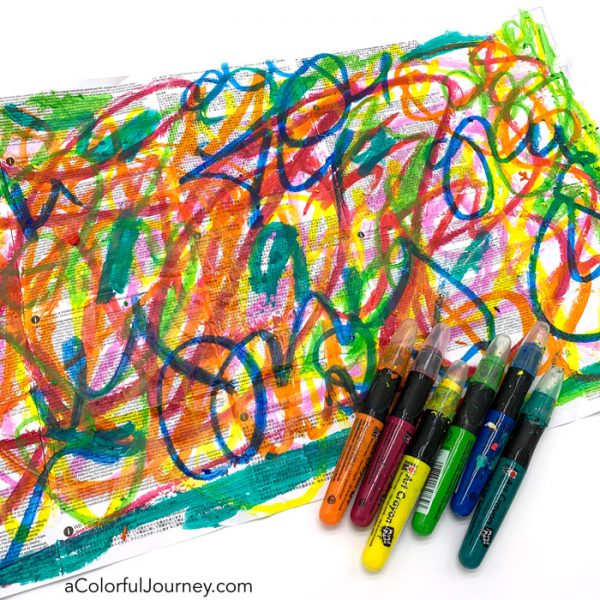 Then rip it up into as many pieces as your heart desires. Big or little, they're all good!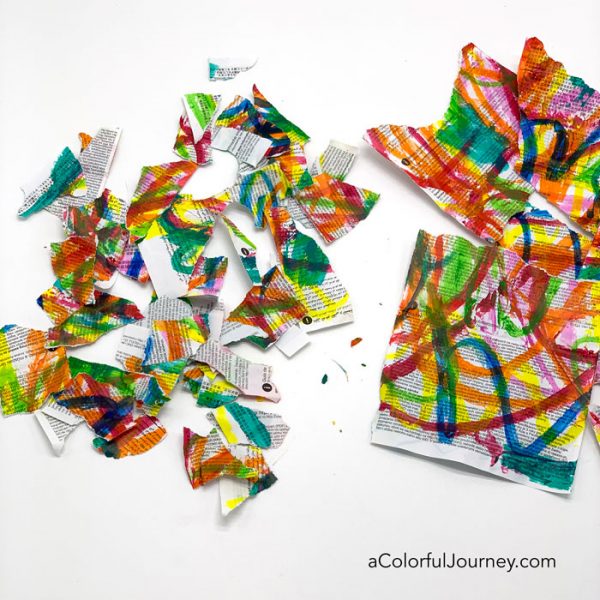 Using gel medium collage it on to a page.  This is when those random backgrounds in your journal come in handy.  Just pick one and start gluing!
I had hoped to get an elegant imaginary creature, but instead, I got a person sitting on a toilet reading a paper.  But if that's what shows up, then let's go with that!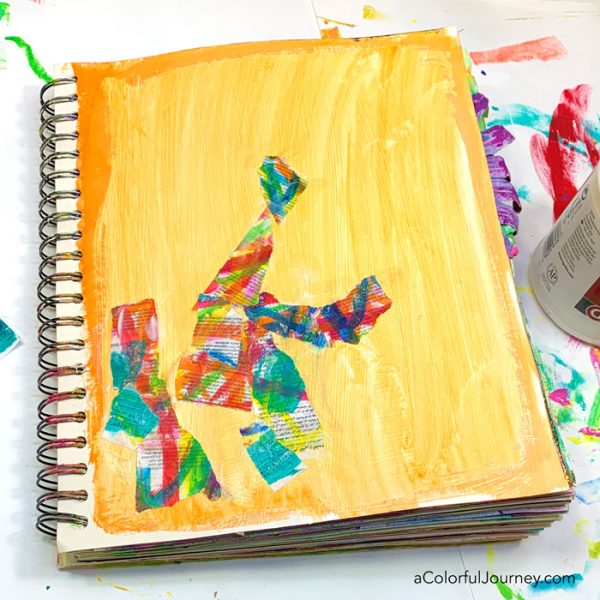 To create the background, acrylic gouache was stenciled on using the Alternating Ovals stencil.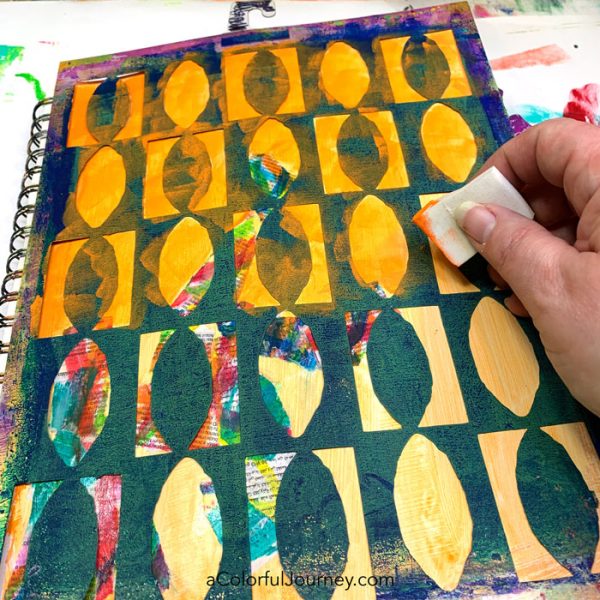 To bring in more color, yellow acrylic gouache was painted loosely around the shapes.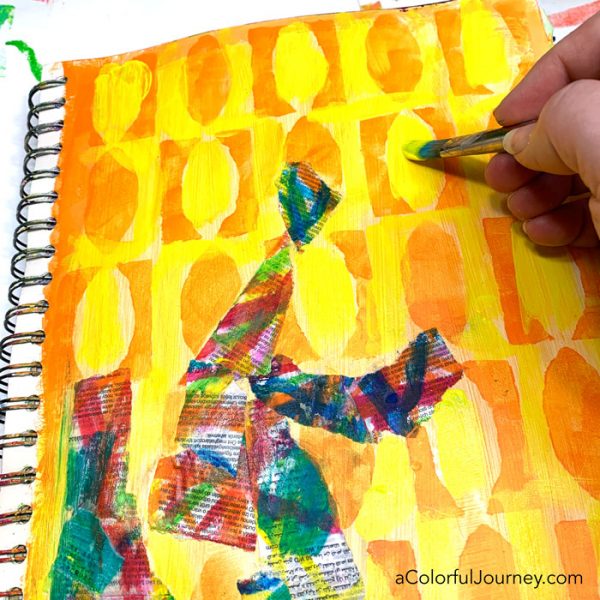 The title said exactly what I was feeling – whatever- but with a playful eye roll towards my muse since she sent me toilet person.  The word is from the Teenage Angst stencil and a bit of white paint quieted down the background.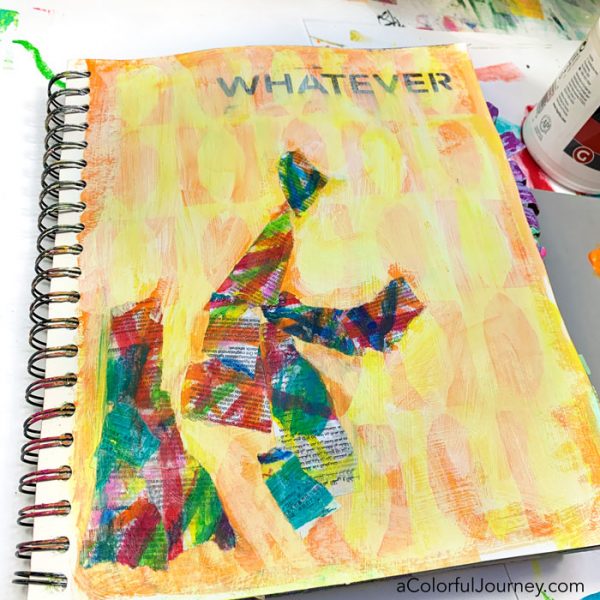 You can write on Liquitex's acrylic gouache but it has to be dry.  I didn't want to wait for that so I used a Stabilo pencil to add some of my thoughts.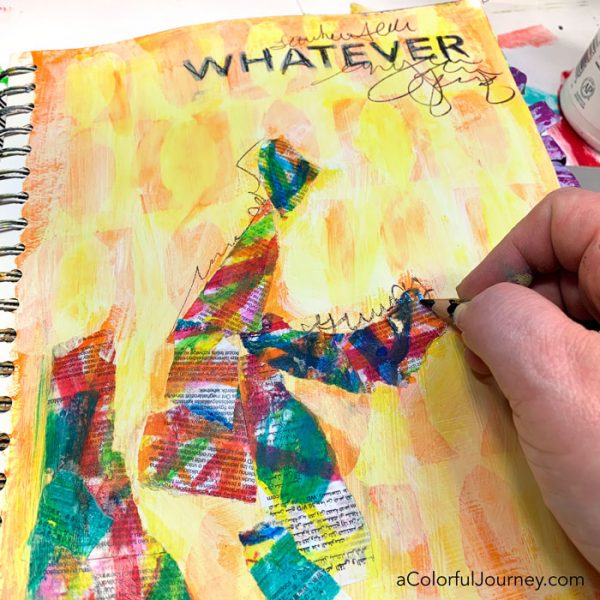 Once again, play and art supplies take the yuck out of the day.  By the time this page was finished, all the frustration from the computer had melted away.
So if you ever happen to get frustrated, try getting out your art supplies and just scribbling and ripping!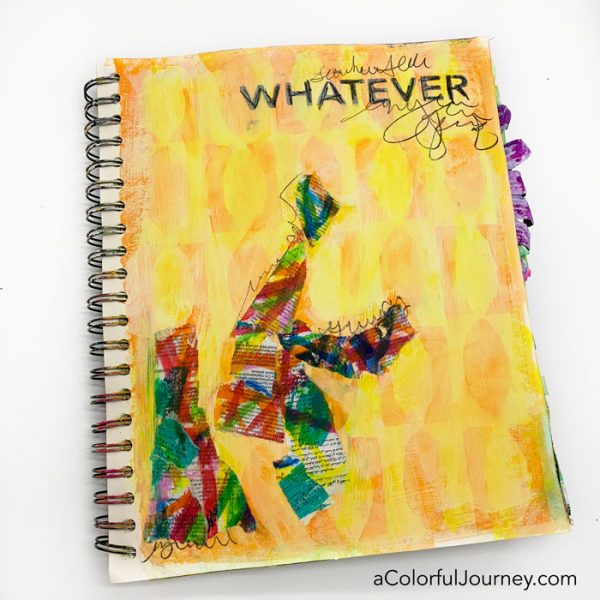 Here are the supplies used. Some of these links are affiliate links which means I get a small percentage. It doesn't cost you anything extra and it helps keep the free tutorials coming!
The Marabu Art Crayon colors used were: orange, sunshine yellow, gentian, turquoise,  kiwi, rose pink, pomegranate, & cherry red.