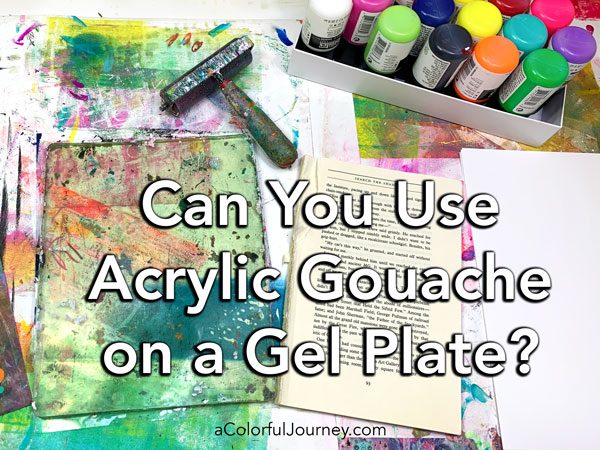 I've been asked if Liquitex's Acrylic Gouache works with a gel plate. Yes, you can but there is something to keep in mind. I love the effect of it, but you want to be aware of it and why it's happening.
Something I've noticed is that when people understand why something is happening on the gel plate it changes things. Decisions are easier. The fun goes up exponentially.
If you're the kind of person who likes to understand the whys and hows of what you're making, check out my online workshops.
What is acrylic gouache? It's as if watercolors and acrylic paint had a love child. If you add water to it, it behaves like a watercolor- becoming very translucent. If you use it straight out of the bottle, it is very opaque.
When it dries, it's permanent, meaning that water won't reactivate it. It is a very matte finish which means pens can write on it and I'll be sharing what I did with one of the prints in my next post.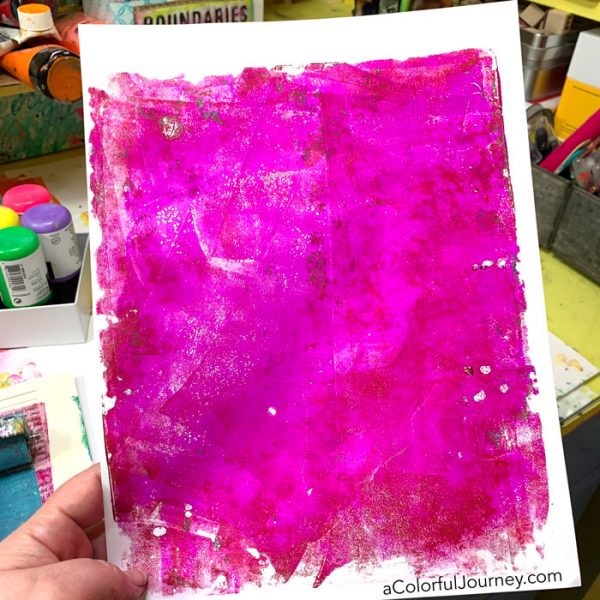 Those little areas of white, that's where the paint was beading up on the gel plate. If you use a thinner layer of acrylic gouache it can bead up. Is this good or bad? Neither, it's just what it does.
I love the look it adds to a print, so that is a bonus to me. Be sure to watch in the video (around the 3min. point) where I talk about how using a new plate vs. a well-loved plate and how that impacts the beading of the paint.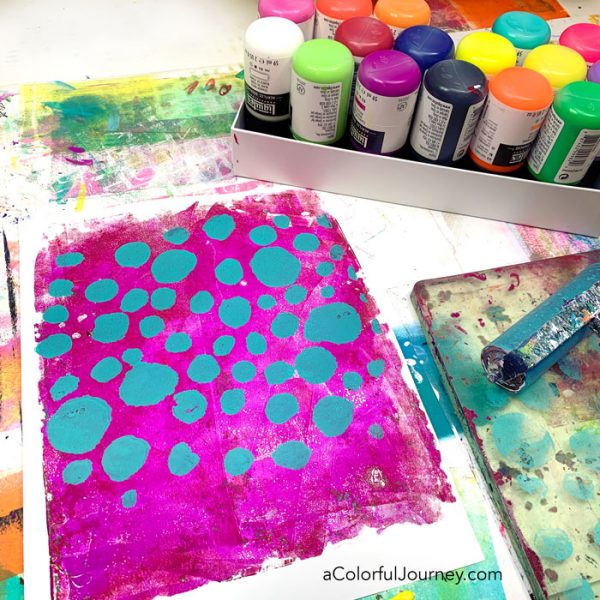 One of gouache's superpowers is its opacity. That teal just pops on the purple!
Why didn't the paint bead up when I used the Speckles and Spots stencil? That's because I used more paint. Not a ton more mind you, but more than when the purple print was made.
That's the same reason the red print didn't bead up much either. You'll see the pockets of white are only around the edges, where there was less brayering and less paint.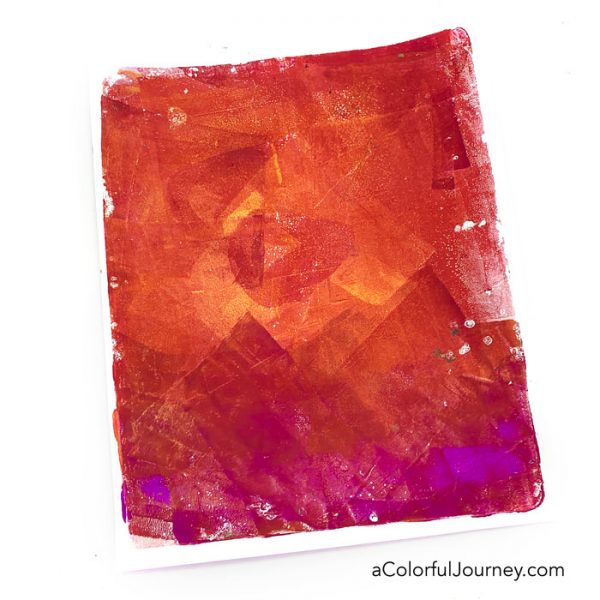 So is acrylic gouache good for gel printing? That depends on what you like/want in a print. If you like that little touch of beading, then yes. If you like matte paint that you can write and journal on, then yes.
That's the cool thing about art and play, there isn't a right or wrong answer, just the answer that is best for you!
Here are the supplies used. Some of these links are affiliate links which means I get a small percentage. It doesn't cost you anything extra and it helps keep the free tutorials coming!