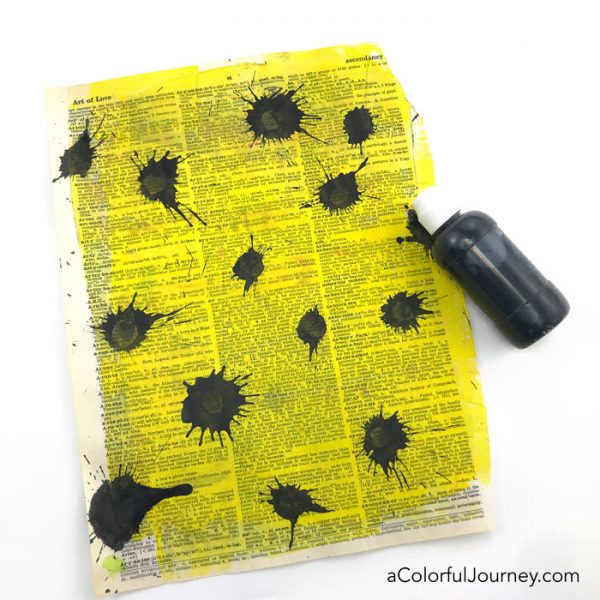 This all started with an O.O.P.S., an Outstanding Opportunity Presenting Suddenly, when I spilled an entire bottle of Art Spray. The quest to keep that from happening again introduced me to what I call Splotters.
Splotters are empty bottles with a dauber top that I filled with the rainbow. They became juicy, fat graffiti style markers to make coloring in large areas a breeze but what I love about them most is they make playful splots of color.  Hence the name.
You can fill these with anything fluid, so why Art Sprays?  They allow me to quickly get vibrant translucent color in my art and when dry, it's permanent.   What that means is if layers are added on top, the color won't move or reactivate.
Watch Splotters, Make Your Own Graffiti Markers on YouTube.
When you're filling the bottles, you have the flexibility to put as much or as little in them as you want.  I love using these, so I put a whole bottle of Art Spray in each one.
Any time you want to add more color to a bottle, simply remove the dauber top and refill. Just be sure to always shake it well before adding to the bottle.

You have the flexibility to make these as juicy as you want.  Squeeze them while applying the color and you get puddles of color.  Don't squeeze them and it acts like a wide marker.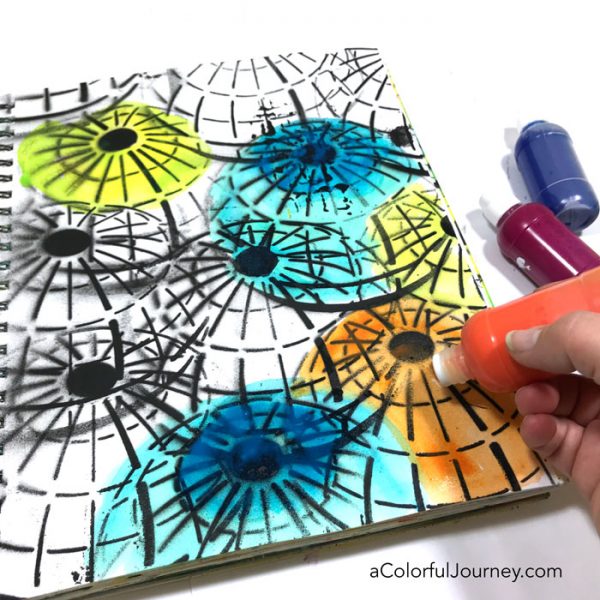 What will be added next to this background made with the Latitude and Longitude stencil?  Don't know yet but since all the layers on here are permanent once dry, whatever is added won't reactivate these colors.
Of course, I'll be sharing here when more layers are added so get signed up for my newsletter so you'll know what happens next to this.  Plus you'll get weekly creative encouragement and inspiration.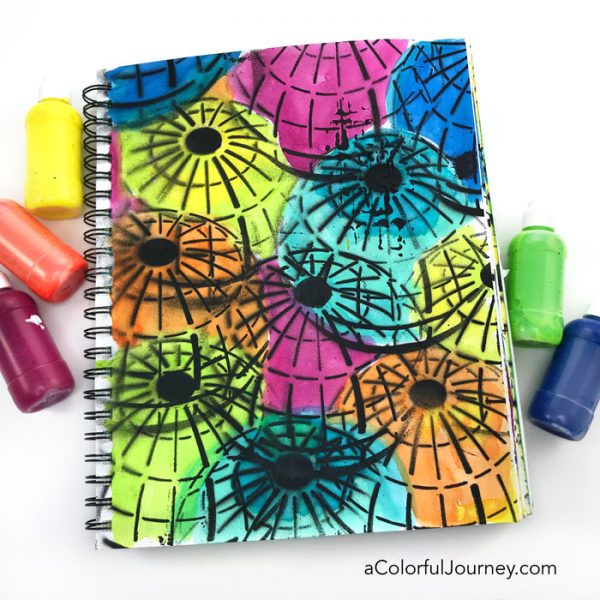 Here are the colors of Art Spray that I put in the Splotters: Bordeaux, Raspberry, Tangerine, Lemon, Raseda, Aquamarine, Caribbean, Gentian, Lavender, and Black.
Here are the supplies used. Some of these links are affiliate links which means I get a small percentage. It doesn't cost you anything extra and it helps keep the free tutorials coming!