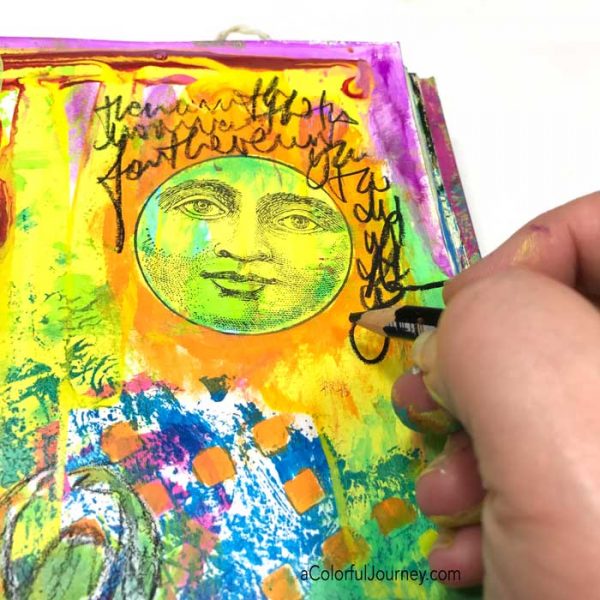 O.O.P.S. was a word said more than once on this art journal page and near the end, that word was coming fast and furious.  O.O.P.S. isn't a mistake, quite the opposite, since it means an Outstanding Opportunity Presenting Suddenly.
In the video, you'll see how I get myself into a quandary with the very first step and how that turns out to be an opportunity in the end. O.O.P.S!
Watch Journey of a 1,000 OOPSies in my art journal on YouTube.
The play started thanks to a gorgeous full moon where I could actually see the Man in the Moon while walking my dogs who were quite irritated that I kept stopping and just gazing upward.
This Stampa Rosa rubber stamp is proof that I can predict the future. Purchased around 1999, it hasn't been used much at all but it is the absolutely perfect image for what I was capturing in my journal.  I must have known 15 years ago that I would really need that today!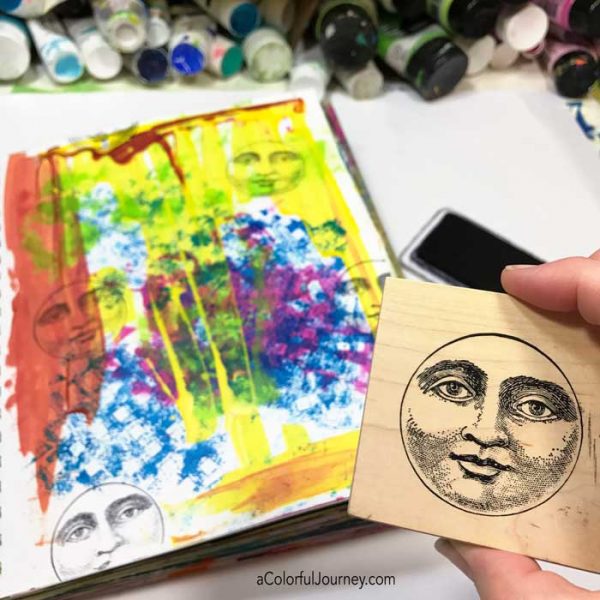 Staying with the theme of the round moon, like mini itty bitty moons, paint was added to the Circles Layer Me stencil with a regular flat paint brush creating a very loose and mixed media feel to the pattern.  After all, nothing on this page was precise.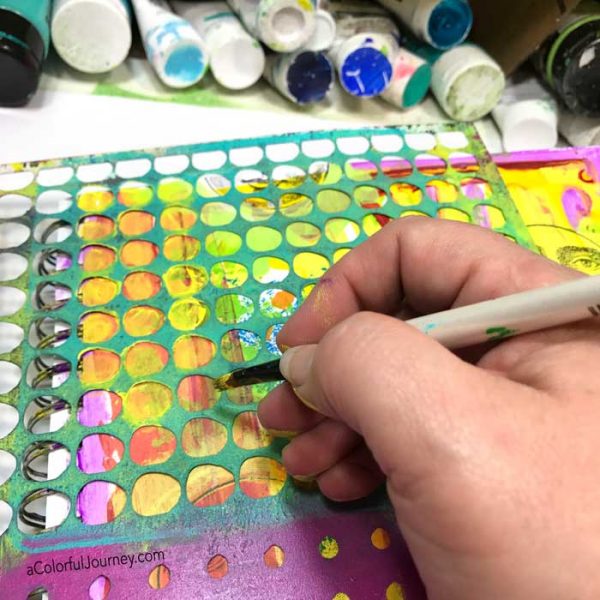 The smaller circles on the Circles Layer Me stencil  became little polka dots of moons around another moon.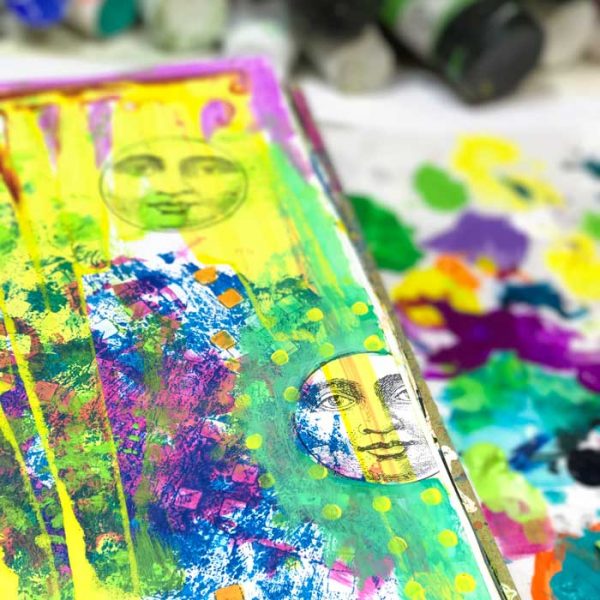 The phrase, Once in a Lifetime, which has been touted on the news describing this moon and quite a few others this year, was the title this page needed. But I am not a huge fan of my handwriting, so I used a stencil to help me out.
Even though life and time were 2 words on the Are We There Yet stencil, it didn't take a Dr. Frankenstein to meld them into one word.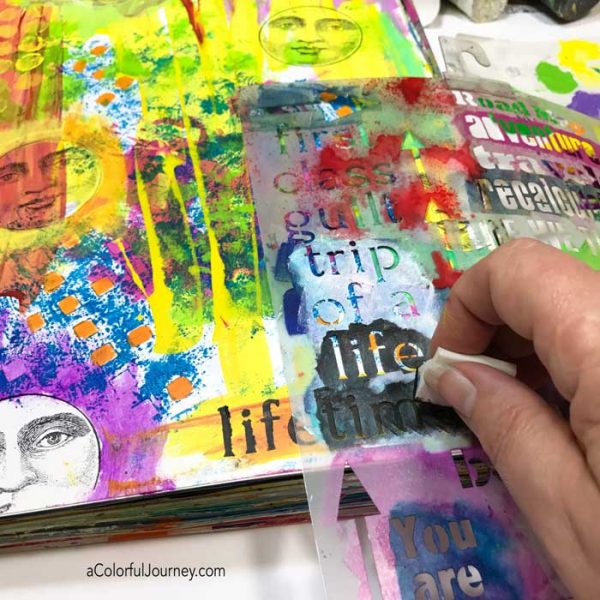 So how does O.O.P.S. help me play?  It keeps me from taking myself too seriously.  Every O.O.P.S. used to be considered a mistake, a blunder, and a failure which killed my creative spirit and put the brakes on any play I was having.  I'm not performing brain surgery, I'm playing. Plus, it's mixed media so if I don't like it, I can say O.O.P.S. and just add another layer.
Now you've seen my play, let's see yours!  Share what you're creating with us all in the Facebook group and be inspired by what others are creating! And be sure to leave a comment here to get entered in the monthly $50 gift certificate giveaway!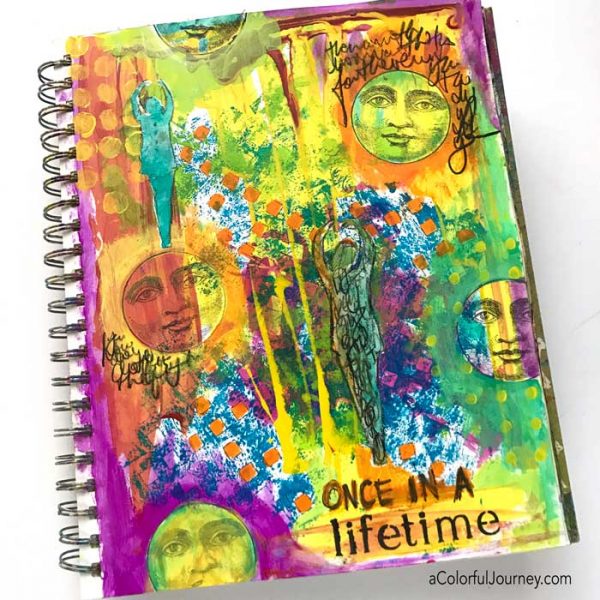 Here are the supplies I used. Some of these links are affiliate links which means I get a small percentage. It doesn't cost you anything extra and you are helping me keep this blog and my videos ad free! Thank you- I don't like ads any more than you do!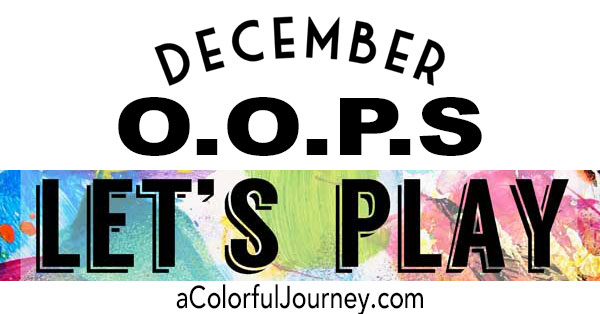 Want to see more Let's Play videos? You can find all the weekly posts here.
What is Let's Play? It's all about rediscovering the ability to play and each month I share a specific strategy that helped me recapture the freedom and fun of play. You can see more of the Let's Play series here. Be sure to get entered in the $50 Dick Blick giveaway by leaving a comment below.
Sharing your play:   I, and a whole bunch of others, would love to see what you're creating!  We're sharing it in the Facebook group called A Colorful Place to Play. Why Facebook?  I've listened to your feedback about how and where you'd like to share your play instead of the link parties.
Monthly giveaways:  Leave comment on any (and all for more chances) of the weekly Let's Play blog posts to be entered and one winner each month will be chosen by random.org.  Want more chances to win a $50 gift certificate to DickBlick.com?  Pin any of the images from the page or share about it on Facebook- then come back and leave a comment telling me what you did and you can have more chances to win! Giveaway closes the Sunday, December 28th at 11 pm EST and the winner will announced on the blog.
Congrats to Jodi, last month's winner!