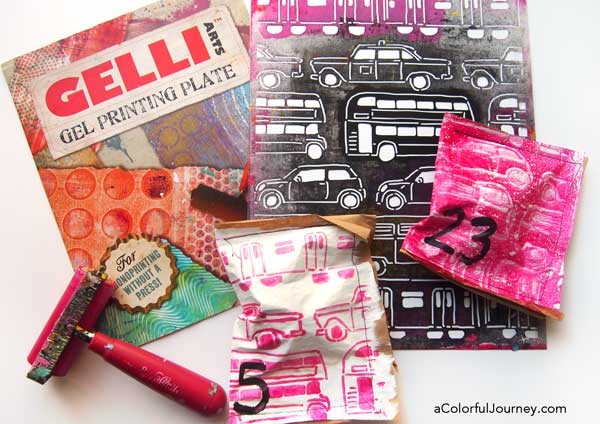 The holidays have arrived faster than I realized…and I am running late getting my nephew's advent calendar together.  The fact that I have zero holiday wrapping paper isn't a problem because I am going to make my own.  But I needed to get this mailed out yesterday…so I need to get lots of wrapping paper created in a hurry.  And I need to wrap all 24 gifts pronto!
Why 24? A tradition in our family is to open a small gift each day of December until Christmas.  For my car and truck loving nephew, I am wrapping an inexpensive car or truck for each day for him.  One could even call these cheap.  He's preschool age, so the numbers on each gift will also allow him to get a little practice counting too.
The solution to all my obstacles?  Gelli Printing®!  And as a bonus it let me create 2 coordinating looks without any extra work!
Watch Gelli printing an advent calendar and gift wrap on YouTube.
Want to know more about Gelli printing®?  I've got all sorts of getting started information here.
Why was this so quick? I used just one stencil and just one color of paint but it created 2 coordinating  looks.  There was no thinking involved here…it was all about speed. As a bonus, I was able to use up some of the red paint that I have but I so rarely use.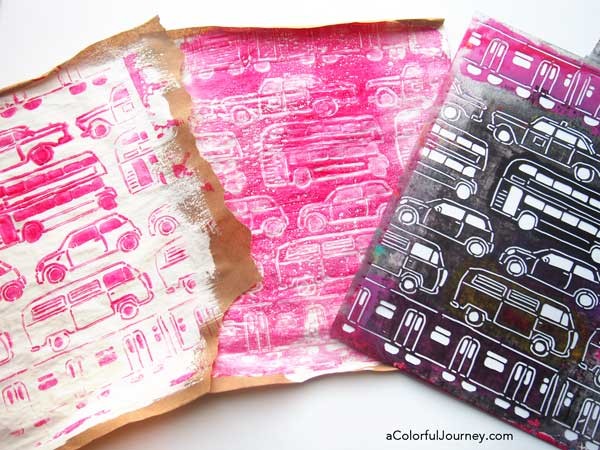 This could be a lot of wrapping of odd shapes so instead of tape, I am going to sew them each in a paper pouch.   I don't know a lot about sewing but I can sew an almost straight line.  I cut the pages to create pouches or bags to hold each vehicle and painted the number (1 to 24) so my nephew will know which one to open each day.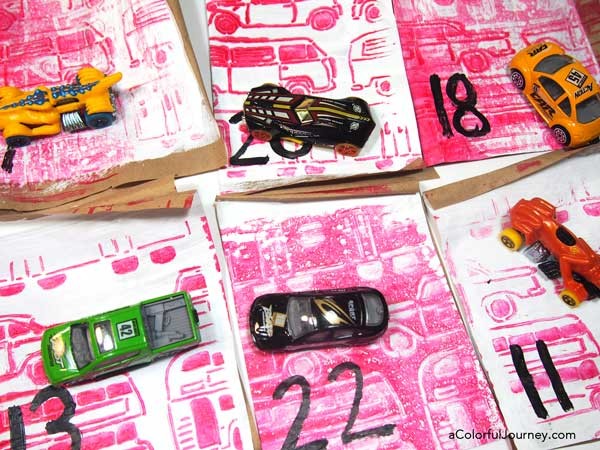 Then it was time to hit the sewing machine to seal these all up. Now that they are all ready, I am off to the post office to get these in the mail to him and start on the next holiday task that I am behind on…hope you are farther along on your holiday to do list than I am!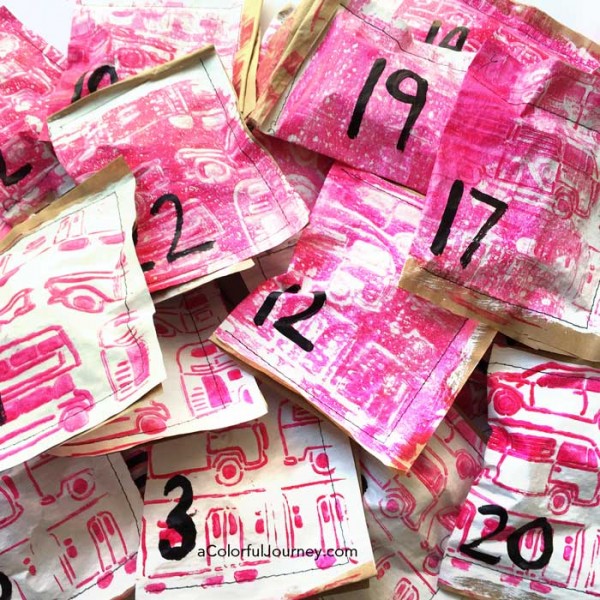 Here are the supplies I used. Some of these links are affiliate links which means I get a small percentage. It doesn't cost you anything extra and you are helping me keep this blog and my videos ad free. Thank you- I don't like ads any more than you do!