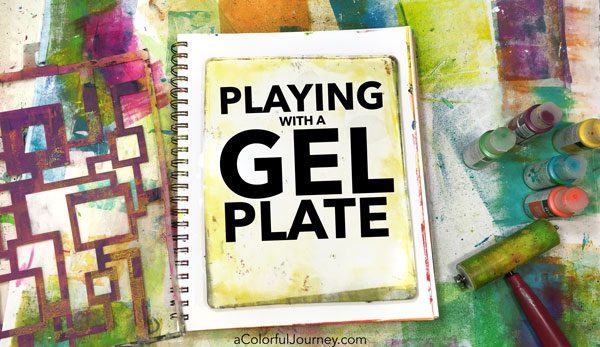 Control is a creativity killer for me.  My left brain likes control, which is quite helpful in some areas of my life, but not when it comes to art and play.
Letting go of control is easier said than done but I have found ways to help myself do it. One way is by using a tool or supply, like a gel printing plate, that I can't completely predict. That means I can't completely control it either.  My left brain has no choice but to deal with less control.
In the video, I'm using a Gel Press printing plate and building up layers of color and pattern with a stencil directly in an art journal.  You'll see how I handle it when the print doesn't go quite the way I wanted.  OOPS!
Watch How a Gel Plate Helps Me Play in my Art Journal on YouTube.
Adding the quin magenta was the big O.O.P.S., an Outstanding Opportunity Presenting Suddenly.  Didn't like what the opportunity was in that moment but it was there.  Without that magenta, it never could have become the page that has become a favorite of mine!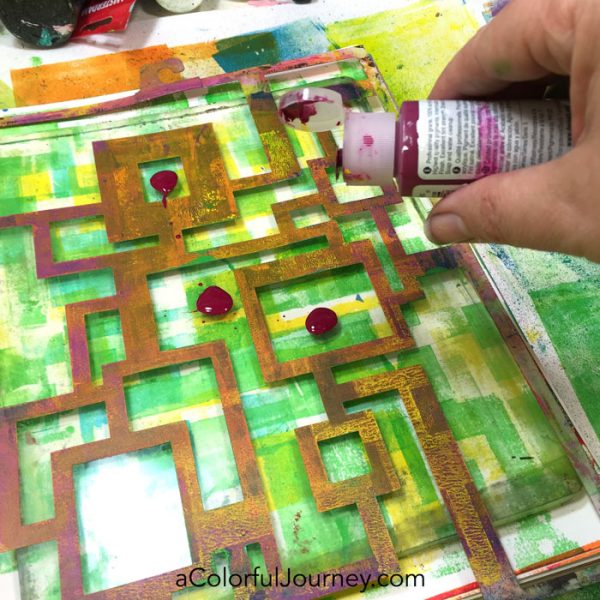 Just layering one stencil over and over let the colors of DecoArt Media Fluid Acrylics build and create scrumptious color variation.  Here's a close up of the layers.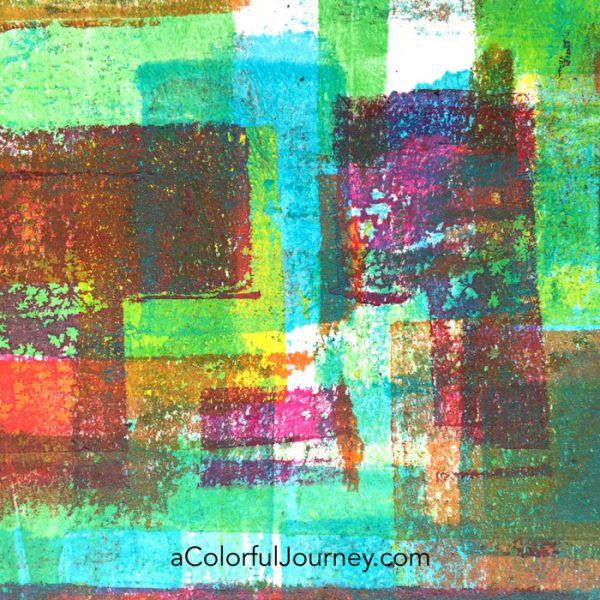 Since this is play, I am under no contractual obligation to complete this page in one session. Or in one day.  I'm enjoying this background and all the bits of colors mingling together for now.  When the muse is ready, she'll let me know what to do next.
Of course I'll share what I do next to this page.  Want to be sure you don't miss it?  Then just keep an eye out for my newsletter in your inbox.  Not signed up yet?  No problem- join the fun here!
Now you've seen my play, let's see yours!  Share what you're creating with us all in the Facebook group and be inspired by what others are creating! And be sure to leave a comment here to get entered in the monthly $50 gift certificate giveaway!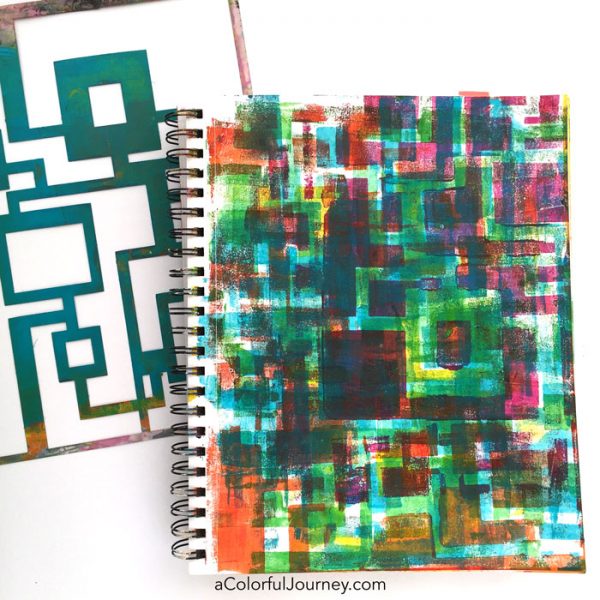 What is Let's Play?  It's all about rediscovering the ability to play. Each month I share a specific strategy that helped me recapture the freedom and fun of play.  This month's theme is letting go of control. You can see more of the Let's Play series here. Be sure to get entered in the $50 Dick Blick giveaway by leaving a comment.
Want to see more Let's Play videos? You can find all the weekly posts here.
Sharing your play:   I, and a whole bunch of others, would love to see what you're creating!  We're sharing it in the Facebook group called A Colorful Place to Play. Why Facebook?  I've listened to your feedback about how and where you'd like to share your play instead of the link parties.
Monthly giveaways:  Leave comment on any (and all for more chances) of the weekly Let's Play blog posts to be entered and one winner each month will be chosen by random.org.  Want more chances to win a $50 gift certificate to DickBlick.com?  Pin any of the images from the page or share about it on Facebook- then come back and leave a comment telling me what you did and you can have more chances to win! Giveaway closes the Sunday,October 3rd at 11 pm EST and the winner will announced on the blog the following Monday.
Congrats to Barbara, last month's winner!

Here are the supplies I used. Some of these links are affiliate links which means I get a small percentage. It doesn't cost you anything extra and you are helping me keep this blog and my videos ad free! Thank you- I don't like ads any more than you do!