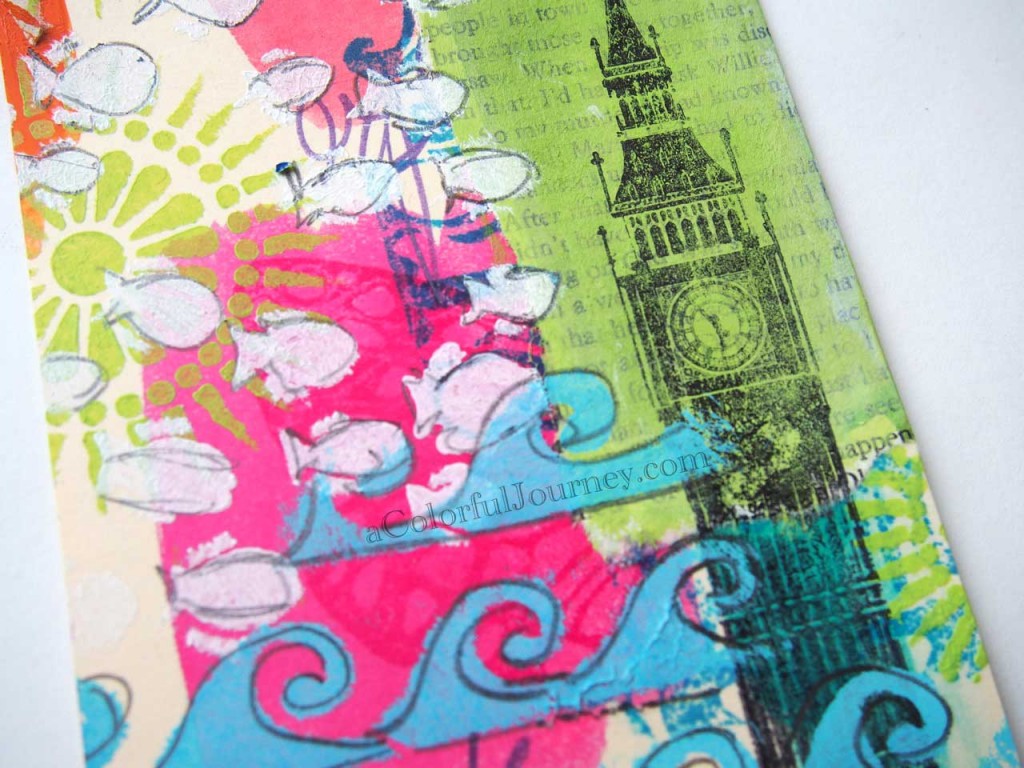 There was something fishy about the story that my muse popped into my head as I was playing.  So fishy in fact, that I began to think about the plausibility of the story.  My logical left brain jumped in while I was playing.  That did not go so well until my inner teenager with ample attitude jumped in…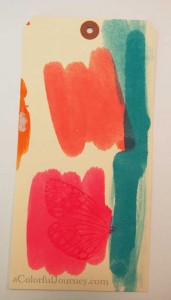 It all started here, a tag where I had been testing out the colors of some Distress stains.  It seemed harmless enough…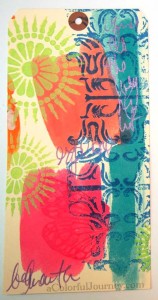 The tag just became a playground as I let go and played.  A stencil from Michelle Ward, some scribble writing, some stamping with one of Kari McKnight Holbrook's polymer stamps. No logic. Just play.
The messing around continued with whatever was around on my counter.  Better to use it than put it away…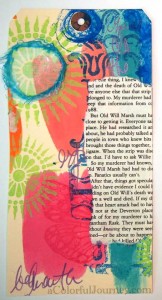 Suddenly, a story  about London and sightseeing fish touring the town popped into my head.  I could almost hear the fish ohhing and ahhing over the architecture.  Really? This is what my muse was sending me?
The left brain lawyer jumped right in and began interrogating the story. Fish sightseeing?  Fish don't sight see or tour famous buildings anywhere, let alone London.  There is no scientific evidence of fish ever being impressed by architecture.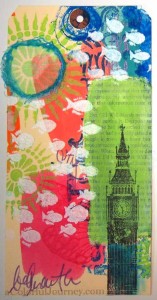 That obnoxious teenager inside of me decided to prove that left brain lawyer type in my head that this was perfectly plausible in art!
So I grabbed Aidan's School of Fish stencil and set them to swimming in London.  And they can swim wherever they want to get the best possible view of Big Ben!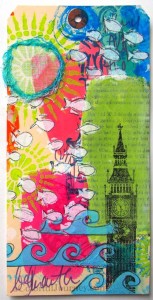 I decided to really irritate the left brain, so out came Maria McGuire's borders for a few waves.  Because there are crystal blue waves suitable for surfing in London…take that left brain lawyer….
Granted, this story will not be the basis of a Pulitzer prize winning novel, but it was fun to make.   It was a big reminder that my play does not have to be reality based or "make sense", it just has to be fun!
I'd love to know if the stories you create in your art real or imaginary or something else?