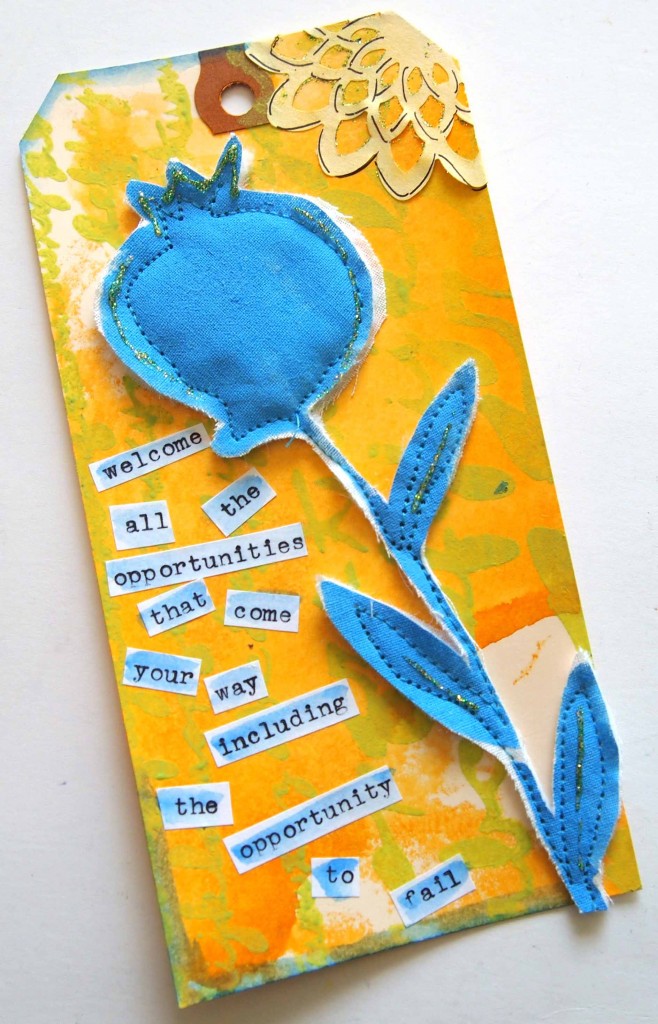 The mailman brought me a box of happiness this week- new stencils from Julie Balzer and Crafter's Workshop!  I have been using the stencils on tags, canvases, fabric, my kids even learned not to be too still near me or I would stencil them!  No problem keeping up with Creative Everyday this week!
I was making this tag and wanted a phrase to add to it. I seem to want text in some form or another on everything I make lately.  "Welcome opportunity" came to mind.  Almost right, but it needed a bit more.  "Welcome all the opportunities that come your way", now that matched what I was feeling.
Making art is very cathartic for me, even when I don't expect it.  I was typing the words, cutting the words, wishing I had the fingers of  a 5 year old to pick up the little things when it struck me.  Failing is an opportunity.  I failed at all sorts of things while making this tag AND learned lots.  That's why I added "including the opportunity to fail".    I think I am a better artist because of my failures, not my successes.  I am not a neurosurgeon- they don't have the room to fail the way I do.  Today, I am embracing my failures.
1.  Failure: The green against the orange did not turn out well.  The green was too translucent a paint so it was more subtle than I wanted. Learned: That I need to check the paint when I am working with lighter colors so I know what kind of coverage/look it will provide.  Also learned that subtle can be good, in the end I preferred what I created to what I had intended to make.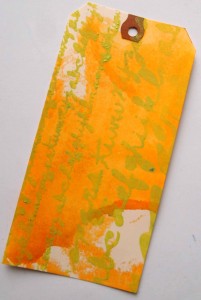 2.  Failure: The punched flower spray inked yellow was too close to the orange.  Learned:  Edge it in pen to make it stand out more.
3.  Failure:  Put rows of glitter on the yellow flower to give it some pizazz – which it did not. It just looked strange there.  Learned:  Smear the glitter glue while wet and it fills into the edges and creates a more subtle look.  Much better.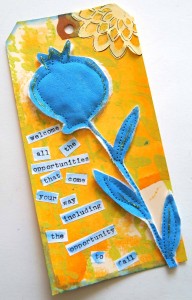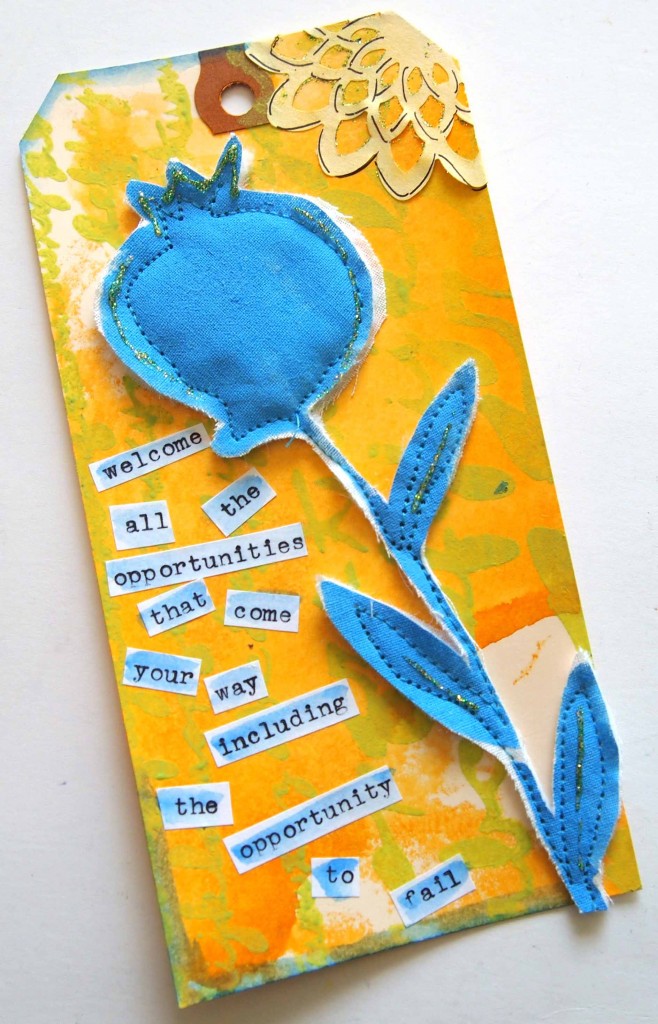 4.  Failure:  Put a little on the blue stitched flower and it looked out of place and awkward.   Learned:  A little glitter is awkward but more is better.  Added more lines of glitter around the edges and it felt like it belonged.
5.  Failure:  Fingers dropping little typed words and getting really stuck to the glue on my fingers.  Learned:  Grab the tweezers and then the glue doesn't get all over my fingers.