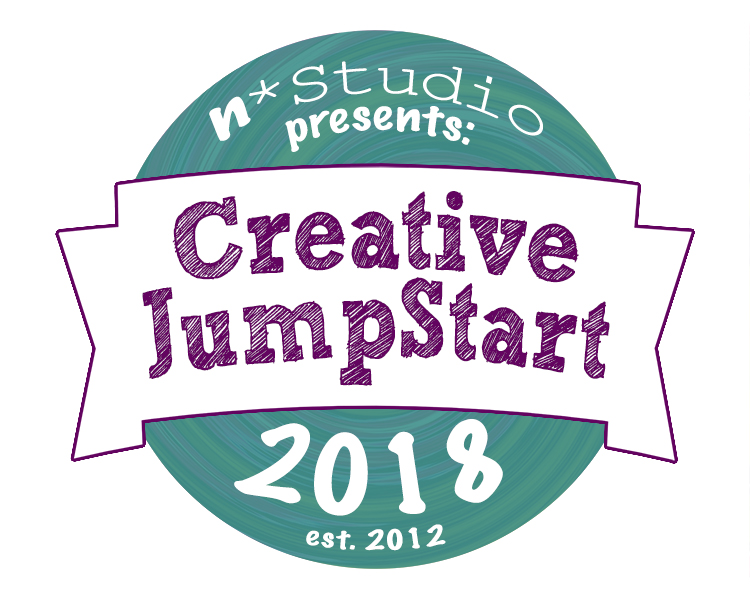 I am honored to be a part of Creative JumpStart!  It's a one-of-a-kind online event hosted by Nat Kalbach to kick your creativity into high gear. What a playful way to start 2018!
Throughout January participants get access to 31 downloadable videos from 31 featured artists. That's over 6 hours of content to start 2018 off with artful play!
Creative JumpStart, in it's 7th year, is all about learning techniques, discovering new materials, and connecting with other creatives.  The theme this year is Now We're Cooking, Mixed Media Art Recipes!
Along with my recipe for play and art journal page from start to finish, you'll also get videos from Mary Beth Shaw, Dina Wakley, Diana Trout, Jodi Ohl, Julie Fei-Fan Balzer, Michelle Ward, Andy Skinner, Kasia Avery, Mystele Kirkeeng, Pam Carriker, Rae Missigman, Nat Kalbach….and more!
31 days of inspiration to start 2018 with creativity
31  downloadable videos – over 6 hours of unique content
31 artists sharing their art recipes
For just $40 if you sign up by November 29 11:59 pm EST, 2017. After that, it will be $45 until December 31st, 2017 then  its regular price of $50.