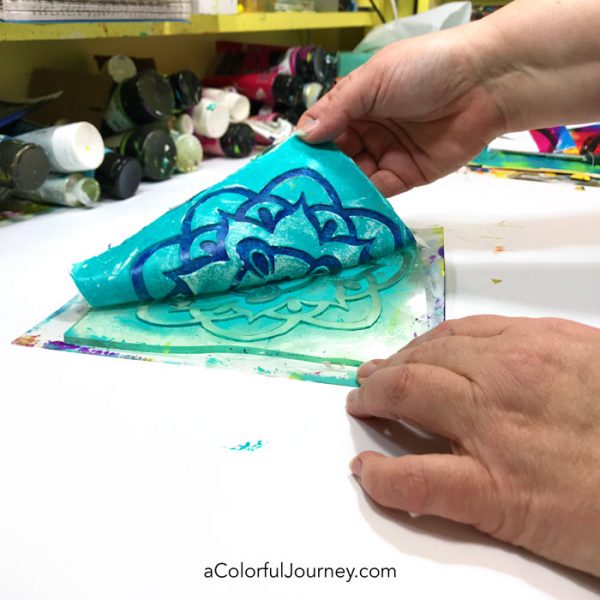 You can put just about anything on an Impressable gel plate…including modeling paste! The texture these two create together is magnificent…can you tell that I love texture?  What can you do with this flexible piece of colorful texture?  I used it create a golden jeweled canvas.
Watch Modeling Paste on an Impressable Gel Plate on YouTube.
What is an Impressable gel plate?  It is made entirely of the same wonderful gel that Gel Press uses in their regular gel plates and it has a raised pattern on it. I'm using the Rose Mandala designed by Jen Starr.
The first step is to get paint on it. Any color, or colors as you can see in the video.  Getting that dark blue color on there so perfectly was quick and easy because the pattern is raised, or embossed.  So by using the brayer lightly, it only put the blue on the pattern.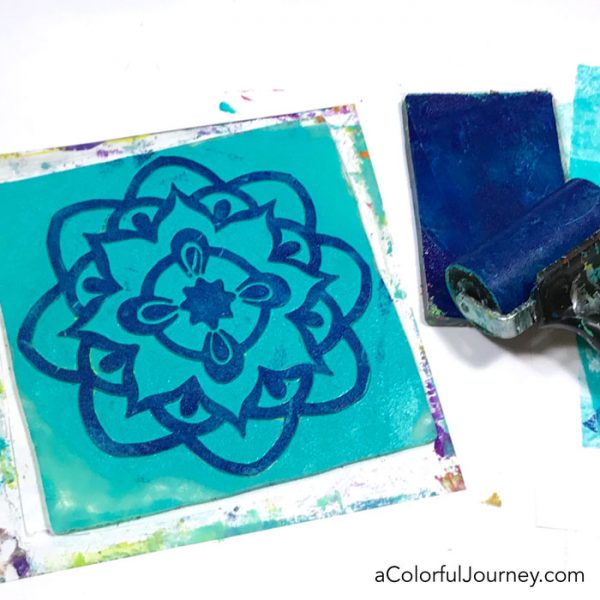 Let the paint dry completely and add a layer of flexible modeling paste.  Really slather it on there so it gets in all the nooks and crannies and covers the design completely. You want a pretty thick covering of it, to the point that you can't see the design underneath.
This is the tough part, the letting it dry fully part.  It takes 1-2 days depending on where you live. I couldn't wait 2 days with my impatience so it was only a day O.O.P.S.!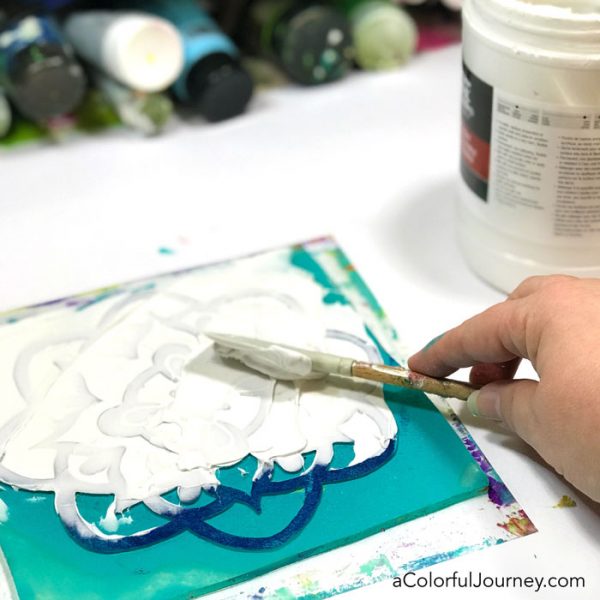 The O.O.P.S., Outstanding Opportunity Presenting Suddenly, happened when I lifted the modeling paste off the plate. Not all of the teal paint lifted off and that created the most wonderful color opportunity!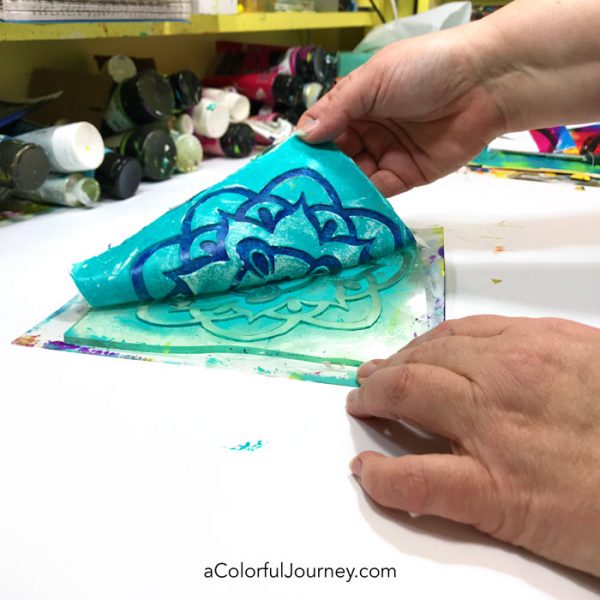 By adding a thin layer of yellow, it now looks mottled because of anywhere the teal paint was missing it looks lighter.
There were a couple of spots of the dark blue that needed a touch up.This is where the texture in this is extra handy. Since it is a raised pattern, staying in the lines is a breeze.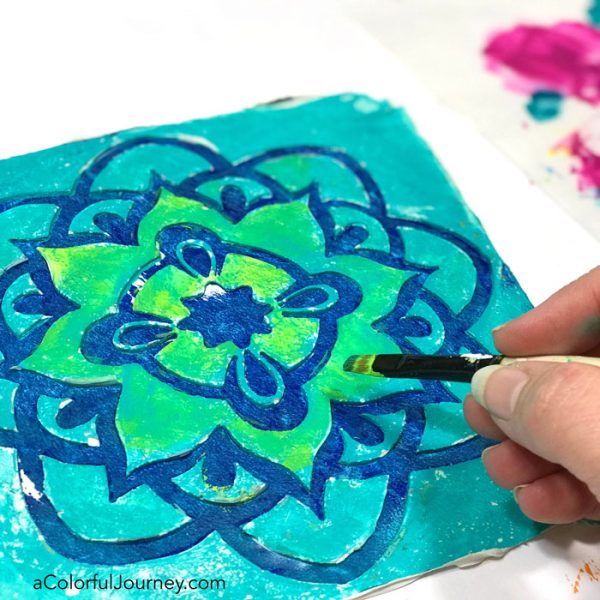 The modeling paste is flexible and scissors cut it like butter.  I cut the Rose Mandala in half because the canvas I was using was small.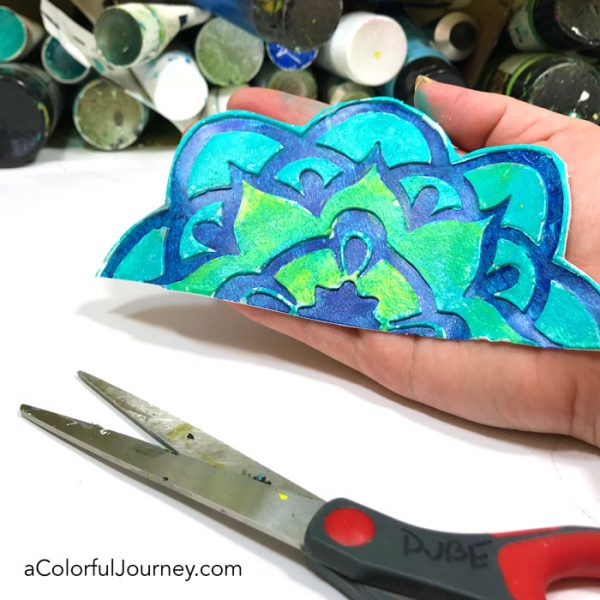 The modeling paste curved effortlessly around the canvas, wrapping the texture over the edge.  A little bejeweling with stick on gems and a quick word using my Rembrandt's Words stencil and this little canvas is complete.
Thanks for stopping by for today's play. If you're new to gel printing and want to know more, I've got a page full of resources here from getting started to techniques to what to make with your prints.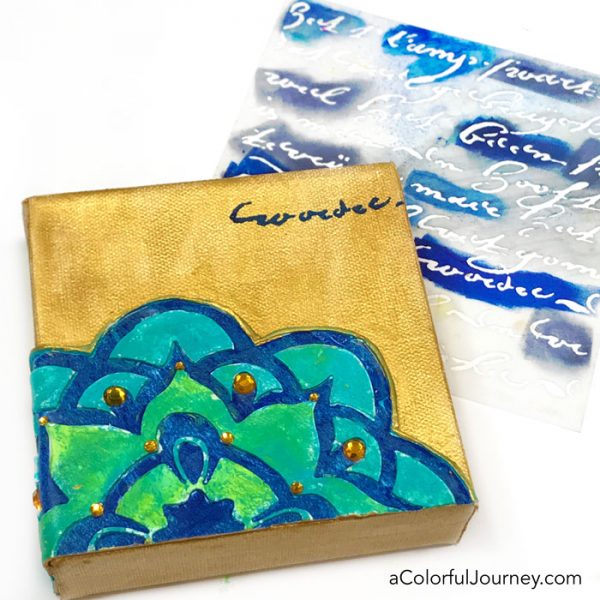 Here are the supplies I used. Some of these links are affiliate links which means I get a small percentage. It doesn't cost you anything extra and it helps keep the free tutorials coming!