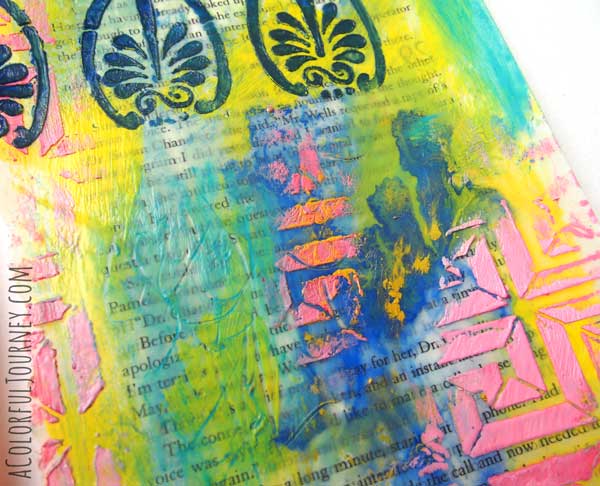 One of the things that I enjoy about reading an art book is that it inspires me to play.  Now, I don't always do exactly what is in the book or do it exactly how the artist did it.  It's a place to jump off, to start, to play.
Today, I used Mary Beth Shaw's book, Stencil Girl.  There's a week long blog hop going on so be sure to check it all out!
Check out the video where you see my whole process for encaustic play.  Disclaimer: I am a total novice with encaustics and am just having fun playing.
Watch Playing with Stencils and Encaustics on YouTube.

Step 1….Pick a page, technique or chapter.
I've been exploring encaustic, you can see my first attempt here.  So I was drawn to the chapter called Wax and Waning Encaustic.   There is beautiful carmel brown piece with 20 step-by-step photos in Mary Beth's book.

Step 2….Pick just one little bit to try. I narrow down to just one thing, or as close to 1 thing as possible, to try.  If I try to do everything the artist did I get overwhelmed by all the pressure.

Step 3….Get what ever supplies are on hand to try it.  If I don't have the exact items it is just fine with me…And it keeps me from having to read too many words or get caught up shopping instead of playing.  Whatever I have will work.  And by work, I mean let me play. It may not give me the exact same results as in the book but that was never my goal.  My goal was to start playing.
Step 4…Play.  Try it.  Play.  Have fun.  And allow it to be whatever it will be.  It is just play.
Supplies Used:
Encaustic supplies from the Linda Robertson Kit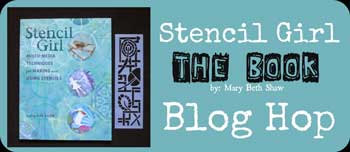 One lucky winner will receive Stencil Girl The Book with exclusive bookmark stencil and (3) 6″x5″ stencils designed by Mary Beth Shaw.
Giveaway closes Sunday, September 21st @ 11:59PM Central Time.  ALL comments left on the hop are entered in giveaway (but just one comment per blog please).
Carolyn Dube (you're here)
Maria McGuire