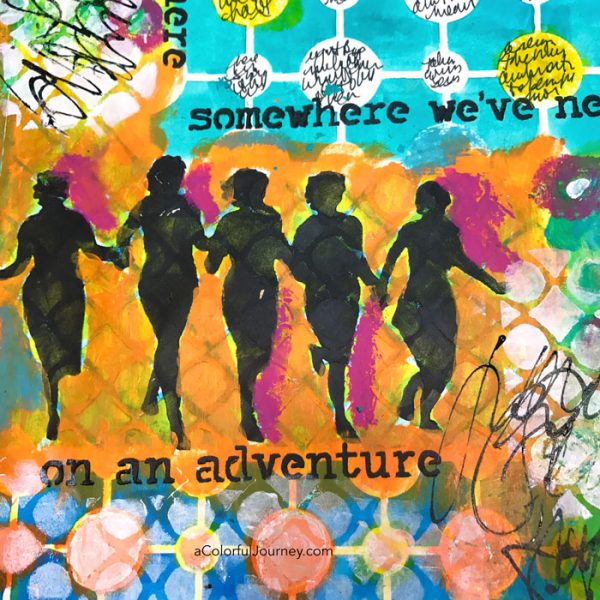 The day had been filled with grown up thinking and decision making and I had become a bit of a stress monster so my family banished me to the art studio to play.  I wasn't up to starting with a blank page so I flipped through my journals and found a stenciled page to begin the process of shaking off the day.
It is probably no surprise to you that this led to some
OOPSies
…including an ugly one with black paint.  And then just when I thought I had shaken off the stress of the day, something happened that proved to me that there might still be a little stress left. OOPS.
Watch The Black Paint OOPS in my Art Journal on YouTube.
Who knows when I stenciled this in my art journal with the Circular Patterns for Play stencil. This paper and paint has patiently waited until I was ready to add more layers. After all, there is no expiration date on an art journal.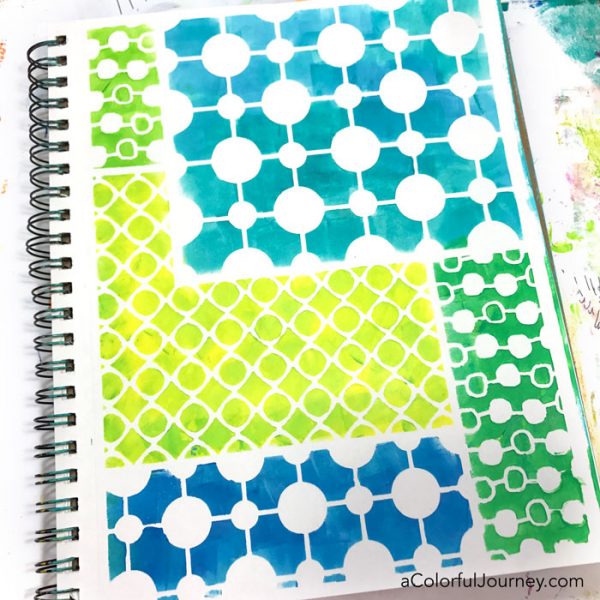 Scribble Sticks by Dina Wakley added the next layer.  I started by adding more color to the pattern and about half way through and feeling quite proud of myself for being so detail oriented for me.  And then my patience ran dry and I took a bit of shortcut.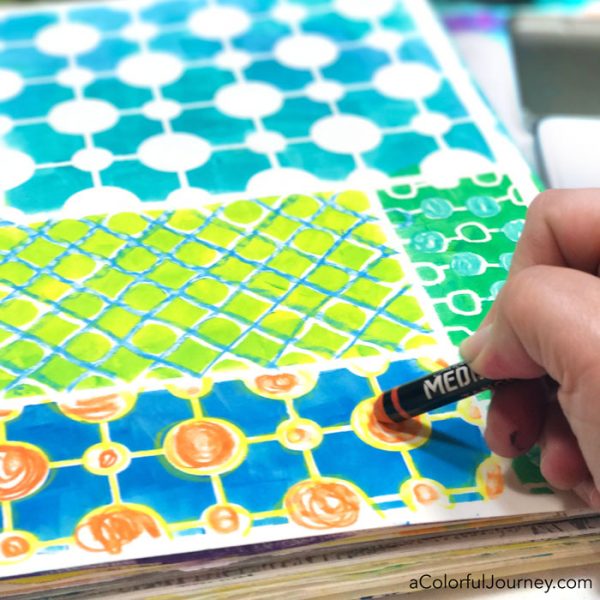 The white circles called for a bit of scribble journaling with a fountain pen.  Don't worry if you can't read the words I wrote.  I can't either.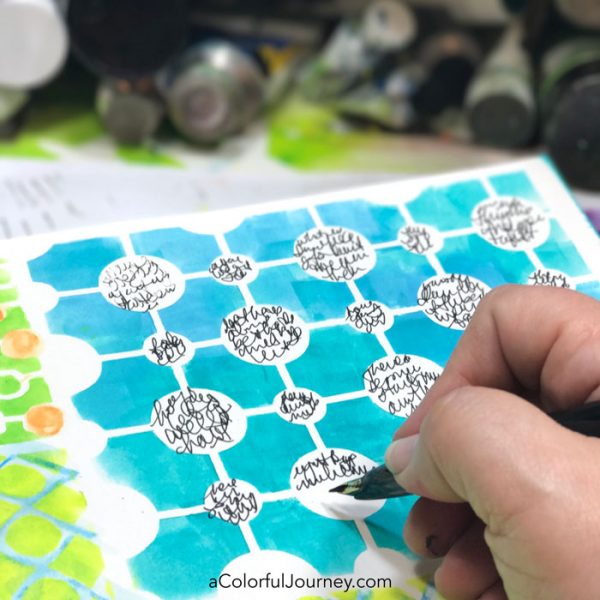 A bit of black paint and a cosmetic sponge and the women from my Finding Your Tribe stencil were added to the page.  Soon, that sponge full of black paint was going to lead to an O.O.P.S.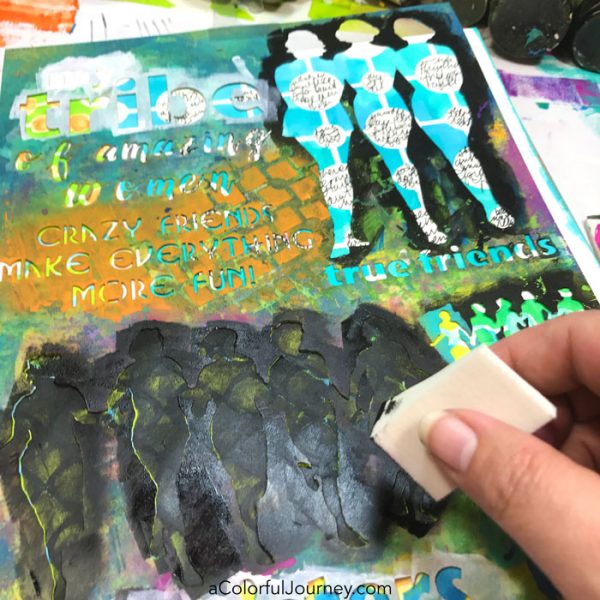 The moment I added the yellow paint, I said O.O.P.S.  I decided to cover it up a bit with what I had nearby, the cosmetic sponge of black paint.  O.O.P.S. again.
Thankfully, baby wipes exist and most of the yuck was removed.  This gave me an opportunity to add more paint to cover up the remaining traces of the yuck.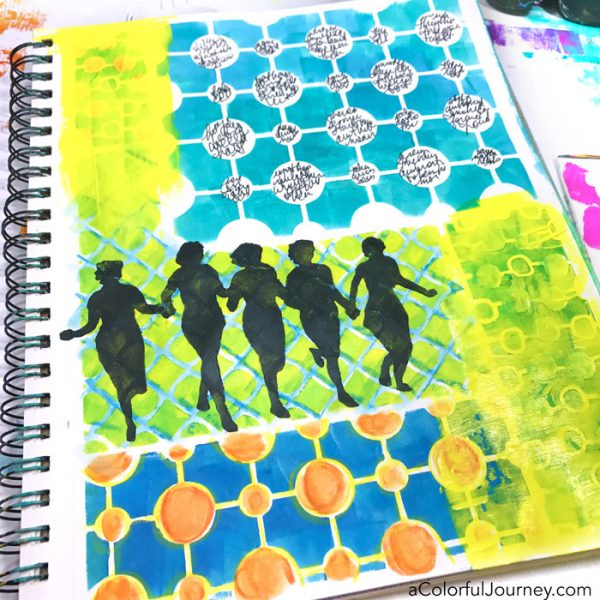 My thinking brain was taking a break during most of this play because it was worn out from making decisions all day.  But when it came to positioning the words from the Let's Go stencil on the page, I needed that thinking brain to get the phrases I wanted to fit where I wanted.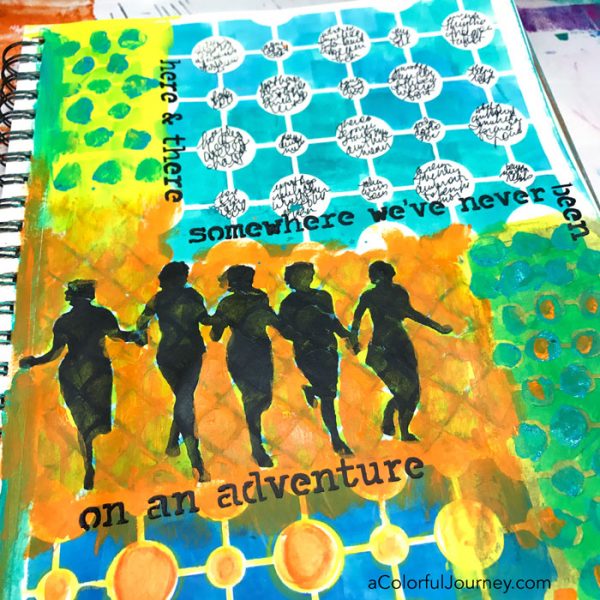 By this time, I was confident I had de-stressed completely thanks to the play. There was about to be proof that I was not as relaxed as I thought.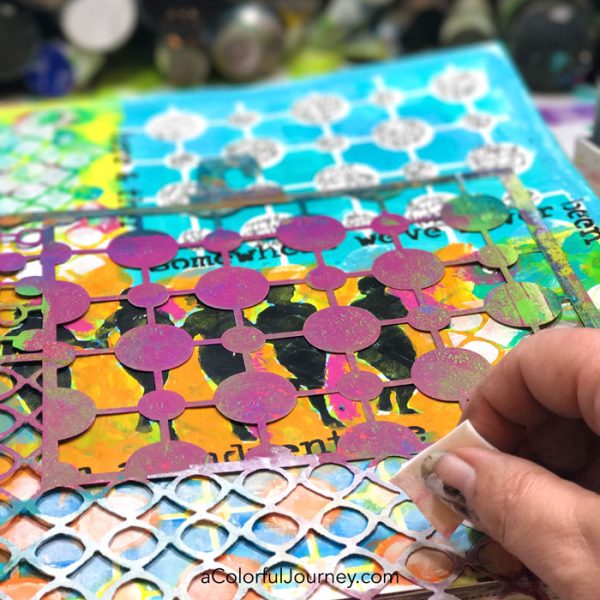 Since the paint was still damp and would ruin a pen at this point, I chose to use a fine liner for some scribble writing.  Which I have used a zillion times before.
Apparently, I was squeezing the bottle more than I realized and each time I wrote far more ink than I intended came flowing out.  O.O.P.S.
What was the opportunity in that?  More play time!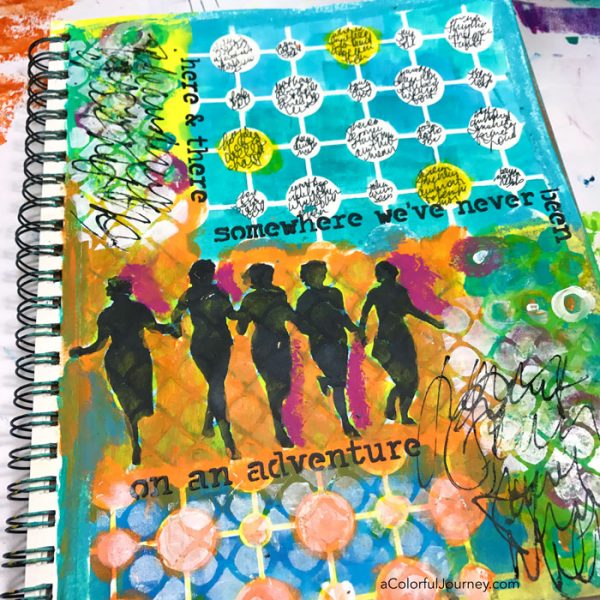 Here are the supplies I used. Some of these links are affiliate links which means I get a small percentage. It doesn't cost you anything extra and it helps keep the free tutorials coming!