Watch Art Is You workshops with Carolyn Dube on YouTube
Want to let go and just be in the moment having fun? Then join me the 6-8th of October at Art Is You! I'm teaching 3 full day workshops and all 3 are designed for maximum color and play while you get a hands-on understanding of the techniques and tools.
I'm a teacher at heart and seeing you grin from ear to ear when the play takes over is why I do what I do. Part of what will help you feel the freedom of making art is that along with the techniques you also get clear relatable explanations that build your understanding of the process and the tools.
Plus, and this is a big one, I'm right there to answer your question. In every workshop, there are students for whom one little thing is holding them back. That thing that gets in the way of their play. But when they can talk to me in person, when we find a personalized solution right there on the spot, the floodgates of fun open right up.
The theme for this year is Talk Story, and with Salllianne's ability to build community and connection that is the perfect theme! She's got a Facebook group full of information about the event here. Looking forward to seeing you at Art is You this October!
-Carolyn
Don't Judge a Book by its Cover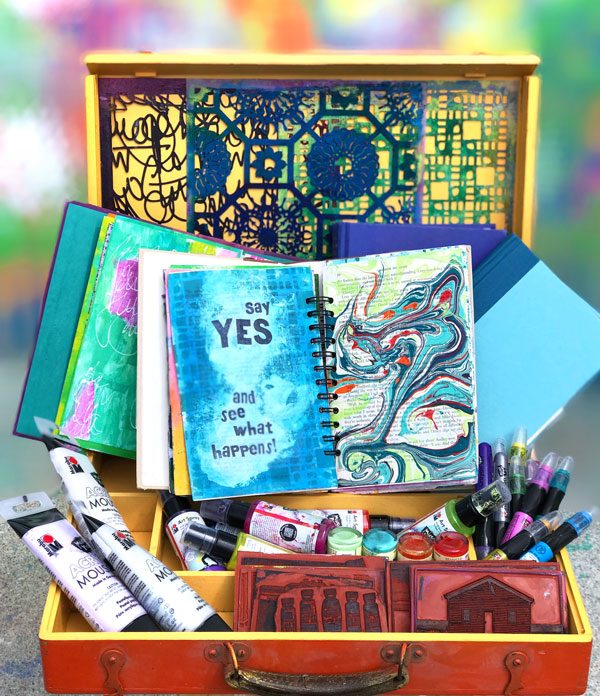 Cloaked inside this ordinary looking book is a journal of creative play. Feel the excitement and experience the freedom of play as a hard back book is transformed into a lay flat journal.
During our day together you'll be creating shimmering stucco effects, colorizing vintage photos, using StencilGirl stencils mixed media style, marbleizing papers, and more. Along with the techniques broken down step-by-step, you'll also know how to open up to the moment, and ride the waves of color and play.
No sewing. No measuring. No precision needed. This is a let loose and play type of journal. Go wild with my suitcases of Marabu supplies, try different things, and harness the color wheel to give you the looks you love. As I'm sharing techniques, I'm also sharing the whys so you can apply the fun to any mixed media art play.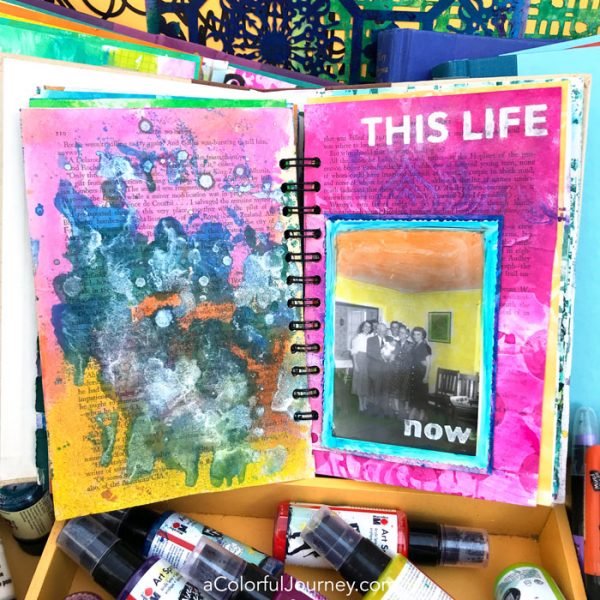 All you need to bring is a 6-7 of your favorite colors of acrylic paint, a craft knife & cutting mat, paper trimmer (or share mine), a pencil, scissors, glue stick, gel medium, paints brushes of various sizes, and an apron. All the rest is included so come prepared to immerse yourself in the freedom of play!
Dirty Little Secrets of Gel Printing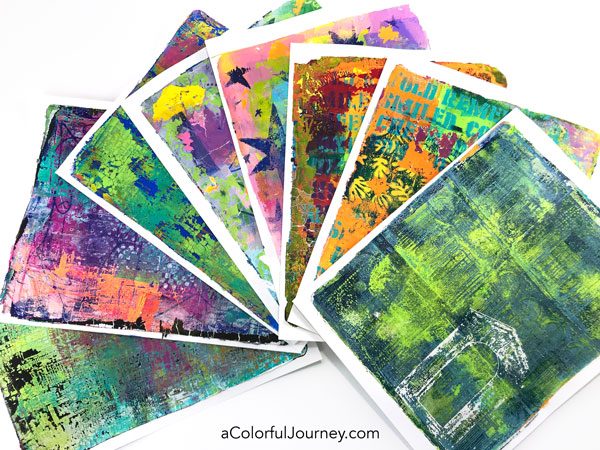 A rainbow of color and pattern mysteriously entangled in the layers of your gel print but never making mud? How is that possible? You'll gasp with excitement as the first corner is pulled up giving you get a glimpse of the colorful magic about to be revealed. But it's not magic.
Once you know the secrets then you can actually control when those prints are going to happen, even if you have never made a gel print before. It isn't random and it isn't some unexpected surprise, it's about the dirty little secrets of gel printing.
Step-by-step, the techniques are broken down but fair warning, this is an addictive process so be prepared to make an abundance of prints you love. Once you know the secret, then you can dial it up or down, creating prints you love.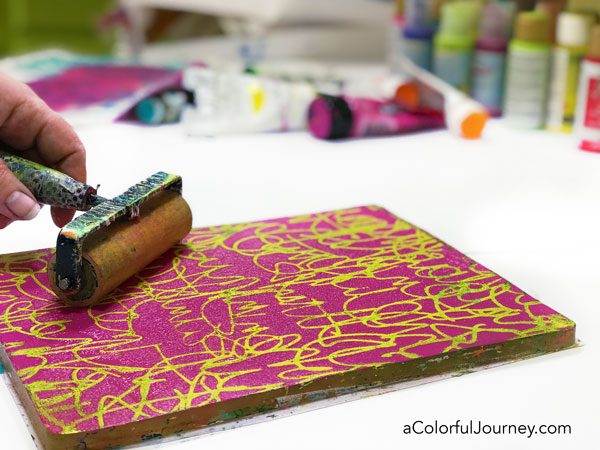 Carolyn's bringing all the Gel Press plates, brayers, stacks of paper, a huge stash of StencilGirl Products stencils and the secret ingredients for you to use so you'll only need to bring 6-8 of your favorite colors of acrylic paint plus a heavy body white paint and an apron.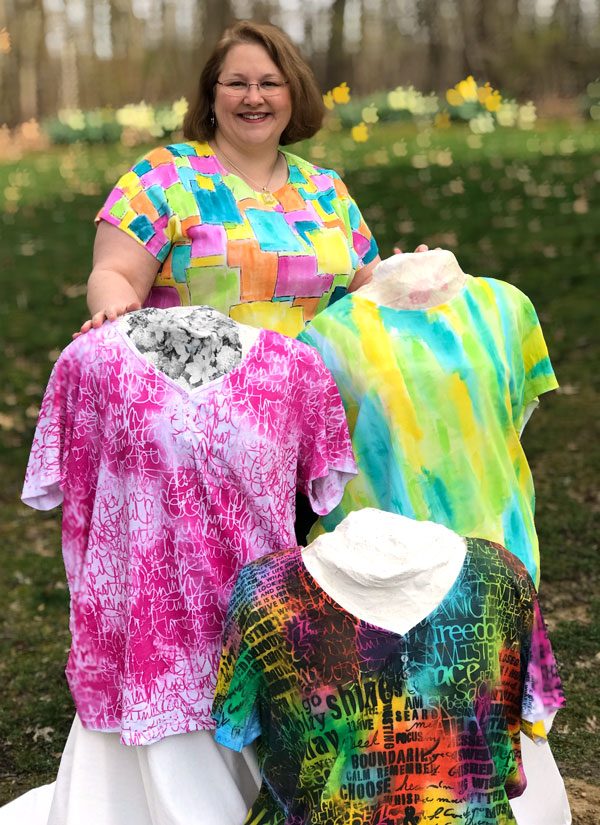 Transform average white shirts into colorful couture as we spend a day playing with pattern and the rainbow. As the techniques are broken down step-by-step, you'll get helpful shortcuts on how to create wearables that are vibrant and one of a kind.
You'll walk out the door with 4 uniquely you shirts and an understanding of the process and the materials.
Zero experience is required for this day of play with paint, StencilGirl stencils and Marabu fabric painting supplies. You'll need to bring 4 white prewashed 100% cotton shirts, an empty spray bottle for water, 6-8 of your favorite colors of regular acrylic paint, paint brushes (some big some not so big), a container for water to clean brushes, scissors, and a sharpie marker. I'm bringing everything else you'll need.