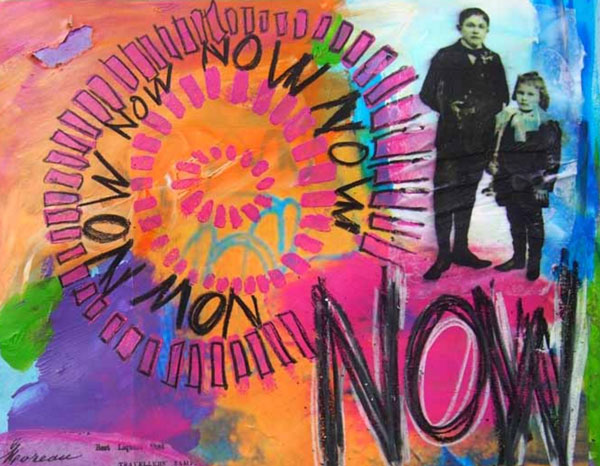 So how do you get rid of fear when art journaling?  Just say Oops!  What does Oops stand for? Outstanding Opportunities Presenting Suddenly!  Here's how I use Oops when I art journal to keep fear from limiting my creativity…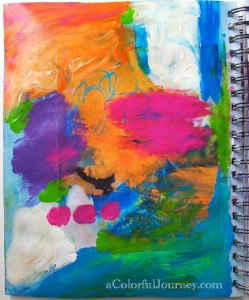 The white was supposed to be pure white and not have streaks of orange in it…a mistake? a terrible turn?  Nope. Just an Oops.
I find it funny that I thought I wanted pure white anywhere on here.  Perfect white would not have looked right at all!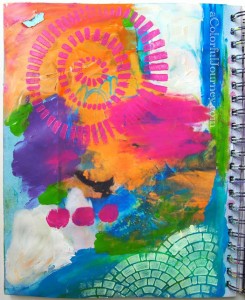 I am impatient.  I didn't let everything completely dry before I started stenciling with Unconnected Stencil from StencilGirl Products. Part of  the orange paint in the corner was pulled up.  Oops.  I didn't know how it was going to work out but I knew it would work out because it was just an Oops, an Outstanding Opportunity Presenting Suddenly.
I went to my next stencil with a clear plan in my head.  The Fishscale Brick stencil from StencilGirl Products was a great way to get a nice light green over the dark blue/green I had.  The color I mixed turned out to not make me happy.  Oops.  Not ruined.  Not a mistake.  Just an Oops.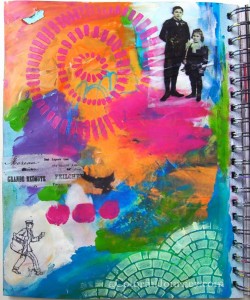 Now I wanted some images…the leftover stamped mailman on tissue paper  and another image I had printed on tissue paper went on well and turned out as I hoped.  So I grabbed a printed tissue paper I bought.  Oops.  It was very opaque after I glued it down.  Not what I expected.  A failure? Nope.  An outstanding opportunity that had presented itself suddenly.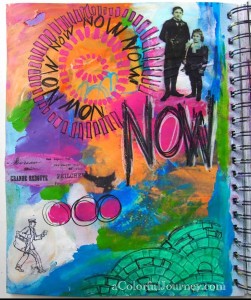 So that Oops that ripped up the orange paint?  A quick wash of a half cleaned out brush and it became a cool pop of color!
That tissue paper that was very white? That same watery brush took the white and made it pink!
That green paint Oops with the Fishscale stencil? Black lines with the Stabilo brought it to a place I loved and that led me to put the lines around the Unconnected Circle stencil.
Now when I art journal it is without the fear.  What I used to see as a mistake that often left me feeling defeated, I now see as an Oops, an outstanding opportunity presented suddenly!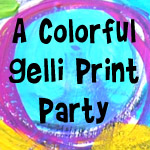 The July Colorful Gelli Print Party is going strong!  You can check it out here!  Have you Gelli printing?  I'd love to see what you're printing- link up and join the party!  Here are just a few of the great Gelli happenings in July's link party.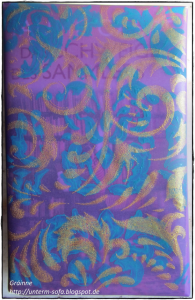 Suzanne needed gift wrap so she wrapped the gift, THEN Gelli Printed it!  Genius!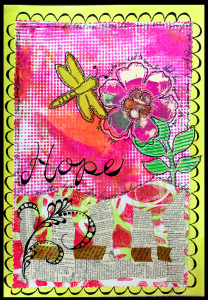 Terri shows you step-by-step how she built this colorful and fun page!
There's still time to enter the giveaway here!  I'll be drawing on Wed. at noon Eastern time and posting the winner on Thursday!
Linking up with Make It Monday, Mandarin Orange Monday, Creative Every Day, Inspire Me Monday, Glue It Tuesday, Be Inspired, and Create Daily.