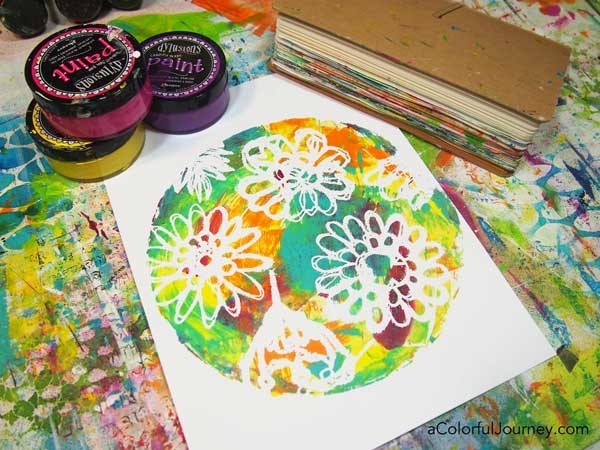 I was under the influence of the 70's while I made this art journal spread.  The music was blaring and my muse stopped by to spark my play by making this floral Gelli print® call to me from a stack of prints. If you've ever used a Gelli Plate®, you know how easy it is to make a giant stack of papers!
What song was playing?  Together We're Better by the Partridge Family.  I've been a bit addicted to the sounds of David Cassidy of late partially because my muse always seems to visit when he is singing.  My teenager is not so thrilled with this, especially when she has friends over…but she'll just have to deal with the loud music!
Watch Art journaling with stencils under the influence of happy 70's music on YouTube.
If you've never heard this…or want to hear it again…thanks to YouTube…here it is!
Watch The Partridge Family- Together We're Better on YouTube.
Rae Missigman might recognize her flower stencils in the Gelli print® that started the play.   And yes, those cars from my Coming and Going stencil are most definitely tailgating…Oops!  Maybe the drivers were just listening to way too much music.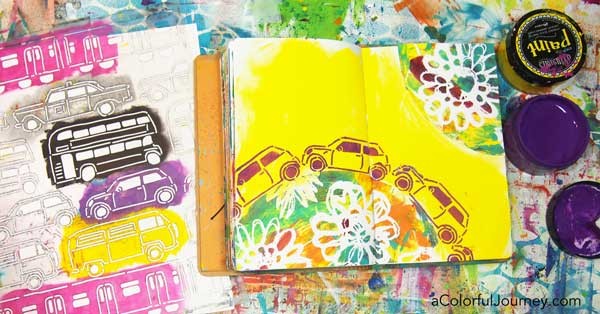 Since they're listening to music, had to capture that on the page with Nancy Curry's stencil with a bit of sparkle from Viva Decor 3D stamp paint.  Thank you David for the tunes that are so inspiring my play!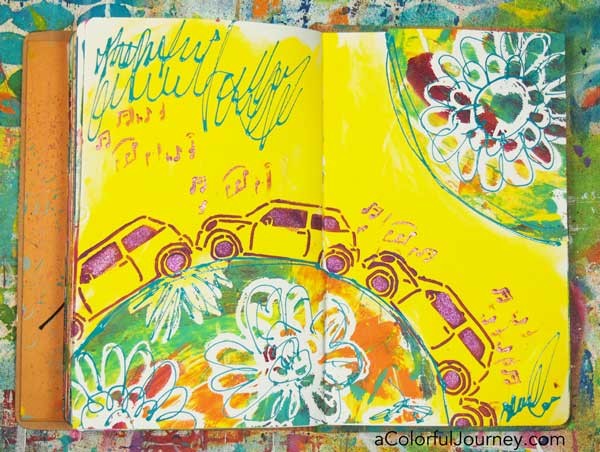 Here are the supplies I used. Some of these links are affiliate links which means I get a small percentage. It doesn't cost you anything extra and you are helping me keep this blog and my videos ad free! Thank you- I don't like ads any more than you do!