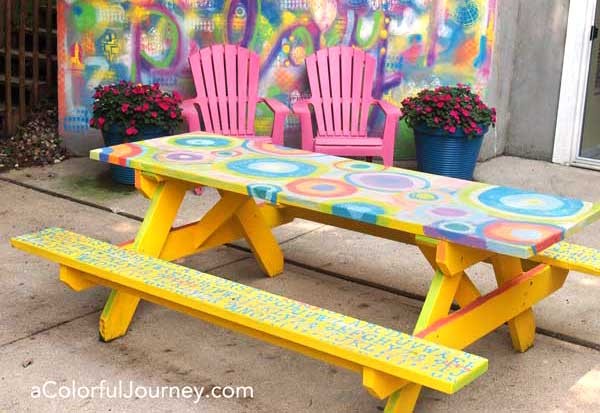 Art journaling doesn't have to just happen in an art journal.  It can happen on say…a picnic table.  It's the same type of play, just on a bigger scale and I still consider it art journaling.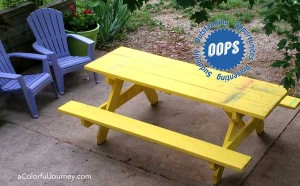 It all started with the yellow picnic table.  Notice the spray paint over spray on there?  That was an Oops – an Outstanding Opportunity Presenting Suddenly.  It went from being all pretty yellow to having a dirty looking top.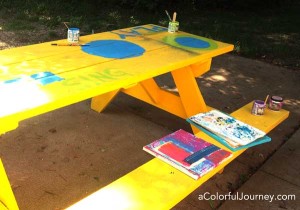 I like to paint and art journal while sitting at the table.  While stuck on a canvas, I began to fixate on that spray paint stain on the table.  One thing led to another, and then I was just messing around on the table with paint.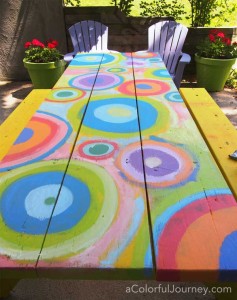 Circles covered the top in no time at all!  But I wanted more layers. This really is just like art journaling just not in an art journal.
What paints am I using?  A combination of little tubs of sample paints from Home Depot and my regular acrylics.  When I was all finished, I sealed it all with a UV sealer and protector from the hardware store.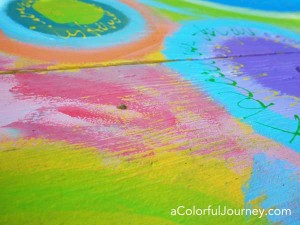 If you've seen much of my play, you probably knew there would be some scribble writing.  I went around the circles with high flow paint in a fine liner.  I am very impressed with how it has help up to the outdoors!
The seats needed some color too.  Can't leave them out!  I stenciled my Jumbo Vintage Alphabets A-P and Q to Z  randomly around.
Thanks to the Oops that marred my yellow table, I ended up with a far more colorful table to enjoy the outdoors.  I love a good Oops!