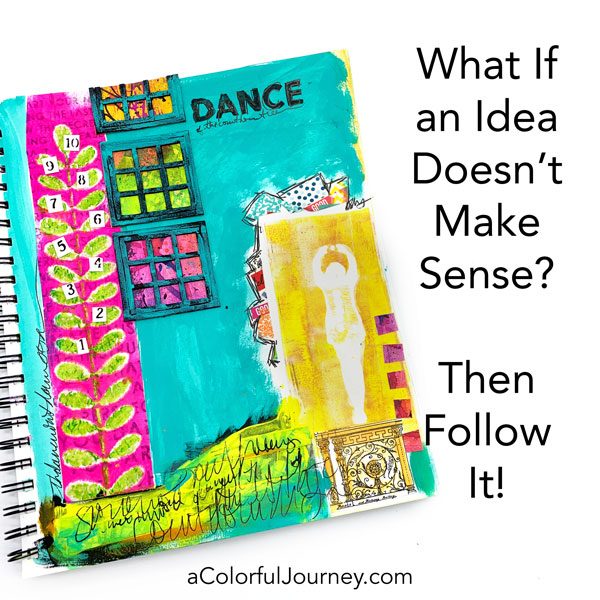 Ever get a crazy idea that just doesn't make any sense to you? When you're art journaling, ideas can be nonsense – so follow them! In the video, you'll see what idea got stuck in my head plus when I had a great big case of hesistation– and why that's a good thing!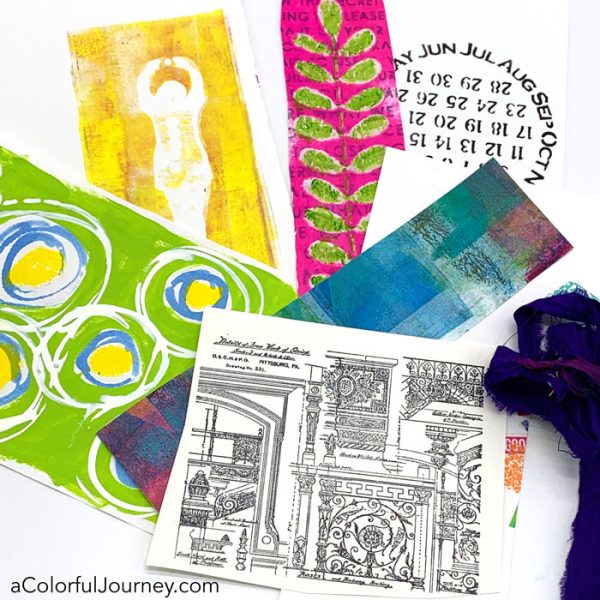 Is this a carefully curated pile of inspiration? Nope, it's just stuff that called to me from my box of leftovers. Just because I grabbed all of it, doesn't mean that I have to use all of it, even the parts I really wanted to use, like the purple ribbon.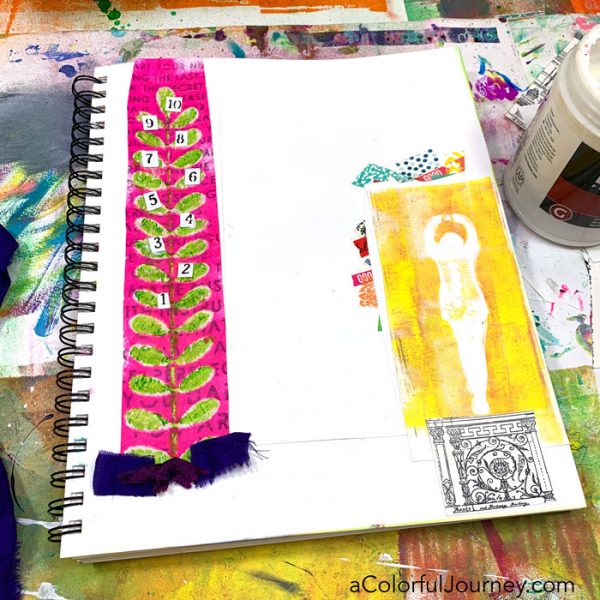 Zero hesitation when it came time to glue these down and you might be thinking, wow, that's so cool. She never has to deal with that hesitation. Oh to wait until a little bit later and you're going to see when I hesitated, and why that made it fun!
The numbers 1 to 10 cut from my Never Ending Calendar stencil planted a seed in my head that I could not shake. I kept coming back to counting down and blasting off. Only there's nothing here that is saying blast off to me…yet.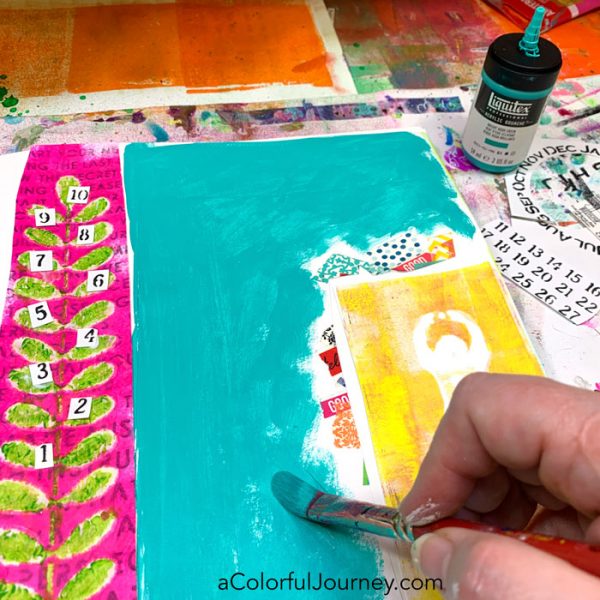 To cover up the background I used acrylic gouache. One of the cool things about this paint is that it behaves like a hybrid of watercolors and acrylic paint. When you add water to it, it acts more like a watercolor, but when it dries, it dries like acrylic paint.
I wanted 3 windows on the page. I really wanted them but 3 windows didn't really work on the page. No matter how many ways I rearranged them or move them around they're too big and too much.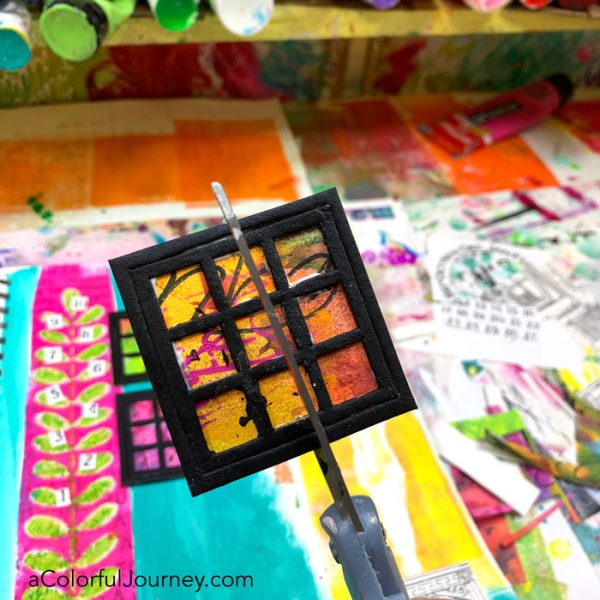 I knew what I had to do, but I just didn't have the heart to do it. I was going to have to cut one of them, but once I cut it, there's no going back. That window will never be the same and I love those three windows.
There was so much hesitation about cutting these windows apart as if it was a huge risk. I could have made more and done this all over again. But it felt so huge to me. Ever feel that way?
But all that hesitation has a benefit. When you push through it you get an absolute rush. It's almost like being at the top of the roller coaster with your hands up in the air when you take that risk.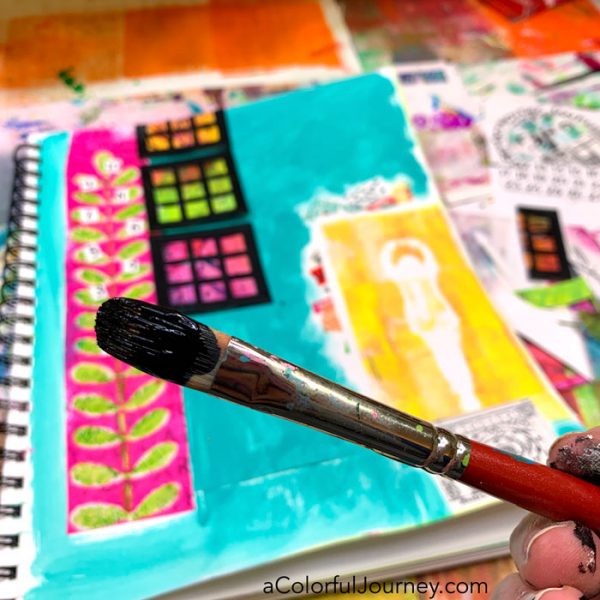 Since I had the black paint out and a brush already in it, why not use it? O.O.P.S., and not a pretty OOPS either, but even the ugly ones are truly Outstanding Opportunities Presenting Suddenly. Even if you have no idea how it will become an opportunity!
Maybe a little bit of yellow on top of the black will make it not so avert your eyes ugly. But nope. Still not liking it. O.O.P.S. again.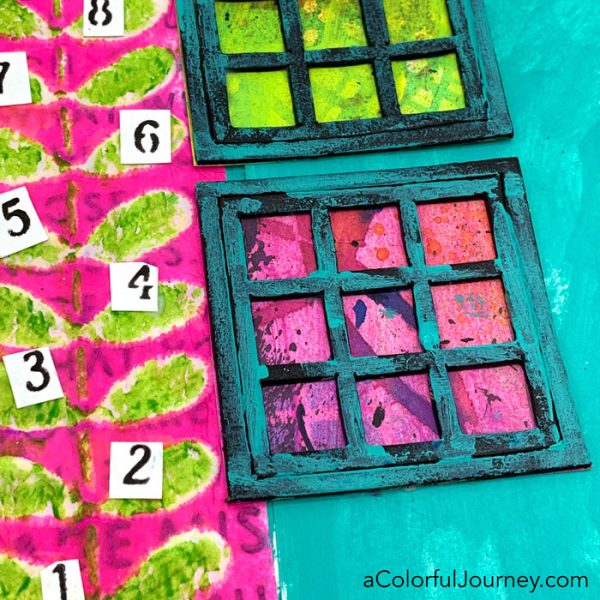 In the process of trying to rescue the yellow area, I used the teal paint. That's when it hit me, put that on the windows too! The Opportunity in the black paint O.O.P.S. was finally clear. It was meant to be under another color!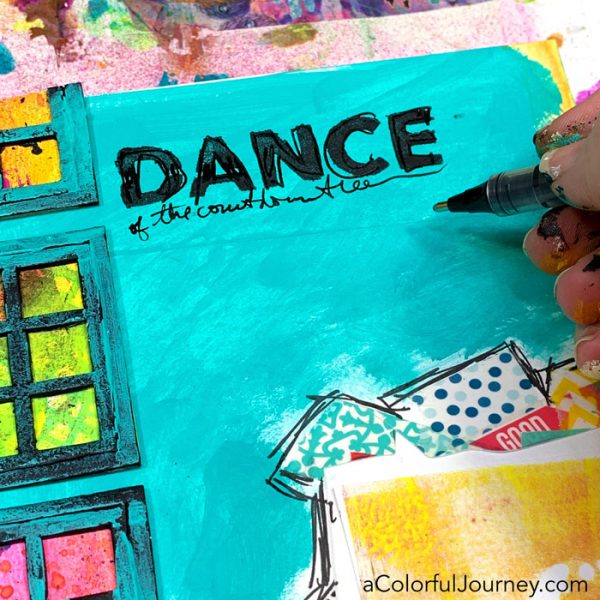 This whole time I had been dancing with the idea that I just couldn't shake, the countdown, that didn't seem to fit with what I was doing. As I added the word with The Dance of This Life stencil, I began to understand the story that had been developing on this page.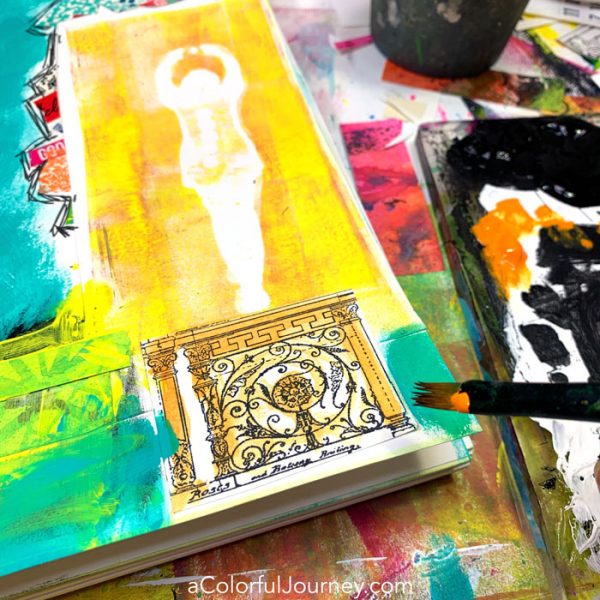 So that person dancing there is jack and he's dancing in celebration. celebrating. He thinks he's made the best deal of his life. You see, he had a cow and he traded that for some magic beans.
Well, when he got home, the family was very unhappy with this. They threw the beans out the window, he was in a wee bit of trouble for making such a big mistake. But what everybody thought was a big mistake turned out to be an amazing adventure. So upon that beanstalk, as it grew, that was the countdown for Jack going an amazing adventure.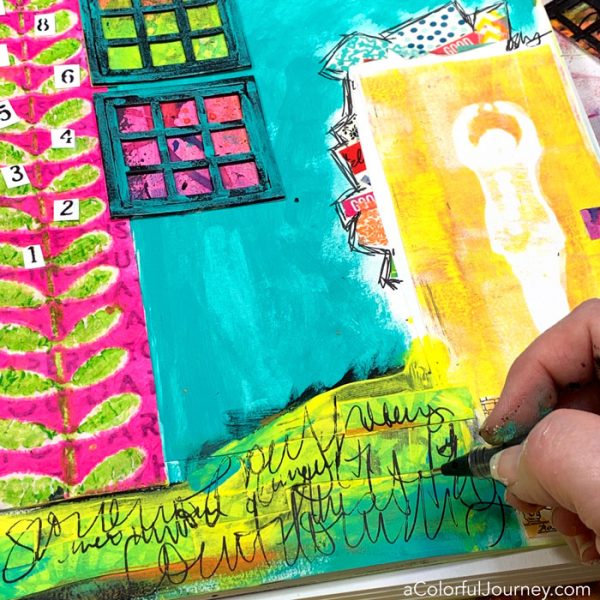 Once I understood the story, some of the things that I'd done make more sense to me like down there at the bottom where the black and put the yellow on it, it actually looks like a faraway meadow with just a little bit of a tree line. Way, way back in the distance, say where Jack's cow might have been grazing.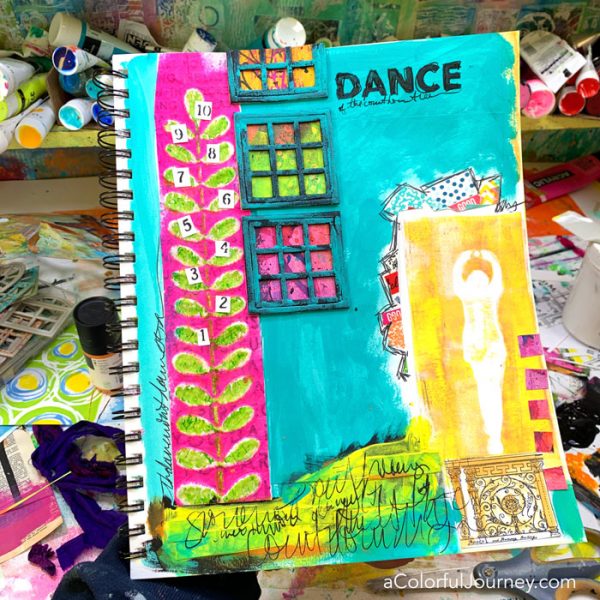 Next time you're playing, if you get a crazy thought in your head that just doens't make sense, go with it anyway and see where it takes you!
Here are the supplies used. Some of these links are affiliate links which means I get a small percentage. It doesn't cost you anything extra and it helps keep the free tutorials coming! The Maya Road chipboard windows are no longer in production and the architectural stamped image is Stamp Camp I think but they are no longer in business.