This art journal page was quite an adventure and along the way there were two things that became very clear. One was I should never ever under any circumstance be a cosmetic surgeon. And two, weird stories can show up in your art journal. Grab a drink and join me for a silly little adventure!
It all started with this random background where I saw a queen or regal figure. And I thought, "Well heck, let's bring her to life." Little did this poor queen know what she was in for.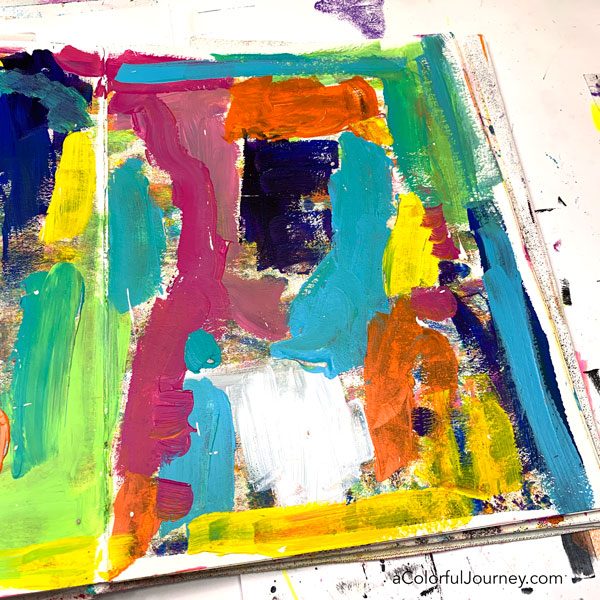 To outline her, I wanted a liner brush. But I couldn't find it and looking for an art supply isn't nearly as much fun as using it. So rather than waste more time looking, I just picked a different one.
If you can't find "the" brush easily, then just pick a different one because after all, the best art supply to use is the one you can either actually find or the one that's within arms reach.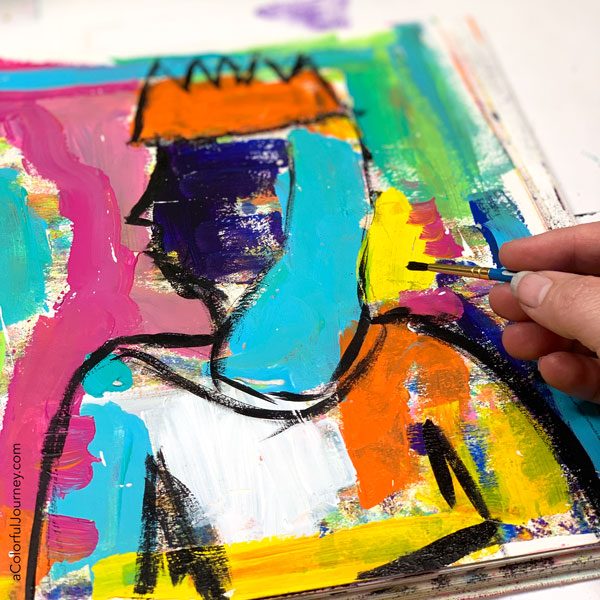 She needed details in her hair, so of course that meant scribble journaling. Doesn't hair detail always say this?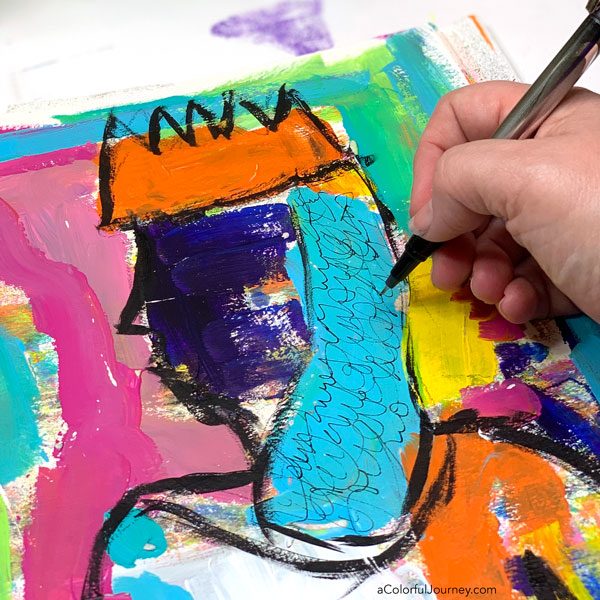 A queen needs a kingdom so that's where the Once Upon a Time stencil and mask set came in handy. One of the many things that I love about using masks is that you can audition the placement of them before committing with paint.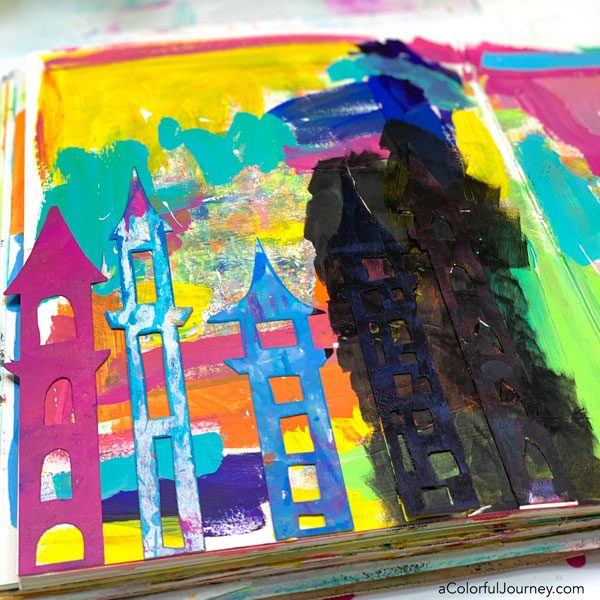 She became a Mr. PotatoHead meets Picasso type of adventure. In the video you see how how the pink became a cloud of halitosis, then she became a cyclops, and then the beak.
I committed to the beak by gluing it down. O.O.P.S.! That was an Outstanding Opportunity Presenting Suddenly because wow, did I not like how this looked, but it did lead to something.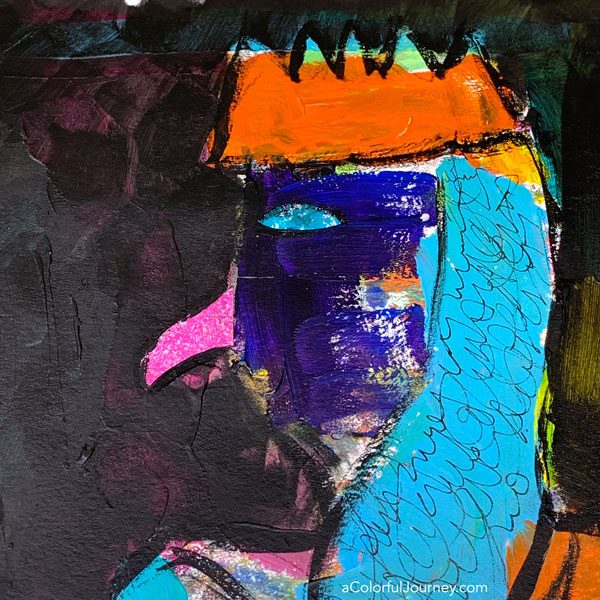 I started to think maybe this was a queen that had a secret identity as a bird so I decided she needed to keep her secret identity secret by painting over her beak.
Just go with it, since after all I put it in the video and here on the blog so it's not very well kept secret.
I probably shouldn't try and write scripts for Hollywood either because well some kind of queen that's also a bird and keeps it a secret probably isn't going to be the next blockbuster coming out of Hollywood.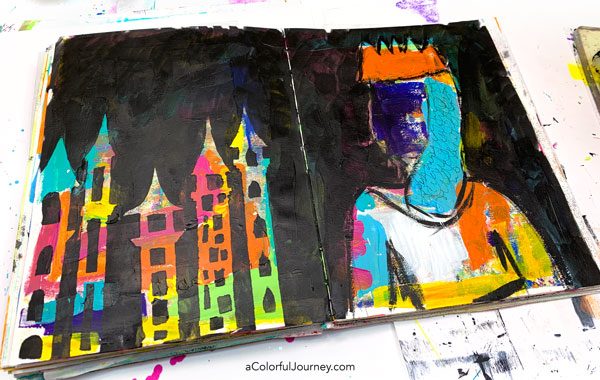 Now have you ever seen a five or six year old try and put makeup on like their mom? That's pretty much how I felt creating the nose and mouth for her. It just was awkward.
I grabbed an Art Crayon and suddenly the lips turned a corner for me. I started to feel a little bit happier with them.
No matter what I did with the nose, I was not happy with it. Not one bit. It was clear to me that I should never ever, ever be a cosmetic surgeon.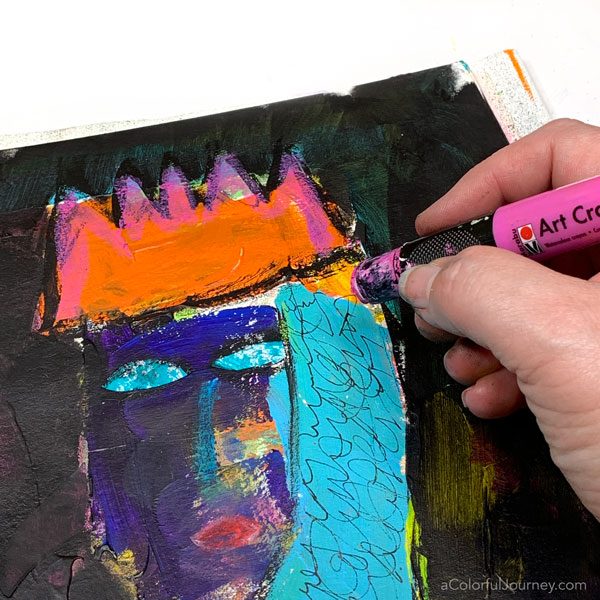 Rembrandt's Words was just the look to go with her royal highness here.
Putting a stencil on top allowed me to easily stencil only where the black was, so it looked like I did it with careful planning. But it wasn't.
Another benefit of stenciling is that you can peek to see if you've gone as far as you want. Just hold the stencil in place on one corner, then lift it up a little bit on the other side to see if the stenciling covers what you want. If not, put it back down and add more paint.
The scribble journaling around the towers isn't literary gold, it's just getting thoughts out on the page. Using a mat paint makes it easier for pens to write on it.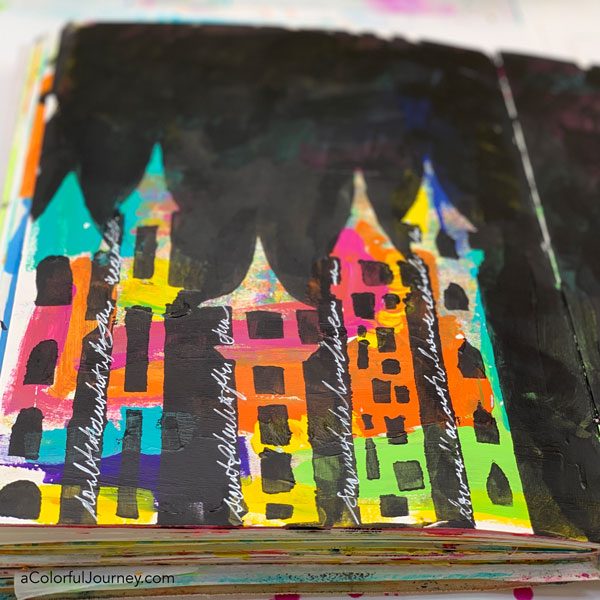 Now is this page completely finished to me yet? Nope. There's still something else that it needs, but I'm not completely sure what it is.
So I'm going to step away from it for a little while and let my muse tell me what it needs to become next.
And you bet when I add more to this, I'll be sharing it and letting you know what happens. If you want to be kept in the loop, be sure to get signed up for my weekly newsletter.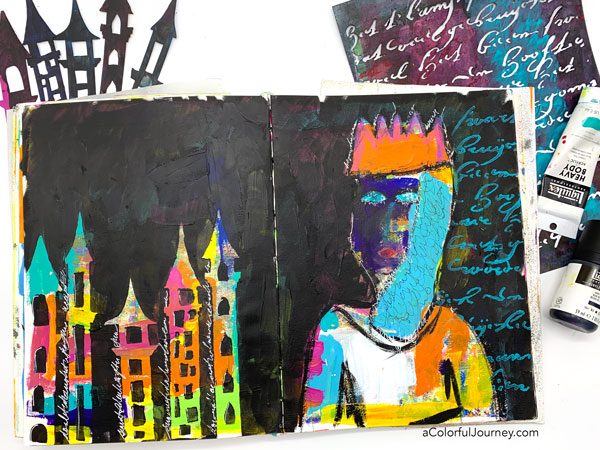 Here are the supplies used. Some of these links are affiliate links which means I get a small percentage. For example, I'm an Amazon Associate & I earn from qualifying purchases. It doesn't cost you anything extra and you get a really good feeling knowing that you are helping keep the free tutorials coming! The journal I used is a homemade journal.