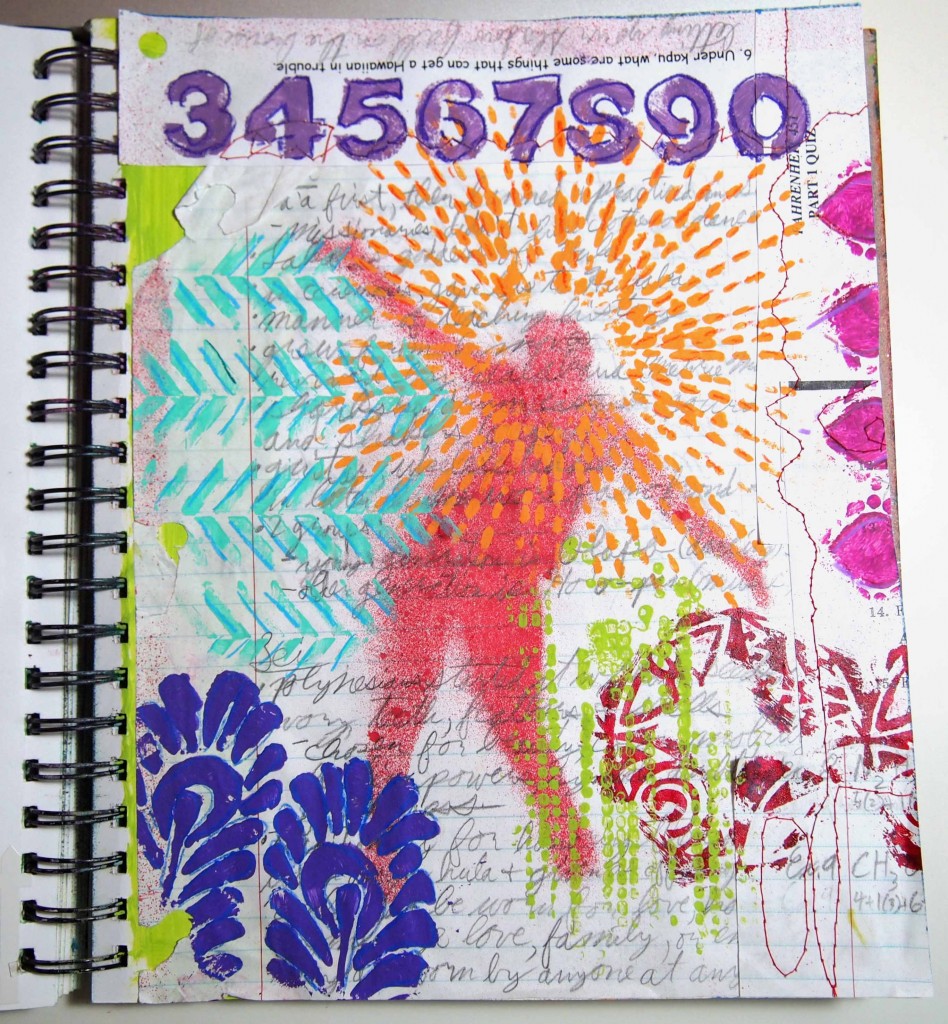 Welcome  to all my Paint Party Friday , Creative Every Day  and Art Journal Every Day friends!  I'd like to introduce you to a fellow painter,  Amy.  She created a blog hop for this weekend to let creative people share their blogs, introduce themselves to  new online friends, and win prizes on every blog- not just one blog, every blog.    I am a fan of her style, her art, and her attitude- I had to join in the fun!   Just click on the button and you will be magically transported to the  list of blogs to visit. (Assuming I did the behind the scenes part correctly.  I should call tech support – oh, wait, I am tech support in my house…)
My name is Carolyn and I have a very serious, seemingly incurable addiction to messy hands and color.  My blog is a public record of my journey (and hard evidence for my kids' therapist when they are adults  sorting through all their life issues).
I have a very mature and focused child who values her education. I should be careful what  I wish for…
I politely asked my eldest daughter for her old homework papers.   She knows what I do with it…She told me all about the spirals they have been graphing.  All the formulas, the numbers, oh, I was going to my happy place.  Then she dropped the bomb- she needs them to study for the final exam next week.  I can't have them yet.  Where are her priorities?  I want to make something NOW.
I had to dip into my stash of of old homework for this project. Yes, I save my kids homework just so I can use it in my art.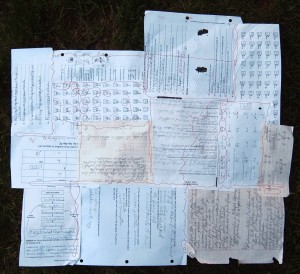 I stitched pages of it together using less than precise free motion sewing – making a  huge quilt-like sheet of stitched paper.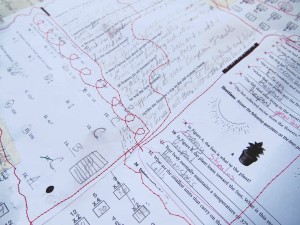 I didn't do well in home economics in high school – my stitching was about the same then as it is now…I am so glad I never learned to follow the domestication rules…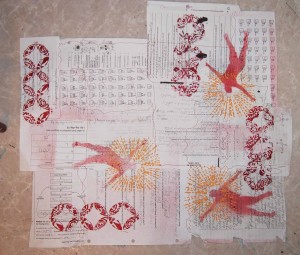 Started by spray inking a home made stencil of my daughter with a couple of Julie Balzer's stencils and paint..I am very instinct driven with a huge dose of serendipity.  I thought I'd stay with just a few colors for this project but before I knew it I had the rainbow in it.  I am addicted to color- lots and lots of color…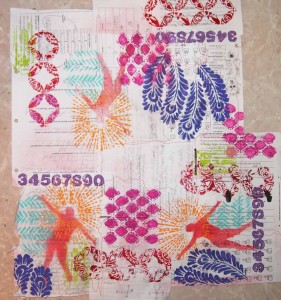 Added more stencils and embellished them with colored pencils.  I like working this big because it gives me options.  I used the same materials to make multiple versions of my initial idea.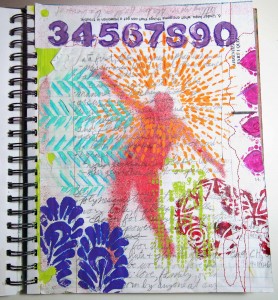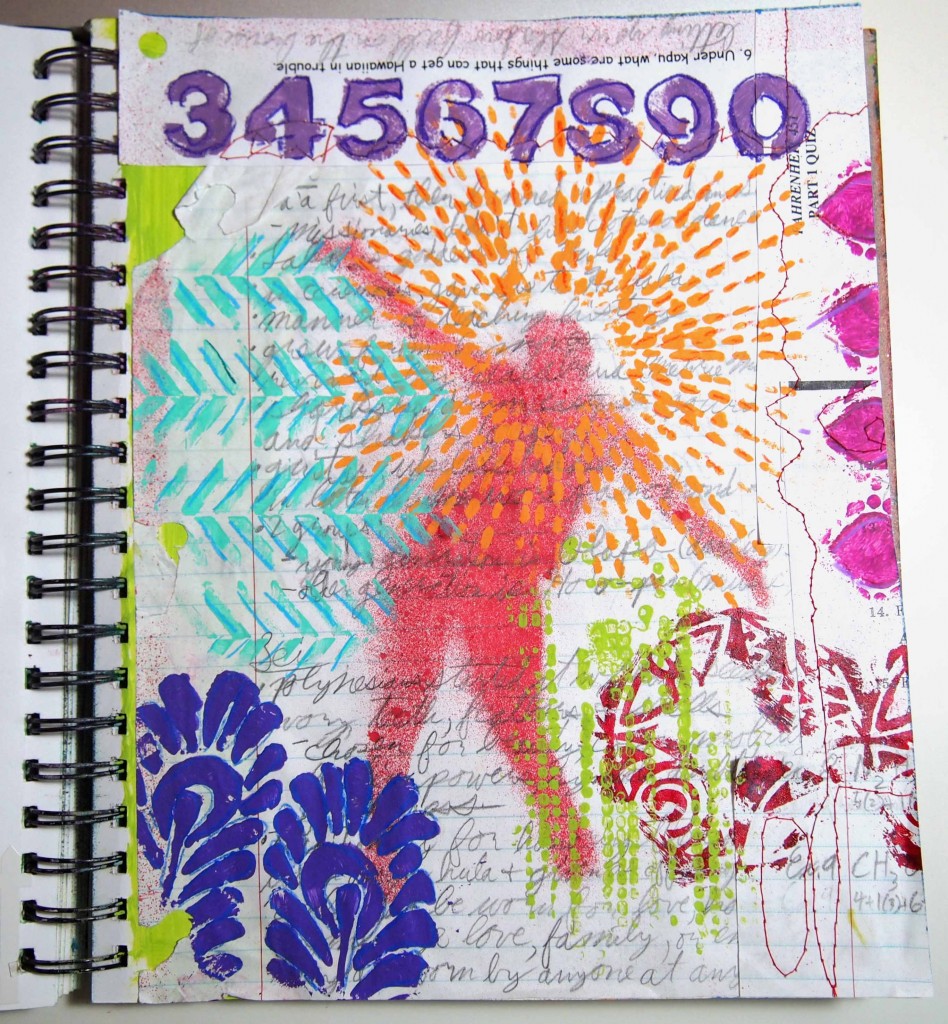 1 of them I was thrilled with and I turned it into this journal page.   The other 2 not so much.  They aren't bad but they didn't give me that  happy feeling.  The leftover portions of this homework quilt will be used in other projects, cut up for postcards and ATC's, I may add more paint & ink to them, who knows.
Now that you've gotten a glimpse of what life is like in my world, here are the giveaway goodies.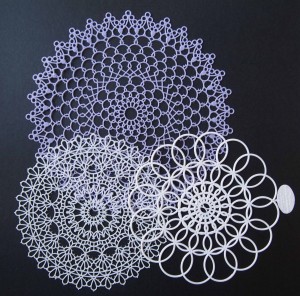 Just leave a comment and you will be automatically entered to win these vintage plastic doilies.  A winner will be chosen randomly on Friday, May 25th.  I will ship internationally so everyone is eligible.  For those shy commenters- jump in and join the conversation- everyone is welcome and appreciated means everyone including you!
If you have enjoyed my blog I'd love for you to follow along.  You can get an email when I post by going here.  You can follow along with Mr. Linky by going here.