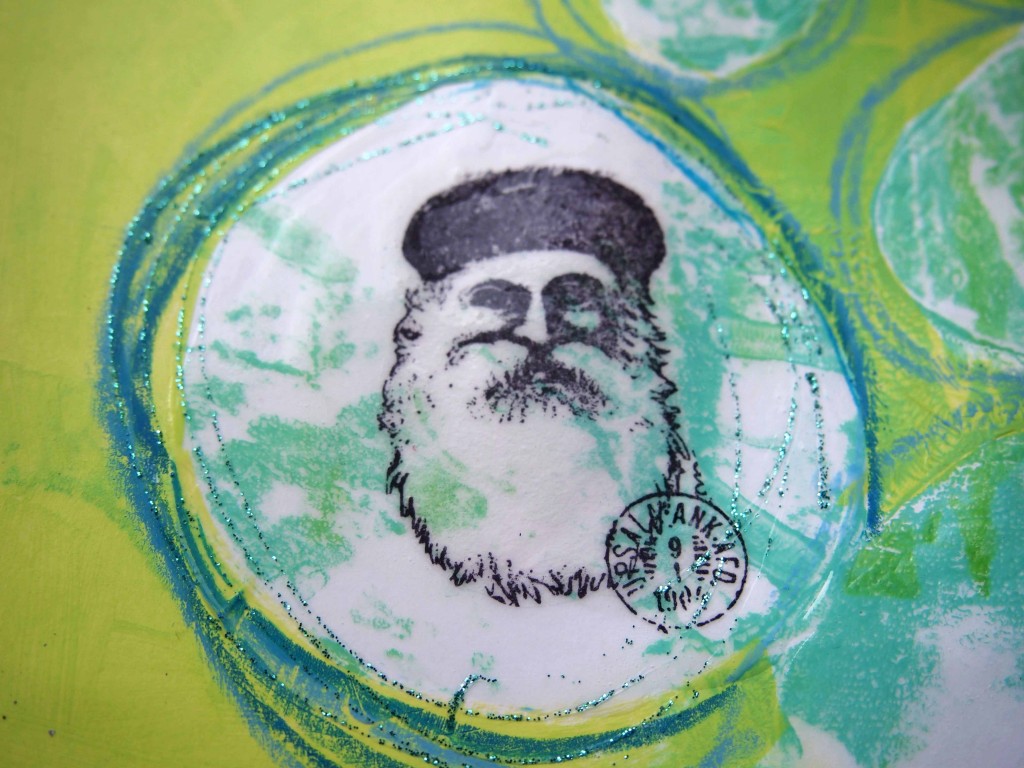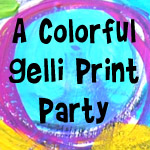 I have so much fun when I art with friends, in person or on the net.  That is how Artsy Fartsy Friendly Fun got started!  While working on this week's Artsy Fartsy challenge I was struck by how much fun I was having with my Gelli Plate.  I have heard from little elves that a few people might be getting one from the jolly man in a red suit so why not plan a time to play?  Come and join me for a play day or two at my Colorful Gelli Print Party!
Everyone is welcome!  The party begins Jan. 1st so we can kick off 2013 with lots of color and creativity!  Jan. 1st through Jan. 7th, each day I will have a new Gelli plate post!  The best part will be a link party so we can all see what each other is making with their Gelli Plates! All Gelli creations are welcome!
Now, on to the art that was sparked by the Gelli plate!   Every Artsy Fartsy has 3 elements that must be incorporated some how.  This time it was a Santa, a non-traditional color scheme, and tissue paper.  As soon as I get this posted, I am off to see how Maria McGuire used these same 3 things!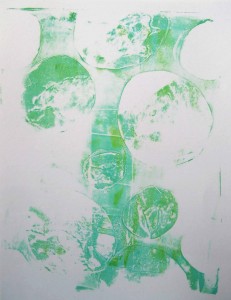 This ghost print from my Gelli plate jumped out of the drawer and onto my counter.  Okay, it grabbed my eye and I put it on the counter.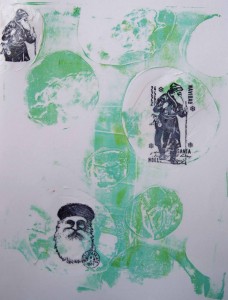 I stamped a variety of Santas on white tissue paper. Once I had the ones I liked out came the gel medium.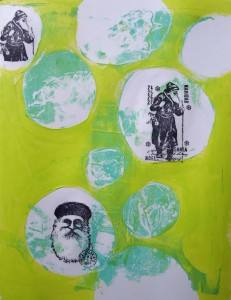 Since I had to be non-traditional colors I went with lime green to make the bubbles pop (pun intended).  I used Glossy Acccents to give the bubbles a shine which my camera had a hard time capturing perhaps as payback for my terrible pun…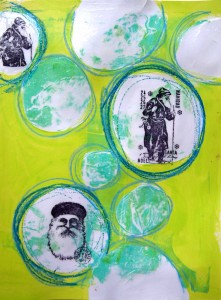 A few water soluble crayon scribbles with quick circles of glitter glue.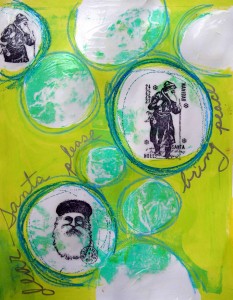 I added a bit of writing.  I would love it if Santa would bring peace with him this year.  There is too much violence and pain for so many families.  May all those touched by the violence heal and find peace.
Want more creativity? Check out Maria McGuire's Artsy Fartsy post , Creative Every Day, Anything But a Card, Make It Monday, Inspire Me Monday and Show Me What You Got!