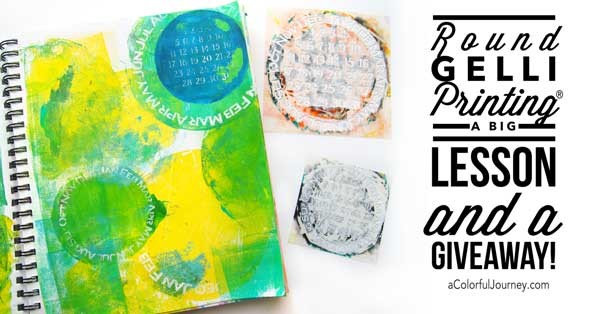 Put a Gelli Plate® and a stencil in my hands and I just can't stop playing!  This was supposed to be just one page..or that was my plan..but I didn't want to stop…so it became 2 pages of play!
Today, I'm not the only one playing around, so is Mary Beth Shaw over at StencilGirl Talk!  Be sure to stop by and see what she's created…and leave a comment over there too for another chance to win one of two round Gelli Plates® and a Never Ending Calendar stencil from StencilGirl!  And yes…leave a comment here too for a chance to win too!
So what's in the video? How to mix colors right on the Gelli Plate®.  How I got an aged, weathered paint look thanks to an Oops. Where I cleaned off my brayer, and it's not my usual place.
But the revolutionary thing I'm sharing in this video is near the end and it has to do with using paint with a stencil…that was my big lesson! You might think it is common sense but apparently, it wasn't to me when I was playing.  It was really quite a silly moment when I realized why it wasn't working for me!
Was it third times a charm or three strikes and you're out…you decide!
Watch How to use Gelli Plates® in an art journal on YouTube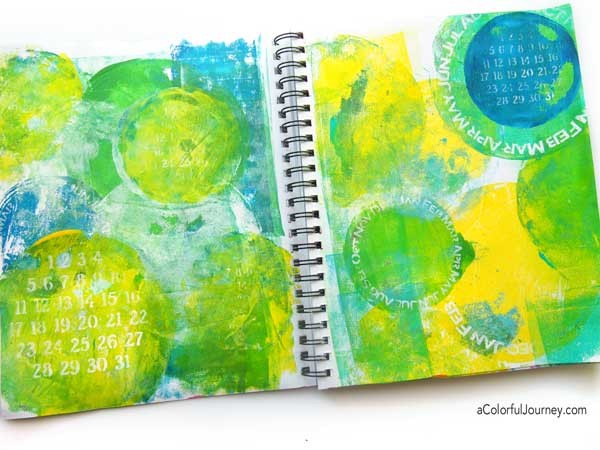 Bonus…here is something that Maria McGuire just shared with me..and it's her take on how to use the Never Ending Calendar stencil. She has a style that is different than mine- she is magnificent with the pen!  That's one reason I love the tools and toys that I do…because each person can use it in their style!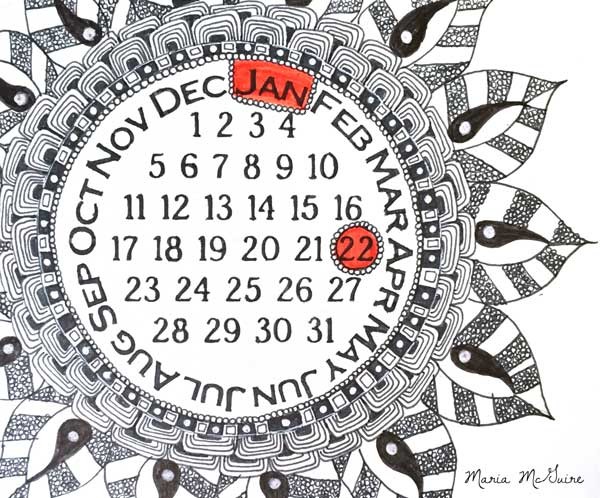 Want to win a Gelli Plate® and a stencil?  There are two prizes in this giveaway!  One winner will receive a 4-inch Never Ending Calendar stencil and 4-inch round Gelli plate® and the  second winner will receive a 6-inch Never Ending Calendar stencil and 6-inch round Gelli plate®.
Leave a comment on this blog post for a chance to win!  Want another chance? Head on over to StencilGirl Talk and leave a comment there too!  Just one comment per person per blog please.
Hurry!  To get entered you need to leave a comment by this Saturday (Jan. 23rdrd), 2016 at 11:59pm CST. Winners will be announced on StencilGirl Products Facebook Page on Sunday Jan. 24th.
Congrats to winners Mary Hutchinson and Patricia Gutuskey!
Missed the giveaway?  Never fear!  I am sure there will be more giveaways in the future!  Get signed up for my newsletter (which has goodies and freebies too) and you'll know whenever there is a giveaway!
Here are the supplies I used. Some of these links are affiliate links which means I get a small percentage. It doesn't cost you anything extra and you are helping me keep this blog and my videos ad free! Thank you- I don't like ads any more than you do!