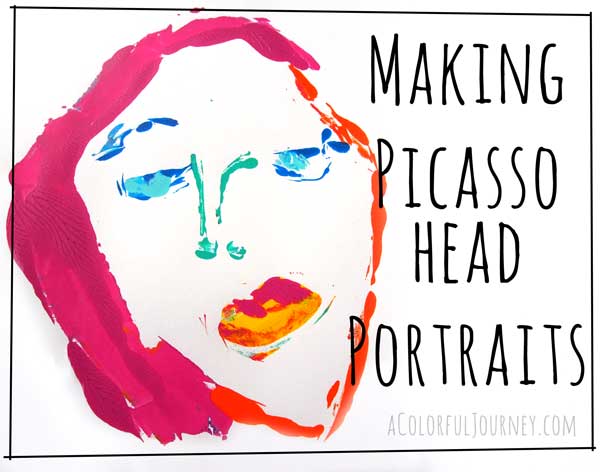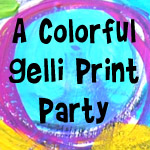 Make Picasso style portraits in minutes on the Gelli Plate! For this months' Colorful Gelli Print Party I am showing how easy it is to do.  Picasso was a master with lines, especially when creating faces.  But I am going to "cheat".
I didn't practice drawing.  I didn't master the proportions of a face.  I went to a very cool website called PicassoHead and built the face using facial features taken from Picasso's own works.   Check out the video to see how this was all done in one pull.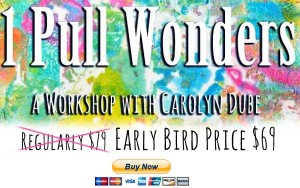 I am a bit excited about doing prints in 1 pull right now.  Why? Because I have a workshop of all new, never shared before techniques in my latest workshop, One Pull Wonders.  The early bird savings will only be here until Sept. 14th, when class starts! After that it's $79.
Watch Picasso Meets the Gelli Plate on YouTube.
You can find the Gelli Plates in all their wonderful sizes here and the little tool I used, called a blade, here.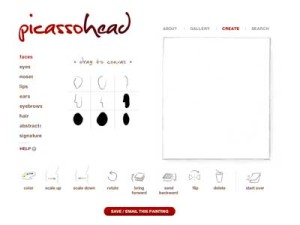 How can you create a Picasso Head?  Just go to PicassoHead.com and click on create.  Then build your own Picasso Head.  The also have a never ending gallery of ones created by others!
Printing it Out
To get it to print out for me, I had to do a work around.  They have all sorts of options, but for some reason my computer just wouldn't cooperate.  I took a screen shot.  If you don't know how to do that on your computer there is a great post here about it.  They explain it for Mac, Windows, iOS, Android, etc.
Then when I printed it on my computer.  My printer had a fit to paper option so it easily made it a larger size.  Every printer is different but I bet there is a way to enlarge it on yours.  If you're not sure, Google is a good friend to have.
Sharing What You Make
I'd love to see what your Picasso Head Gelli Prints look like!  Hope you'll share them with us over at the Colorful Playground.  And while you're there, be sure to check out the fabulous creative works that have been shared!  Lots of inspiration there!
New to Goolge+ communities?  Well, we are too!  Learn how to use Google+ with us.  Here's a video showing how the community works.