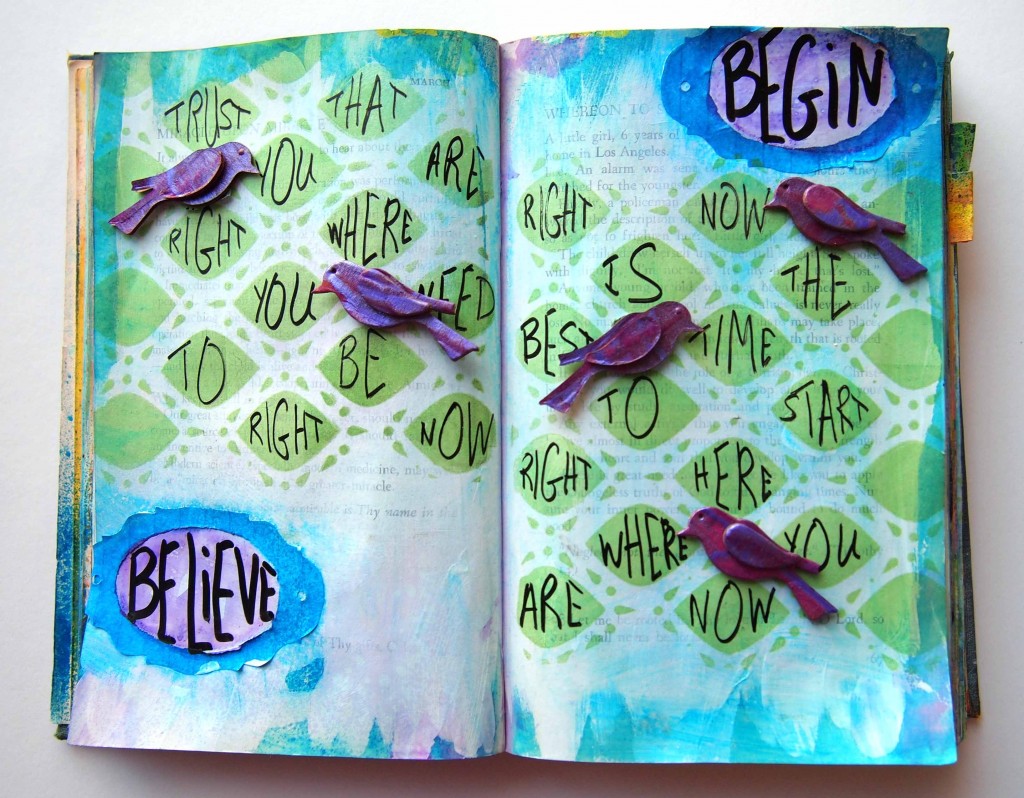 When opportunity knocked I was in my bathrobe, had bed head, and in desperate need of cover up makeup.  But no matter what you are wearing, when opportunity knocks, answer the door.
I love reading Julie Fei-Fan Balzer's blog and was so excited when I saw she was looking for people to submit fast forward videos of themselves art journaling.  I had never done a video.  Opportunity knocked and I answered.  So, now came the fun part – figuring out how to do a video.  Just 10 easy steps.  Okay, not so easy, but there were 10 of them.  I had always wanted to be able to do video and now I can thanks to Julie's opportunity.
1.  Spend a few minutes going "what have I done" after getting a firm deadline date from Julie.
2.  Search the house for the kids' Flip video camera.
3.  Experiment with how to use a tripod to get it in position to film a journal page coming to life.
4.  Respect how creative so many bloggers have been in positioning their video cameras, because that is a whole lot harder than I imagined it would be.
5.  Finally find a solution that works using old wood from the garage and duct tape. Thanks to my daughter who is the master of all things duct tape.
6.  Start a practice video with a journal page.
7.  Edit  and fast forward the video in iMovie. Spend way too much time goofing around and playing with the titles.
8.  Find a bucket of patience and a mountain of respect for those who do videos on their blog frequently.  It takes forever for videos to transfer from the camera, to import into iMovie, and to finalize.
9.  Get a YouTube account and figure out how to upload the video.  Thanks to my other daughter for showing me the easy way and pointing out I already had a YouTube account.
10.  Enjoy the video and realize I still have plenty to learn about making & uploading videos .
Since this video I have done a few more. You can check them out by clicking on the blue  "Watch me on YouTube".