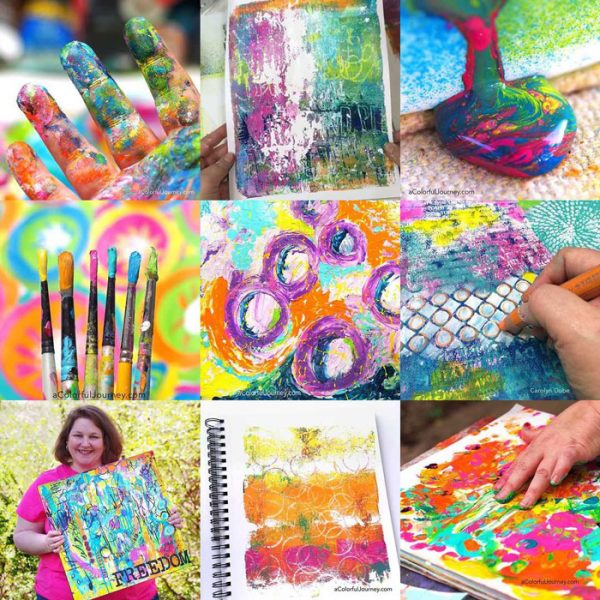 Looking back through my Instagram posts of 2016 I noticed a couple of trends. One is the rainbow. The other, I don't like to clean. Neither one of those is a shocker!
What will 2017 bring? My prediction is more colorful play chasing rainbows! A pretty safe bet with my history.  If you're on Instagram, hit that follow button and join for for the adventure…maybe we'll even see some unicorns!
How'd I get that nice grid of my top posts?  A quick and easy website does it for you.  You can do it for your Instagram account by going here.
Here are some of my favorites from the year that were on Instagram:
The only time cleaning makes me happy…when it is a clean up print on a Gel Press plate! Was thinking art journal page at first but maybe I will frame this one…
Cleaning avoidance happening here lol! And mind blown by this little spotter brush- it is so dang small and detailed!
The fact that I fall in love with little scraps and pieces might be part of the reasons I am art supply hoarder lol
My dogs thought I was nuts to go out in the snow yesterday just to take pictures …they wanted to stay where it was warm lol. Maybe it will be warm enough to get some more color on this bike!
Dried up glue sticks are such fun to play with in an art journal!
While flipping through one of my altered books ran across this page…and the memories came racing back. Love that art connects to emotions!
The dance of life inspired this stencil and mask set that comes with 6 masks which are all stacked here.
Was this careful planning? Nope! I picked them all up at once and I fell in love with them stacked!
There was rain today and then sun so instead of waiting for Mother Nature to make a rainbow, I played with one
Ever play the paintbrush game? The person who uses the most brushes wins. It seems I love this game…and the prize? Cleaning the brushes lol!