Just about anything can become a gel printing tool! Including dish washing gloves! Yes, you read that right. Dishwashing gloves! These are scrubbing gloves which enables them to create a soft Impressionist style print. Probably not what the manufacturer intended but they do it well! I've got the supply list at the end of this post so you can check out what they look like nice and clean.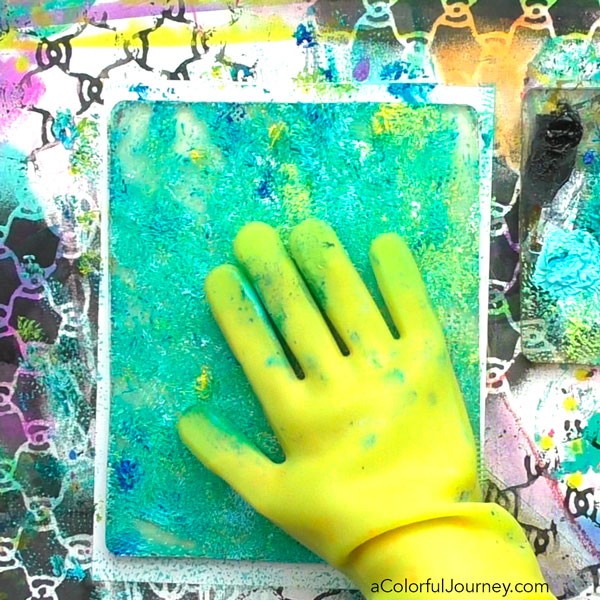 You dip your fingers into the colors from your palette and then pat it onto the gel plate! Naturally, you use anything you have for the palette from wax paper to a "proper" palette. I chose to use a 6 x 6 gel plate as my palette so that when I was done, the leftover paints would make a print.
The more you pat it around, the more the colors blend. The less you pat it around, the less they blend.To keep the colors from getting muddy, stay in cool or warm colors. Here, I've used blues, greens, and a touch of yellow.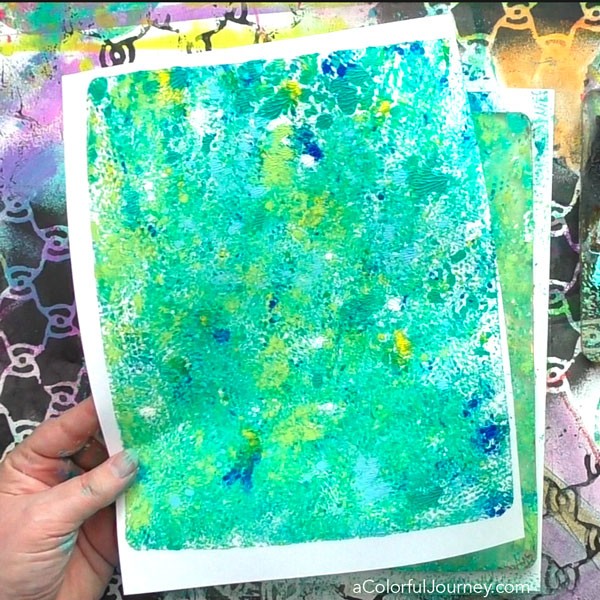 Only one glove gets used at a time, so that makes it easy to keep one for cool colors and one for warm colors. That way there isn't any time spent cleaning the gloves when changing colors. You absolutely can clean the glove, but since that doens't bring me joy, I avoid it whenever possible.
In the photo below you can see the texture that is on the gloves, these fine little scrubbers. They don't give me much faith for actual dish washing, but for gel printing they are amazing!
This is not the only way you can use a gel plate! There are so many more different looks you can create in your prints when you fully understand how the plate works, why it's doing what it's doing, if you want to be able to steer and guide your prints so it's not random take a look at my gel printing workshops.
Here are the supplies used.
Some of these links may be affiliate links which means I get a small percentage and it doesn't cost you anything extra! It doesn't cost you anything extra and you get a really good feeling knowing that you are helping keep the free tutorials coming!