What can you do when you want colorful fabric that's uniquely yours? Print it on a gel plate! That's how I made the colorful fabric that I turned into protective face masks. I never would have expected to be needing these- but if it helps keep us all safer, and this blasted virus to go away faster, I'm all in!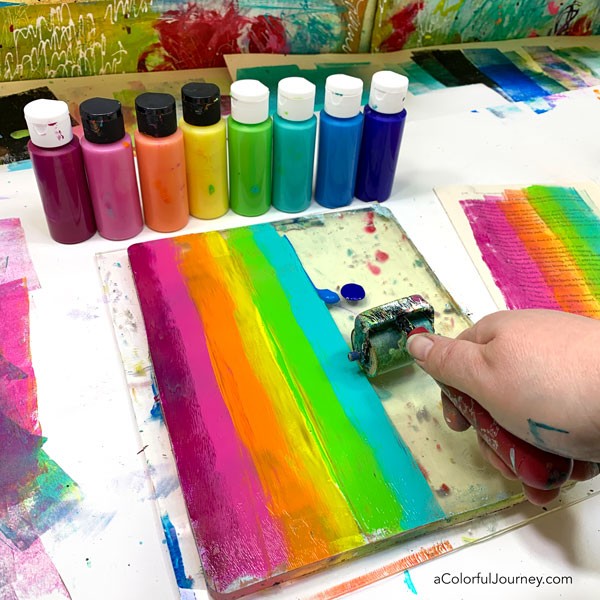 Gel printing on fabric is just like gel printing on paper. All the same techniques you use on paper, you can use on fabric.
But what about the paints? Do you have to have special fabric paints? Nope, but you do need to add something to the paint if it's not a fabric paint.
These are my regular acrylic paints with some fabric medium by Golden added to them. It's added in a 1:1 ratio and it's a very forgiving mixture which is handy because I don't like to measure things.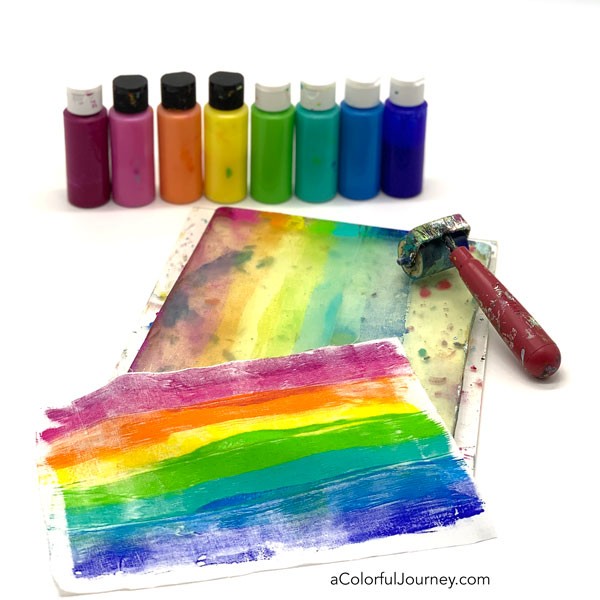 Gel plates make stenciling easy. Just one application of paint and 3 pieces of fabric quickly had a layer of words added to them using my Words to Live By stencil.
The words are backwards on purpose. When you put a stencil with text on a gel plate, you want to place it so the words are backwards. When you take your print they'll be facing the right way.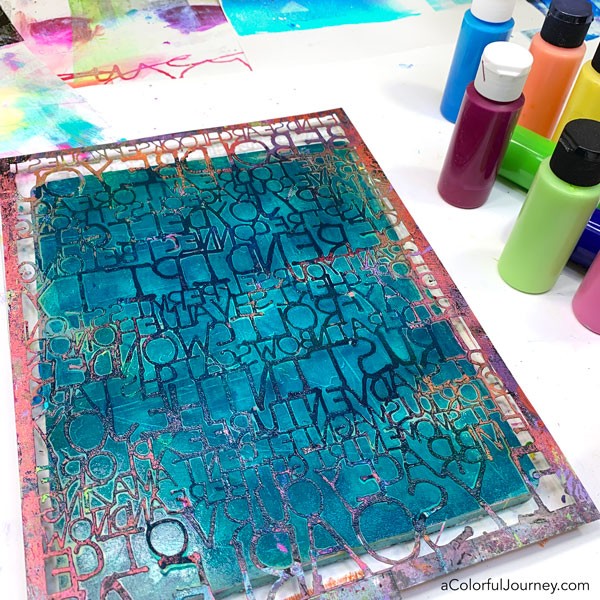 Whether I'm printing on paper or on fabric, the clean up prints and ghost prints are my favorites.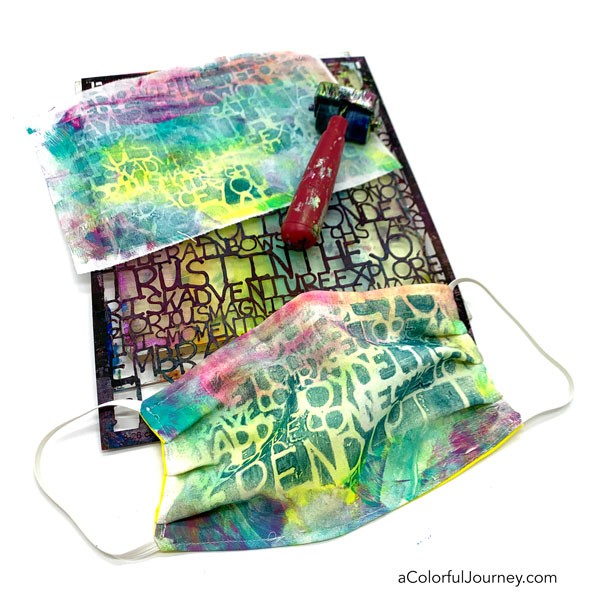 There's another way to use a stencil on a gel plate. You can also put the paint on the plate first and then put the stencil on top.
This made it easy to grab parts of the stencil pattern over and over until the fabric was completely filled. This stencil is by Mary Beth Shaw from her sidewalks of Puerto Rico collection.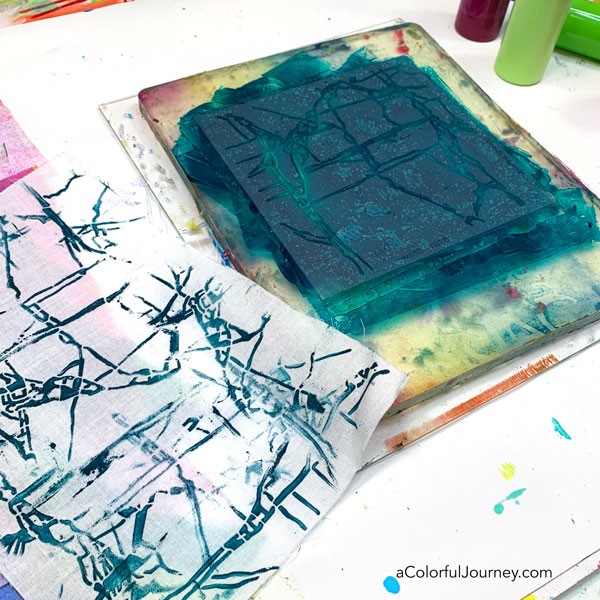 Thanks to an easy to follow tutorial by Melanie Ham the pieces of colorful fabric became face masks. I'm an absolute beginner when it comes to sewing and her tutorial was so easy to follow even with the pleats.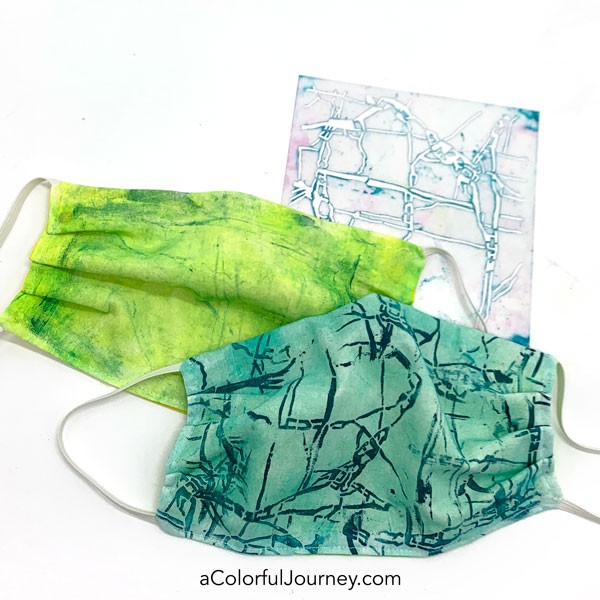 So next time you want fabric in a specific color, or pattern, or just something is uniquely yours- grab your gel plate and print your own! And I hope that you and your family are able to stay safe and healthy!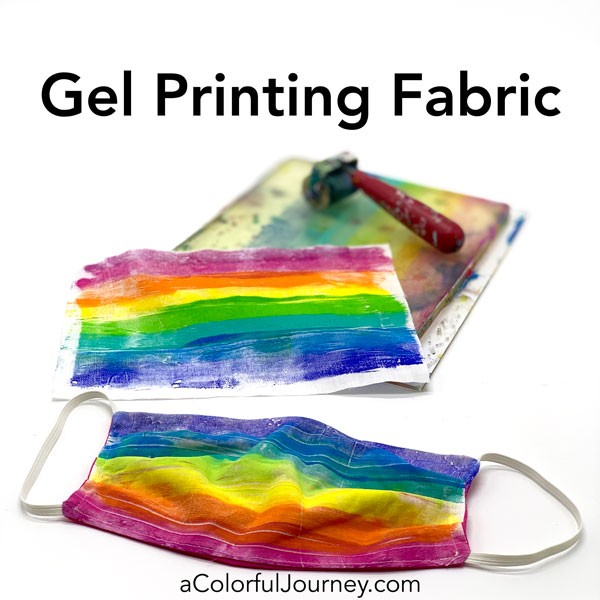 Here are the supplies used. Some of these links are affiliate links which means I get a small percentage. For example, I'm an Amazon Associate & I earn from qualifying purchases. It doesn't cost you anything extra and you get a really good feeling knowing that you are helping keep the free tutorials coming!