Registration is now open for Creative JumpStart 2022! There are 38, yes 38, videos each from a different artist exploring the theme of Creating Connections. Before I go any further, just a heads up, that the early bird prices are happening now!

$65 Dec. 4, 12:01am – Dec. 31, 11:59pm ET
$79 Jan. 1, 12:01am ET regular price
Each video is about 10 minutes long so that means you can squeeze the fun into busy schedules! And what an amazing lineup Nat Kalbach has put together! Nat's the mastermind behind this online workshop that is now in its 11th year!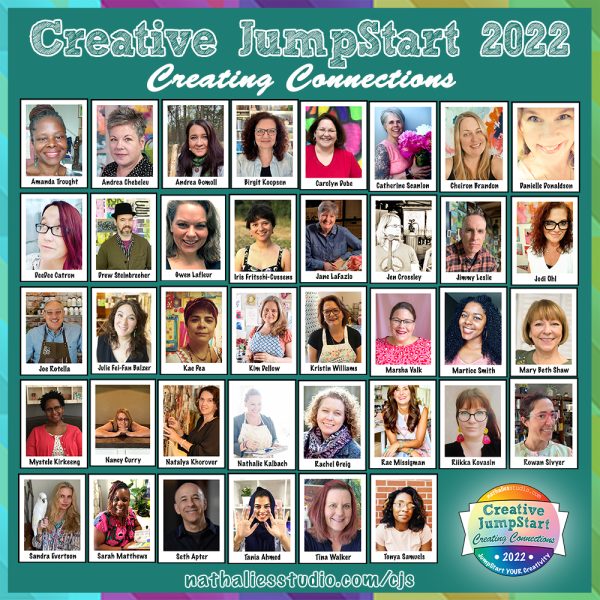 Along with 38 downloadable videos you also get
daily emails with additional tips and tricks
LIVE Webinars throughout the program to help guide you through the ups and downs of making art
Awesome Sponsor Giveaways
and the NEW Forum where you can connect with students and teachers and share your artwork and ideas.
Starting on January 1, 2022, you'll get a new video every day for 38 days! It's all happening inside the classroom on Nat's website. Once you've got a video, you have the choice to download it (so you'll have it forever) or to stream it in the classroom. The classroom will be open until November of 2022.
We'll each be bringing our unique style and favorite media and methods to the classroom to share with you. Get ready for ideas, techniques, tips, tricks and most of all to be inspired as you JumpStart YOUR creativity in 2022!
$65 Dec. 4, 12:01am – Dec. 31, 11:59pm ET
$79 Jan. 1, 12:01am ET regular price