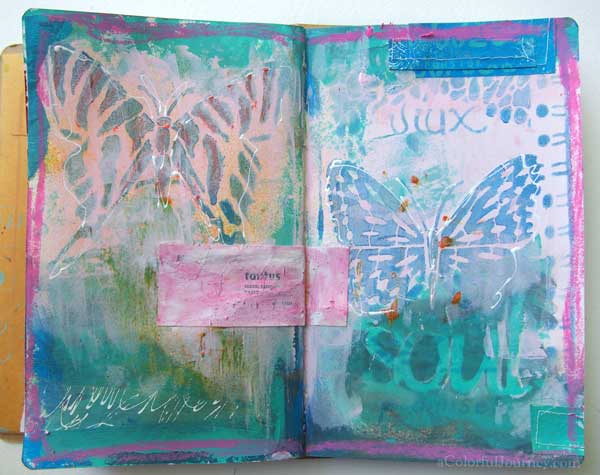 My inner critic and my muse had a huge fight.  I am happy to say that my muse gave my inner critic a swift kick in the rear end!  And I got to play in my art journal!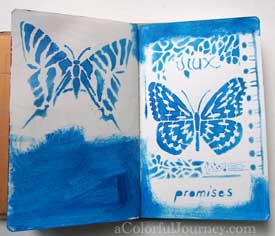 The muse started out just inspiring me to use up leftover paints with a new stencil.  My muse is very accepting and believes play has no rules.
Then the inner critic arrived asking all sorts of questions.
Is it good now?
Should I have used another color to make it right?
Is that too much blue bad?
Are the butterflies evenly spaced so that it looks okay?
Did I do it right?  Did I do it right?  Did I do it right?
Wow – is my inner critic needy!  I was having such a nice time until that critic showed up.  So my muse, acting like a protective older sister, send that inner critic away!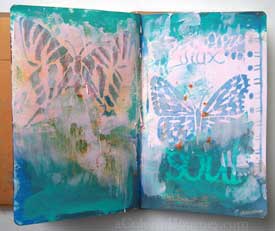 Then I played!  Sprays and splatters of Color Bloom spray ink,  acrylic paints, Chalk Edgers, more stenciling, anything I felt like using because there are no rules when playing.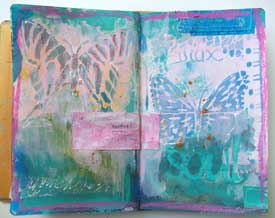 Added a touch of stitched Gelli prints on the top right, a Latin flashcard  (tantus) that was randomly picked from the big box of cards, and more pink.
In case you aren't fluent in Latin, the word tantus means so great or so much.  Hey, wonder if that is related to tantalize…
So my muse is tantus…now who knows if I am using it correctly but she is so great for chasing that inner critic away!
My next newsletter is heading out Sunday to all those signed up.  Not signed up yet? No problem!  You can sign up here and get a free video and pdf too!
Supplies Used
Sharing with my friends at  Paint Party Friday, Creative Every Day, and Art Journal Every Day.