What if? That's a very powerful question to ask. It can help you play, it can help you let loose and let go, and it can help you take your gel prints to the next level. How? That's what my next weekend retreat is all about! Join me for What If: A Weekend of Gel Printing.
UPDATE***Am blown away by the response to this retreat- it is now completely sold out! All hope is not lost- there is a wait list– so get your name on there so if a spot opens up Glenda can email you.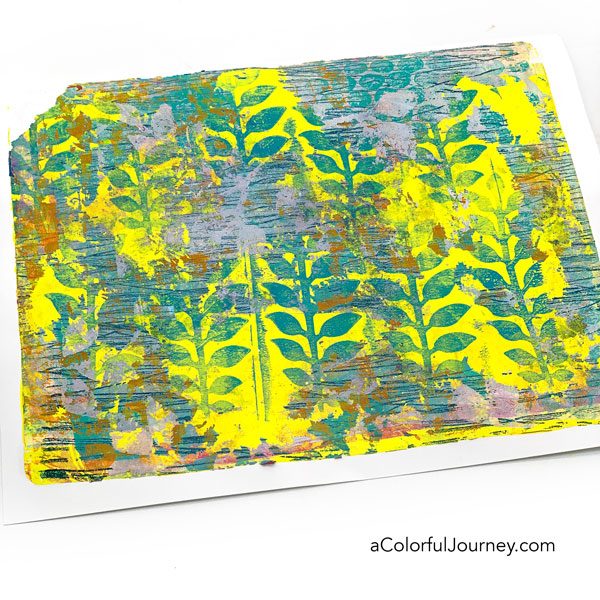 Once you're checked in on Friday afternoon, you've got a great big goodie bag of gel printing supplies waiting for you including a StencilGirl stencil I designed exclusively for retreat members only!
In this bag you'll find all the components you need to make an interchangeable texture tool. I like tools that are fast and easy to use that can create a variety of looks. This texture tool lets you do that!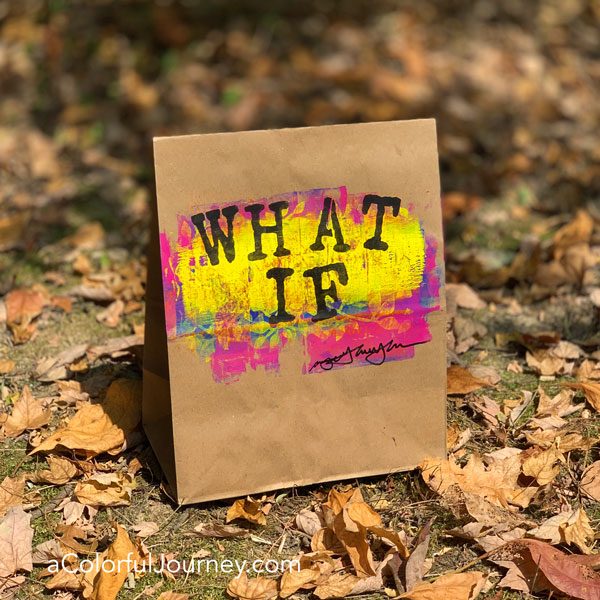 Friday night kicks off with texture tool making so you'll have a plethora of you infused patterns to use on Saturday and Sunday.
Saturday and Sunday are jam packed with gel printing techniques that all came from 2 little words, what if! What if it's really really wet? What if it takes forever to dry? What if it is totally dry? What if it all gets combined?
We'll wrap up the weekend Sunday night creating art journals with zero measuring & not a stitch of sewing made from your gel prints.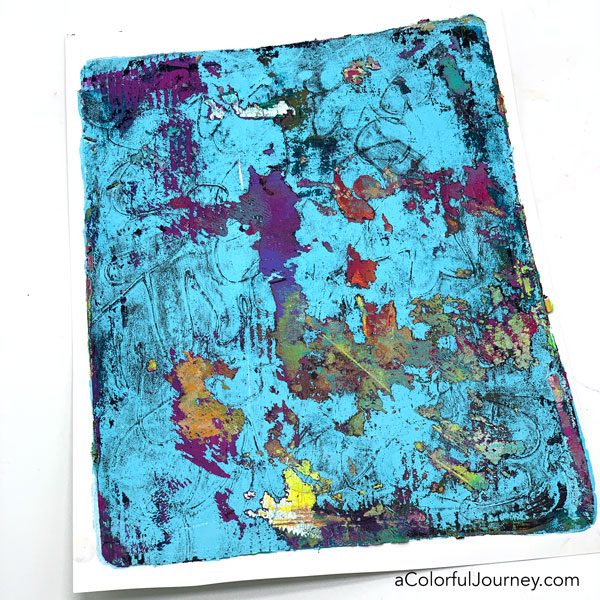 Saturday night, we have a guest instructor, Dave the husband. He'll be leading us in a evening of gel printing in his signature style, comically clueless. You may have seen him in some of my videos so be prepared to laugh, to have fun, and to escape adulthood during this weekend!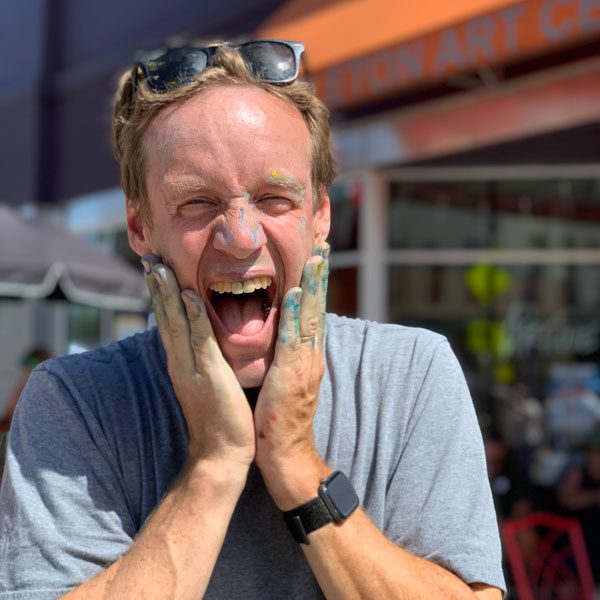 During our weekend together, you're going to make a prints that are just going to take your breath away when you lift those off the plate. And some of them, they're going to be some ugly ducklings.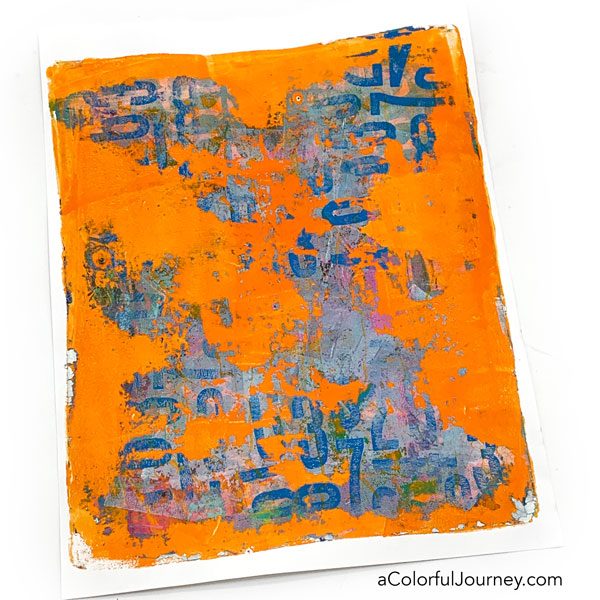 We all get those, but with a few simple things, you can take an ugly duckling and turn it into a swan and I'm going to show you how to do that this weekend
I'm bringing a van load (literally) of supplies and goodies so you only need to pack an itty bitty supply list. All you you need to bring is acrylic paint, paintbrushes, scissors, and an apron.
Leave some room in your suitcase to get all your prints and texture tools home. I've got everything else for you!
This is a great way to try out different materials and techniques before you invest in the supplies!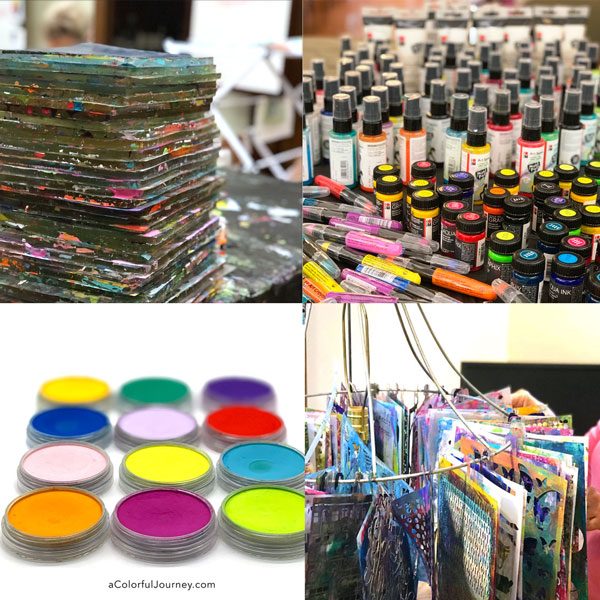 This weekend is about more than just gel printing, it's about connecting with other creative women. All of our meals are prepared for us fresh on the premises. It's like going out to eat with your friends for every meal!
Breakfast, lunch & dinner are all included with your registration because it's an all inclusive event!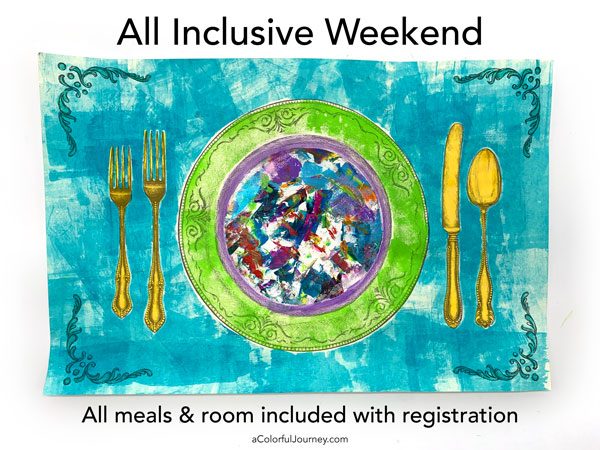 I am honored once again to be working with the extraordinary Glenda Miles to make this retreat possible. I'm bringing the play and she's bringing the pampering. She knows how to take care of us so we can fully relax and enjoy our weekend away.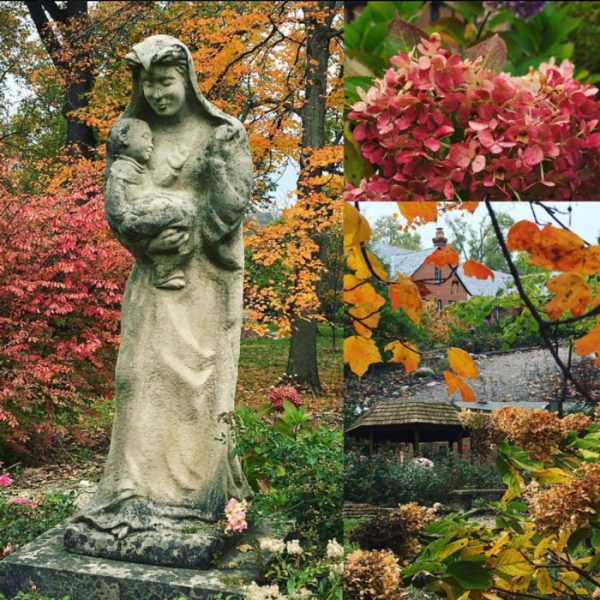 So where's What If taking place? It's all happening at St Mary's Transfiguration Center in Cincinnati, Ohio. This place is as peaceful and serene as the name sound with beautiful grounds that you can take strolls along.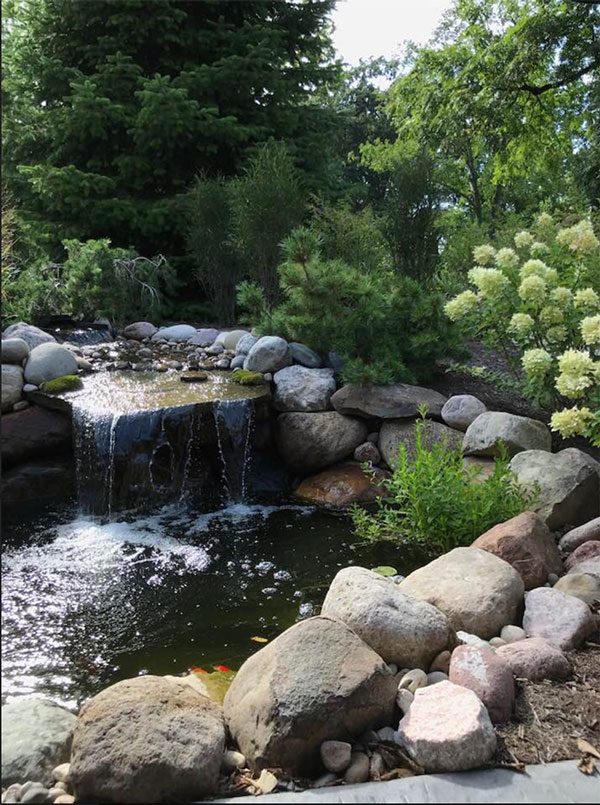 They have a labyrinth that you can walk and there's this wonderful babbling brook pond right outside our door. Such a peaceful vibe to the entire campus!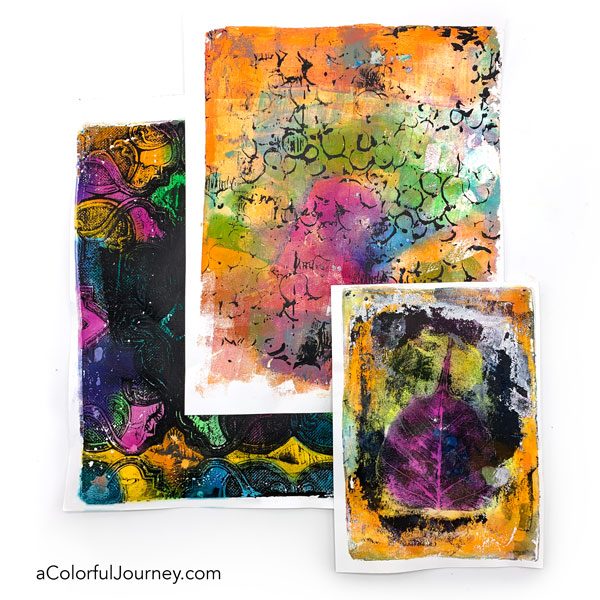 This retreat is purposely kept small and intimate with just 21 women. We'll be taking over the entire building so that means we can leave our stuff on our table 24 hours a day! No moving or packing/unpacking, just maximum play time!
What if: A Weekend of Gel Printing
Sept. 11-14, 2020
St. Mary's Transfiguration Center, Cincinnati, Ohio
Your All Inclusive Ticket includes:
Fri-Sun workshops
Your room and ensuite bathroom
All meals and snacks Friday dinner to Monday breakfast
Exclusive to this retreat only Carolyn designed StencilGirl Stencil
Your interchangeable texture tool that you'll create and take home
Interactive Gel Printing with Dave Saturday night
A mountain of supplies to share:

Huge assortment of StencilGirl stencils for your use

A rainbow of play using Marabu Art Crayons, Art Sprays, Aqua Inks and Alcohol Inks.
Trays of PanPastels

Gel Press plates, brayers, and other paint application tools for you to use
Piles of papers to print on
A texture and pattern smorgasbord
Plus some surprises!
All-Inclusive Tickets
Single Room Regular Price $995
Single Room Early Bird Price $820 SOLD OUT
Share-a-room Early Bird $775 SOLD OUT
UPDATE***Am blown away by the response to this retreat- it is now completely sold out! All hope is not lost- there is a wait list– so get your name on there so if a spot opens up Glenda can email you.