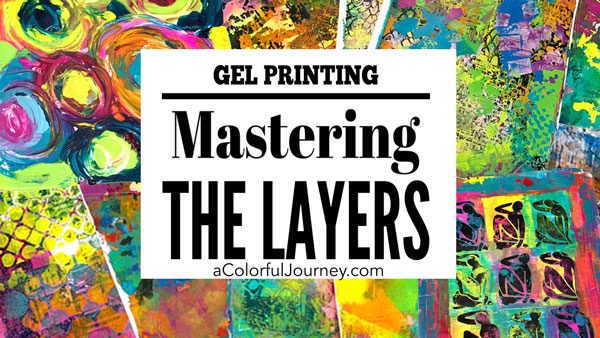 Can creating complex layers on a gel plate be simple? Absolutely! Layering comes down to just 2 factors. Once you know what those are, your prints aren't random.
You can go through a lot of trial and error to get the great prints, but what if you want to get there quicker? That's where Mastering the Layers can help.
This online workshop is about both the techniques to create layers and the understanding of how layers interact. Knowing this enables you to create the kinds of prints you want on command.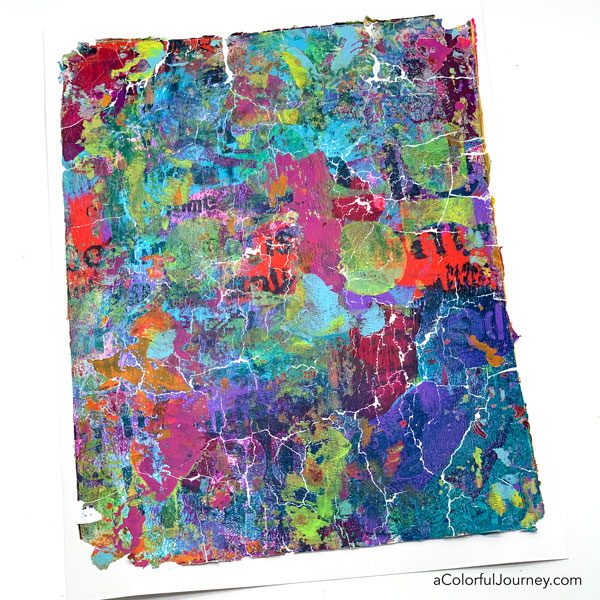 In Mastering the Layers you'll:
Discover how to add layers and not mess up the bright, vibrant colors from the first pull
Find out simple ways to achieve interest or depth in your prints
Be confident in your layering choices as you fully understand the 2 key factors that impact layering
And much much more!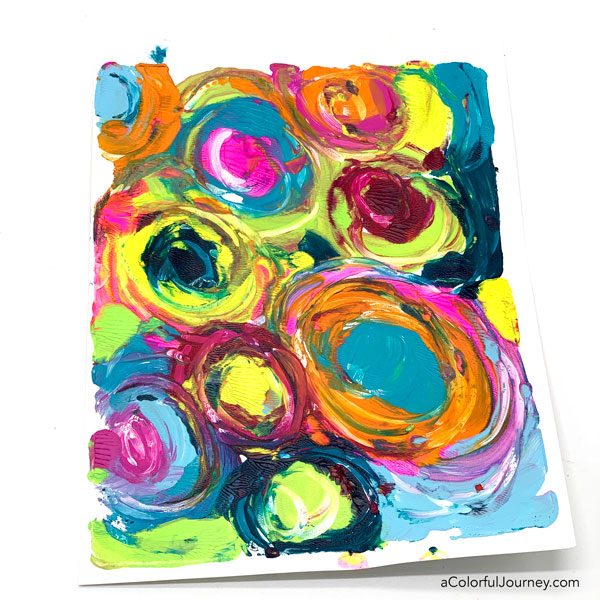 Want to feel confident with your color choices?
You can know color theory and yet still manage to come up with ugly color combinations when gel printing. That's because color on the gel plate has a bit of a twist to it.
Once you know how to apply that twist then you can:
vary your color combinations so your prints don't all look the same at the end of printing session
know just the right amount of paint you need to use
get colors to integrate and blend without a blocky look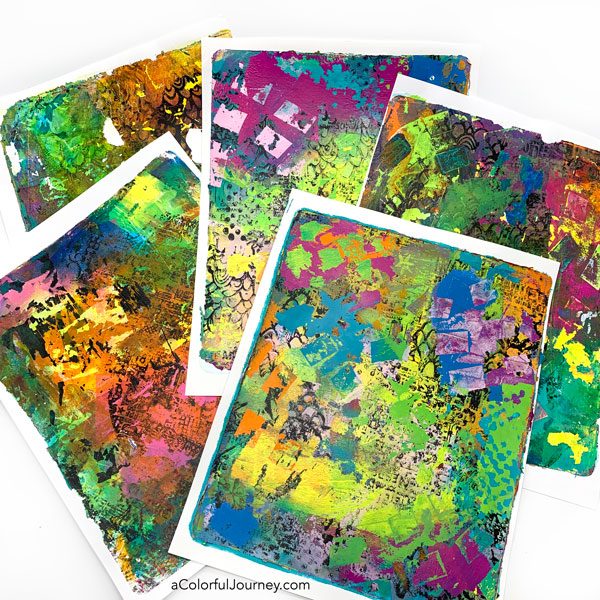 Layered prints look thought out, yet so random at the same time. Is it serendipitous or is it planned?
There's always an element of serendipity to gel printing, but knowing how to layer means you can steer the serendipity in the direction you want to go.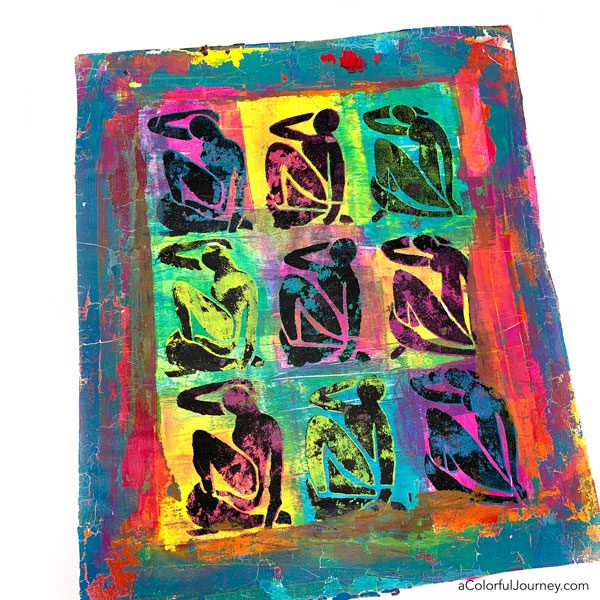 What about making a series of prints with more control? When you possess an understanding of the layering process, you can create a repeatable series of prints.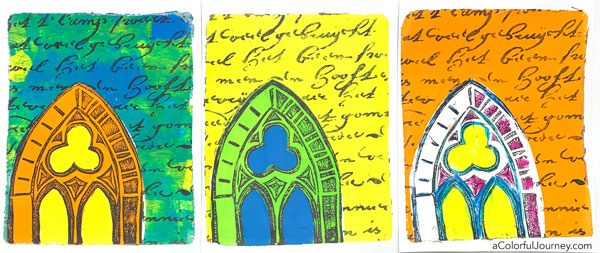 What about the ugly prints? The kind where when you add more to it, you instantly regret it because you thought you've ruined it? That happens to us all, including me.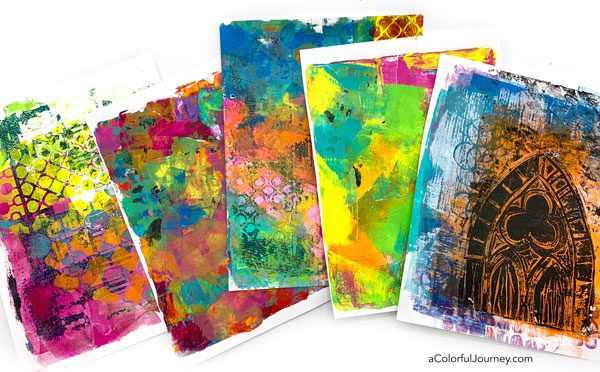 There are 3 bonus lessons included right now when you join.
1st Bonus: What To Do with an Ugly Print. In this video, you'll be looking over my shoulder to see specific ways ugly prints can be rescued. It's not random how they're transformed into prints you love, it's a matter of understanding how to layer.
2nd Bonus: The Painterly Brayer that gives you the one simple thing to do to create loose brush stroke looking prints using a brayer.
3rd Bonus: The Crackle Effect where you see how create the cracked and aged look on command.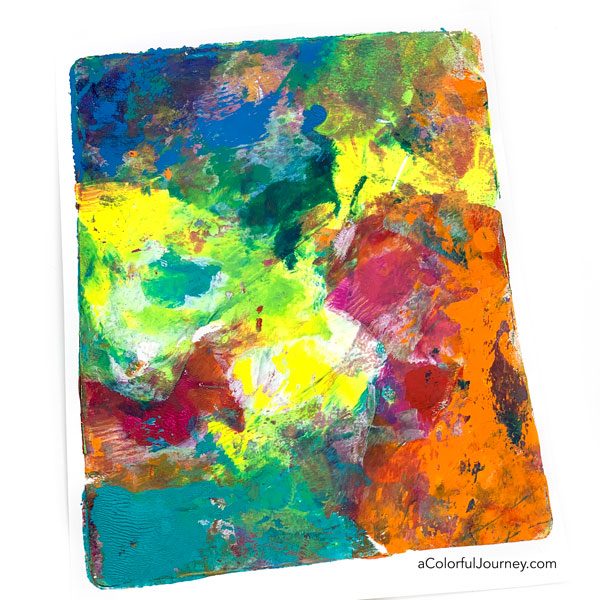 What's included in Mastering the Layers:
15 lessons all with downloadable videos
over 4+ hours of edited instruction – so no waiting for paint to dry! Each lesson was thoughtfully chosen to build your understanding one step at a time so you can easily apply it while printing.
Lifetime access
14 day no hassle money back guarantee
Lessons in this workshop:
Is it a Window or Door?
Building Grungy Layers
Wet & Wild
How to Use Color to Your Advantage
Playing Peek-A-Boo with Colors
Painterly Prints
Best Friends and the Brayer
A Sticky Situation
The First Pancake and a Gel Plate
The Ins & Outs of Brayer Blending
Invisible Gel Printing
Fused Layers
Intentional Compositions
Dragon Scales
Deconstructed Layers
Limited Time Bonus Videos Included when you register:
Creating the Crackle Effect
What to do with an ugly print
The painterly brayer trick
$149 + get all 3 Bonus Lessons!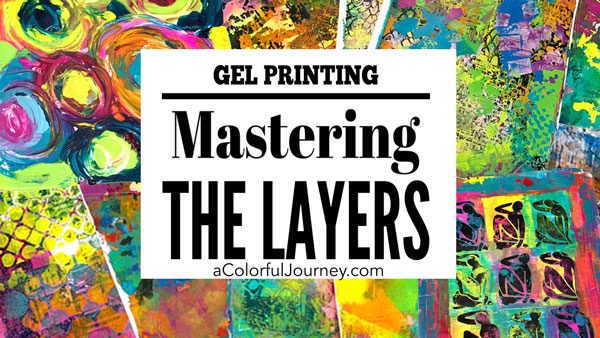 FAQ
When does the workshop start? It is available right now as a self paced workshop.
What supplies do I need? The basic supplies you'll need a gel plate, any size, a soft rubber brayer, paper, acrylic paints, and texture/pattern making tools such as stencils and found objects like bubble wrap.
Do I need a specific kind of paint? You need acrylic paint, it can be any brand, any color. Acrylic paints are the ones that clean up with water.
I've never gel printed before. Can I make prints like this? Absolutely- everything you need to know is in this workshop. This is a great way to get started because this workshop includes techniques, but more importantly it breaks down the process so you can fully understand the how and why of gel printing.
I've been making prints for a while, will this workshop help me make better prints? Yes! Because this workshop is about more than just techniques, it's about understanding why the layers do what they do. As you know, once you understand how a tool works, then the sky's the limit.
How long is each lesson? The lessons are about 15 minutes long, some a little longer, some a little shorter. They are all edited so that you can get the key information and get to playing.
How long do I have to watch the videos? You have as long as you need. You have lifetime access to the workshop.
Are the videos edited? You bet. There's no waiting for paint to dry here!
Can I watch it on an iPad or mobile device? Yes, you can watch any of the videos on any device. The videos are hosted at Vimeo and they have a mobile app so you can even download them onto your mobile device.
Is there a Facebook group? There is an optional Facebook group just for members of this workshop.
I'm new to online workshops, how does this work? To access the course materials, all you need to do is log into the classroom. There is a welcome/getting started section where you'll find the supply list and the getting started videos. By the way, I always encourage you to use what you have and substitute with any brands, types, or colors you love.
As lessons become available to you, you'll find them in the same place as the getting started ones. On the individual lesson pages, you'll find the video for that technique. All the videos are downloadable. You have lifetime access once you're a member, so you can stream them online or watch them off line- which ever fits your needs best.
You can ask questions in the classroom or in the optional Facebook group where you can share what you're printing and see what you're fellow classmates are making.
Is there a guarantee? Absolutely. I stand behind this workshop 100% with a 14 day no hassle money back guarantee. How does it work? Just email me within 14 days of the workshop beginning and let me know in an one line email that the workshop isn't right for you. I'll get you a prompt and full refund.
$149 + get all 3 Bonus Lessons!