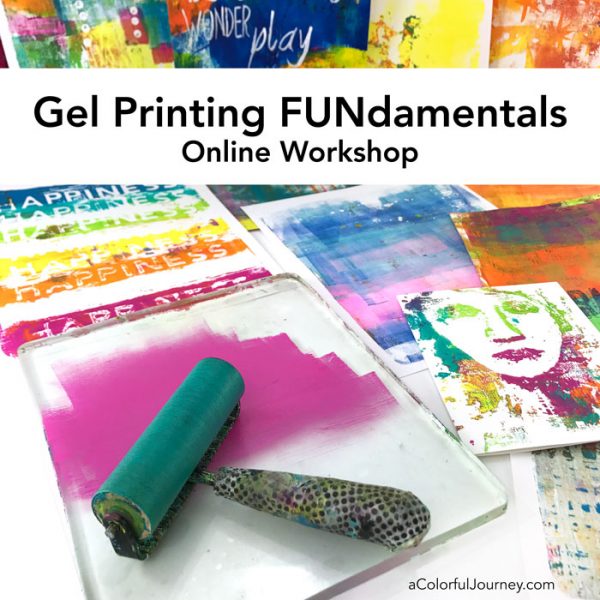 Are amazing gel prints random guess work? Nope. But it can feel that way if you don't know the FUNdamental principles. Do you know to avoid making mud?  Do you know how to get a complete print in one pull? What about replicating a gorgeous look that you've created?  Once you know the FUNdamentals, you will know all of this and more.
This is a self paced 15 lesson on-line workshop jam packed with the whys and hows of making magic happen on the plate so you can make prints you love.
Here's what students have been saying
It's so much fun, and you make things easy to understand! – Jessica S.
Just want to say that this is by far the best on-line art course that I have done. You are kind and caring and very good at getting your extensive knowledge and skills out to us all. It's been great fun! -Lydia
You explained everything so well and all the demonstrations were really easy to follow. -Susan
Thanks so much for your flexible, fun, easy, encouraging teaching style!!! What a difference you make in bringing the fear to a standstill. -Ethel
This class is giving me a much needed confidence boost when it comes to my art. -Janet K.
Gel Printing FUNdamentals is now available self paced. What that means is you have immediate access to ALL the lessons and videos to start playing right away!
Watch Gel Printing FUNdamentals Workshop on YouTube.
You'll get a technique video in every lesson, plus you have access to the recorded live streams with a very special guest, Dave the Husband.  He joined me for these during the live session of this workshop and you can see how he goes from being very hesitant to confident as he makes prints.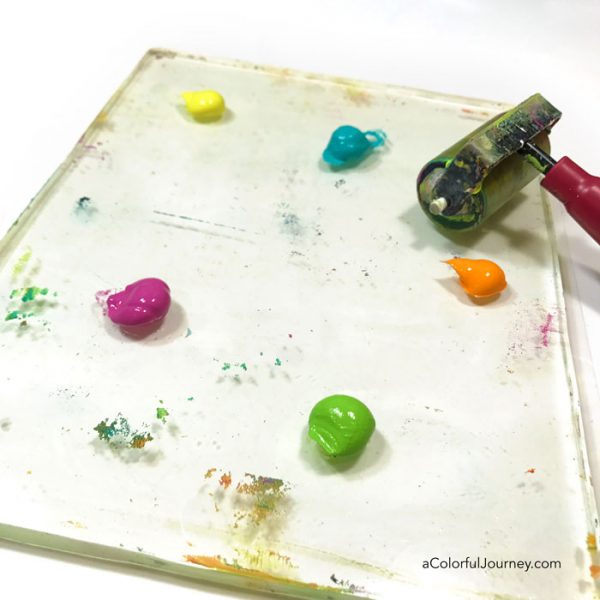 Throughout our 15 lessons together, you'll see step-by-step how to use the FUNdamentals while printing with trash, a common kitchen supply, fibers, pencils, cosmetic sponges, stencils, rubber stamps and more!
Life's busy.  Each video lesson is 10-20 minutes long so you can jump into the play.  The classroom is forever access, so this fits your schedule with zero pressure. The videos are all downloadable so you can watch them off line or stream them.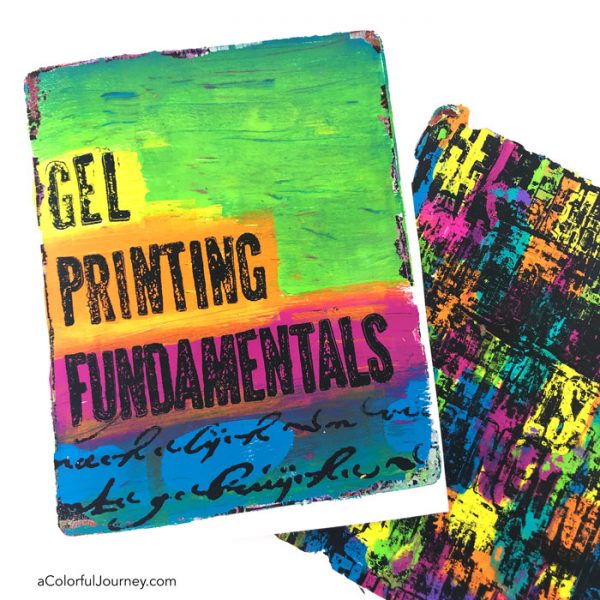 In Gel Printing FUNdamentals, you're getting the short cuts and the tricks to printing including how to get words into prints.  Now if you're like me and don't like your own handwriting, never fear, there is a trick to not having to worry about that and write words in your prints.
But what about all the prints that aren't instantly home run amazing prints? I make blah prints all the time.  You'll get to see how to build up layers on those prints  and most importantly, find out the why behind the choices so you can apply it to your printmaking!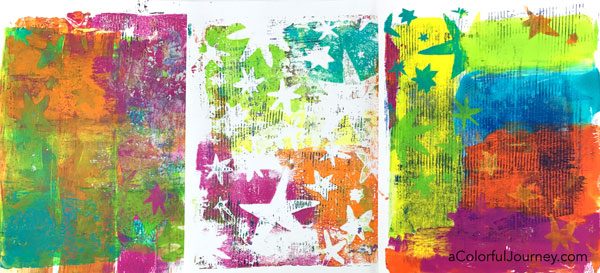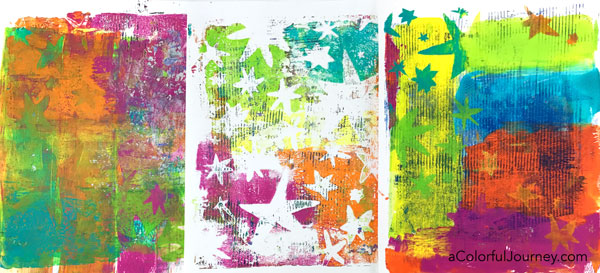 What Students Are Saying About Gel Printing FUNdamentals
If anyone, I repeat anyone, is wavering about whether to take Carolyn Dube's class please stop wavering and just do it. You will not be disappointed. She is a fantastic teacher who has to be one of the most encouraging teachers I have ever had the pleasure of taking a class from. It is worth every minute, every laugh and every penny! -Jeanne Brennan
Wow, wow, wow Carolyn! I've been gel printing for a while but you unleashed the wild child in me! – Gail Brule
I teach gel printing. Your strategies pushed me farther.- Jan Paron
I have completed the course.  And It was money well spent. The color wheel and how to use the brayer and not mix paint immediately helped me improve right away. Coaxing Dave (and us) to look at what we like and don't like was also very helpful.  My play was better every day, but it really exploded into lots of ooo's and aaah's  with one of your last lessons where you worked fast and just kept layering. I have had the most fun yet, trying to follow your example of 'add another layer'. You are an excellent teacher and really know your stuff.  – Marjorie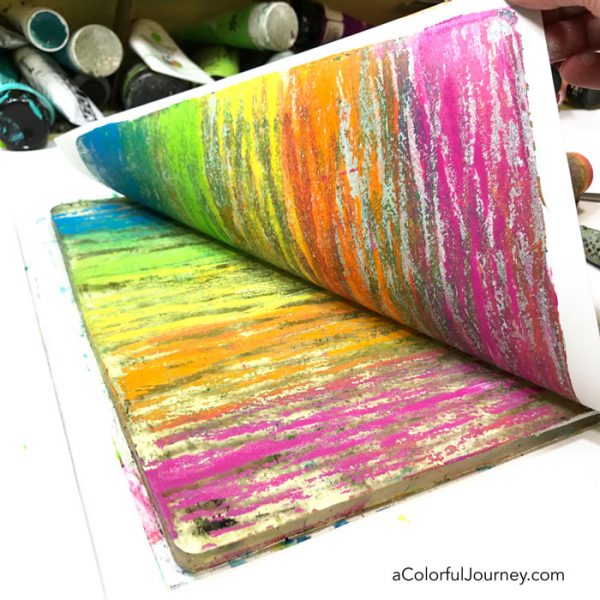 What's included in the self paced Gel Printing FUNdamentals
15 lessons plus all the getting started videos waiting for you now in the classroom!
recordings of the Facebook live streams just for the workshop participants with special guest, Dave the husband making prints.
downloadable videos (and can be downloaded on mobile devices too)
lifetime access to the class
classroom where I'll be there answering your questions
30 day money back guarantee. Why do I offer this? Because I want you to have the workshop that is right for you!
$99

What are the basic supplies that you need?  In the getting started videos in the classroom, I go in detail about the sizes and types of products to guide you to finding the supplies that give you the looks you want in your prints.
Gel plates, I use the Gel Press Plates because they have the best squish and have held up very well to all my play over the years.  I like to use 2 side by side for several techniques.  This allows me to use paint in different ways and not waste a thing. The plates can be the same size or different sizes.  You don't have to have 2, instead you can simply use half of 1 plate for the first part and the other half for the second part of the technique.
Paint– any acrylic paint works.  In the getting started videos, I go into detail about the different kinds of paints for printing
Paper
What else will I be using?  I am a big believer in use what you have on hand and substituting with what you like.  In the classroom is a detailed list of every little thing I am using, but you don't need to have all of that. If you have a gel plate, a brayer, paint, and paper you can start printing.
Are you ready to make amazing gel prints? Then jump on in to the workshop.