What's the secret to getting gel prints full of pattern with colors that pop? Magic? Nope, but it can look like that! Maybe it even seems like you're either good at it or you're not but in reality anyone can do it! There's a simple process to it and all it takes is understanding how your paint works on a plate and how a stencil interacts with those layers of color.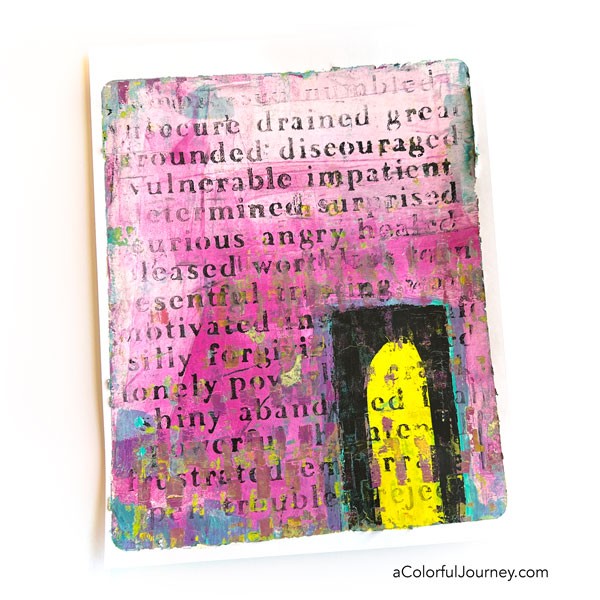 So is it a recipe you follow? Yes and no. Let me share something I learned from my grandmother, and yes, this will relate to gel printing. She was a fantastic cook and I never saw her use a recipe book. She used her magical grandma powers to create scrumptious meals, or at least that is how it looked to me as a kid.
When I tried to cook like her, it did not go well. At all. Something as basic as gravy was horrifically inedible when I made it even though I used all the same ingredients I saw her use.
The difference was Grandma understood how to thicken with cornstarch. I learned the hard way you don't just add a full cup of cornstarch powder to a pan of runny warm gravy. She understand when to add more seasoning. Not because she was all knowing but because she tasted it. I was just guessing when I dumped in tablespoons of pepper. Like I said horrifically inedible.
Once Grandma gave me the recipe along with an explanation of how to use the ingredients effectively, suddenly, I could make gravy my parents could eat. Just like Grandma, after making gravy a few times with the recipe, I no longer needed it.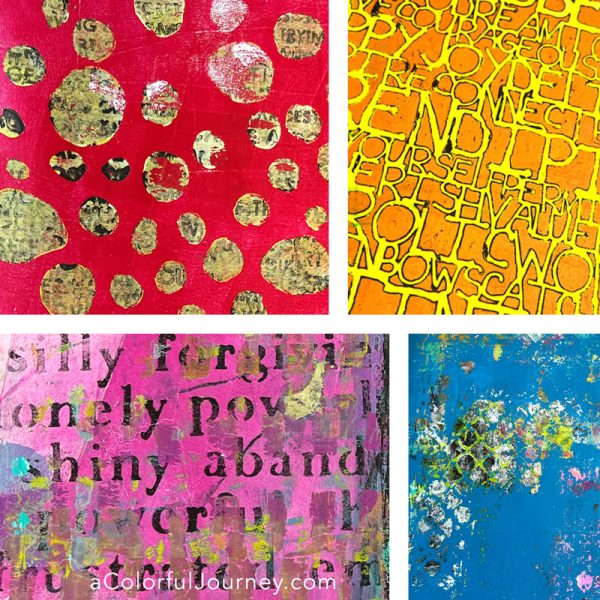 So what does making gravy and my grandma have to do with gel printing? Recipes make cooking easier because you've got a step-by-step process to follow. That's what this workshop is, a step-by-step process for you to easily create complex prints.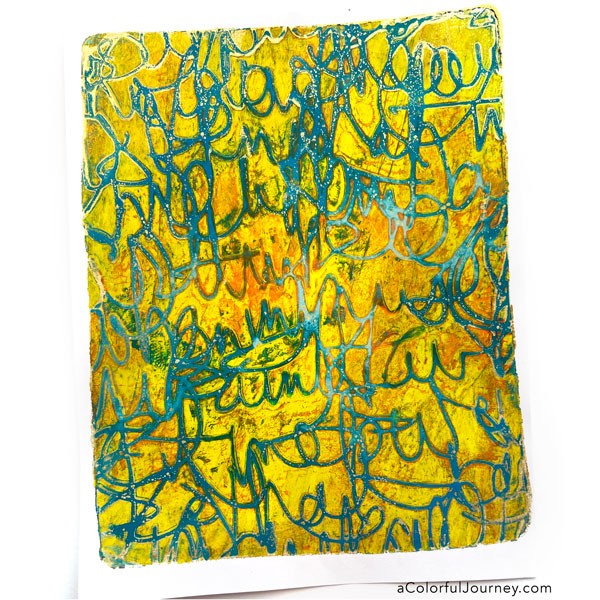 Along the way, you'll build a strong understanding of how the ingredients work together (gel plates, paint and stencils) so that you can intentionally create the kinds of prints you want!
No matter where you are on your gel printing journey, this workshop can help you take your prints to the next level. How can it really do that for both absolute beginners and experienced printers at the same time? That's the power of understanding why and how. Making great prints consistently isn't intuition or guessing- it's simply understanding the key factors.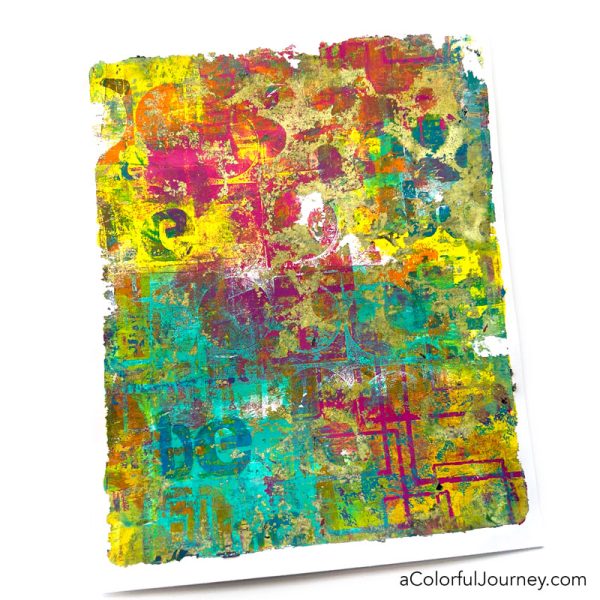 In this workshop you'll find out:
What makes your colors pop and avoid the trap layers that end up sort of muddy.
How to get that grungy look on command
The steps to create an intentional composition.
How to know the right amount of paint to use.
The trick to avoiding paint leakage so it won't ooze under your stencil.
Which layer will show paint and which won't because what you see isn't always what you get.
And much, much more!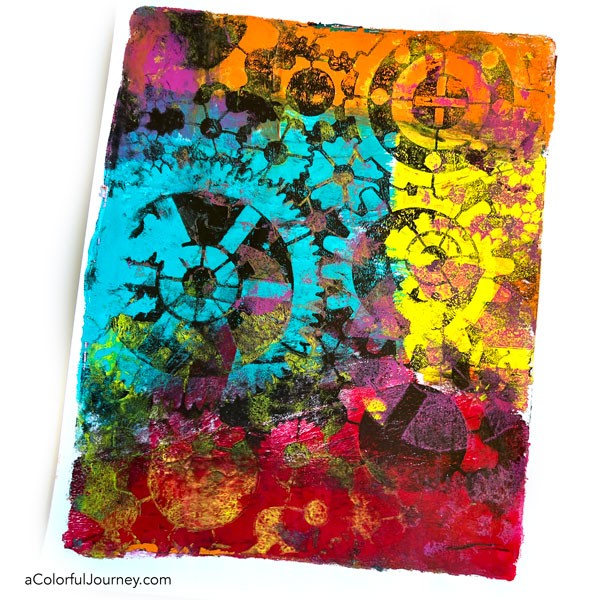 Plus you get this bonus
I'd love to tell you that every single print is going to be a show stopper but that's not how it goes. We all have ugly prints, it's part of the process. But I get excited when I have an ugly print. Why? Those often become some of the most exciting prints in the end! In your bonus video, Rescuing the Ugly Prints, I'm sharing ways to turn around those blah, ho-hum, and downright ugly prints.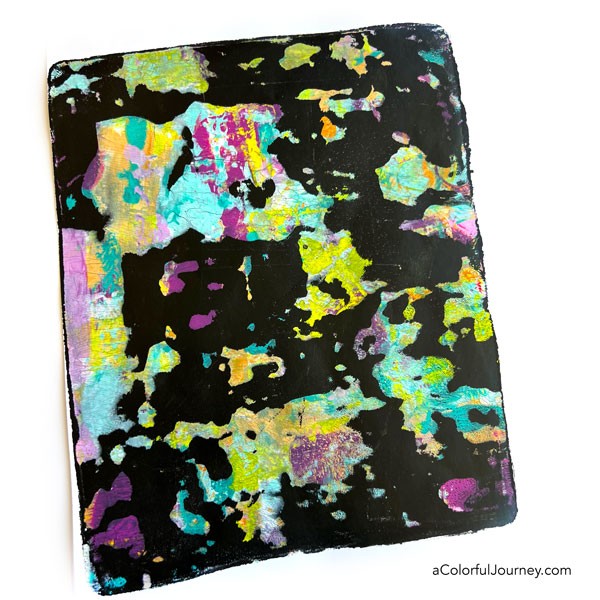 Over the years teaching gel printing I've noticed that people worry about the wrong things for two big reasons. The first is they don't know the 3 most important factors to keep your eye on while printing. Throughout this workshop, you'll get carefully chosen techniques that build your understanding of these factors step-by-step.
Your second bonus
The second reason is perfectionism. Perfectionism can take the fun out of gel printing but it doesn't have to! If you've battled those critical voices and are ready to quiet them down and have more fun printing, you'll love the bonus video, The Antidote to Perfection Paralysis.
But there's one big thing I haven't mentioned yet. It's the entire reason I started gel printing and haven't stopped. The FUN! It's exciting to lift a print and see something you can't believe you made on there!
If you're ready to let go of random guessing when you're making prints so you can have even more fun then join me for Stencil-rific Layers!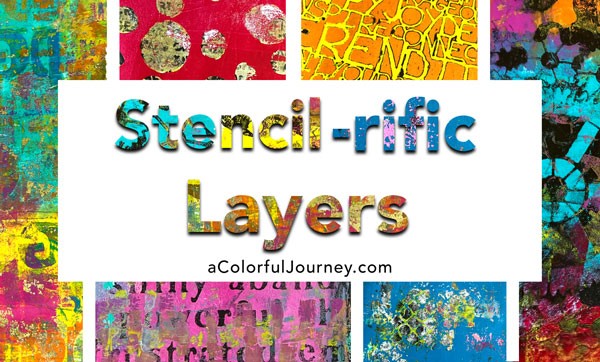 Lessons in this Workshop:
Getting Crisp Prints
Wax on Wax Off
Avoiding Muddy Layers
Letting Loose with a Brayer
Slapping Stencils
Never Ending Technique
All in One Pull
Should You Put the Stencil or Paint First?
Intentional Compositions
Glorious Grunge Prints
What Layers Will Show
Making Compositional Choices
When to Make a Plan
Stacking Stencils
Getting Surgical with the Paint
Maximizing the Ghost Pull
Where to Build Up Your Layers
When to Stop Adding Layers
What's included:
19 day online workshop
Your questions answered by me in the classroom or the optional FB group
Downloadable videos
Lifetime access
14 day money back guarantee
Bonus: Rescuing the Ugly Prints
Bonus: The Antidote to Perfection Paralysis
$99
Stencil-rific Layers is currently closed to new registrations but will be opening up again. If you'd like to get an email letting you know when that happens, join the waitlist below. Join the waitlist
Money back guarantee. You've got nothing to lose and so much fun to gain because there is a No-Hassle 14 Money Back Guarantee. Join the workshop, try it all out for 14 days and if for any reason it's not for you, just send me a one line email letting me you'd like a refund. That's it!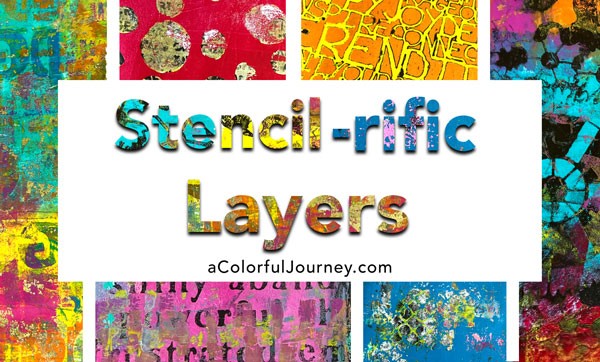 F.A.Q.
As soon as you register the workshop begins. Then every 24 hours, you'll get a new video for the next 18 days. You have lifetime access to the workshop once you've registered.
Yes, all the videos have closed captions.
I encourage you to substitute with whatever you have on hand or prefer! In the classroom, I have a detailed list of all the supplies I'll be using but here's the Cliff Notes version.

You'll need at least one gel plate. I like using Gel Press plates because they have the best "squish" factor. I'll be using primarily the 8×10 size. If you happen to have two plates, you'll find that very handy but not required.

All the stencils I'll be using are from StencilGirlProducts.com They are a wonderful family run business and I'm honored to be one of their many designers.

As for paint, you'll want acrylic paint in any colors you love plus white and black and a metallic paint (gold or silver or any color you like!
Lifetime. This workshop is all about having fun making prints and deadlines take the fun out of it! So there is no deadline or time limit. You can watch them whenever you want, as many times as you want.
You bet! The videos are all downloadable!
Each lesson averages 15 minutes. Some are little longer, some a little shorter. The videos are edited, which means you don't have to watch paint dry or me search for supplies so you can get to the play faster!
This is a no hassle 14 day 100% money back guarantee. Check out the workshop for 14 days, watch the videos and see if it's right for you. If it's not just send me a one line email saying you'd like a refund. It's really that simple.
Along with this workshop, you also get access to the mini workshop, The Basics of Gel Printing. This covers everything you need to know to get started with gel printing! In Stencil-rific Layers, the techniques are broken down step-by-step so no prior experience is needed! Truly!
This is an online workshop, so you'll need access to the internet. The videos are hosted on Vimeo and you can watch them on your mobile device, a tablet, laptop or desktop computer. If you've got really slow internet service, you'll find it easier to download the videos and watch them off line.
$99
Stencil-rific Layers is currently closed to new registrations but will be opening up again. If you'd like to get an email letting you know when that happens, join the waitlist below. Join the waitlist