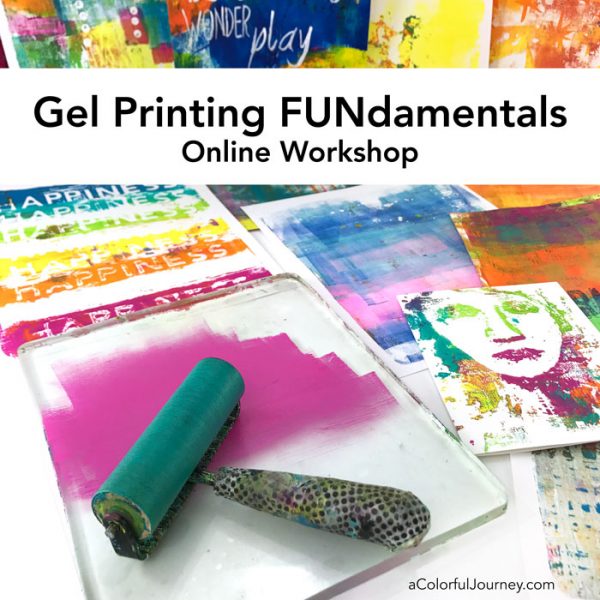 It's no secret how much I love gel printing.  Making mountains of prints over the years has brought me immeasurable joy plus it has allowed me to discover the FUNdamentals of monoprinting.  Are amazing prints random guess work? Nope. But it can feel that way if you don't know the FUNdamental principles.
Watch Gel Printing FUNdamentals Workshop on YouTube.
Registration is now closed, but if you'd like to be the first to know when it opens, get signed up for the waitlist.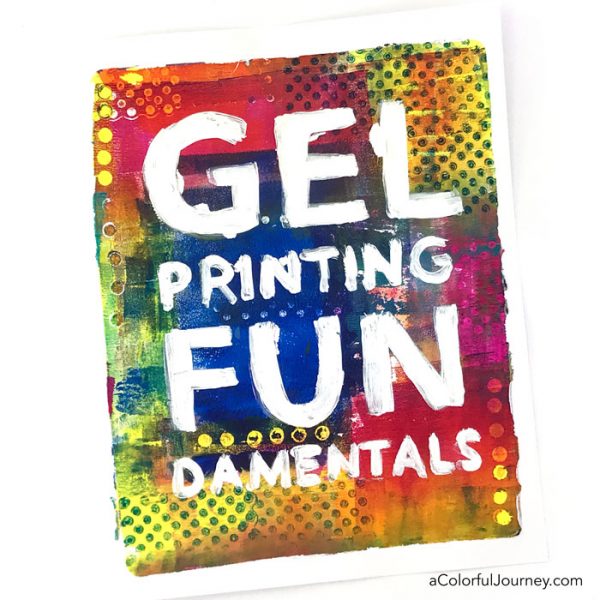 Color is a huge part of making prints, especially avoiding mud.  But there are ways to use the entire rainbow, all at once, and not make mud.  You bet that is covered in the workshop!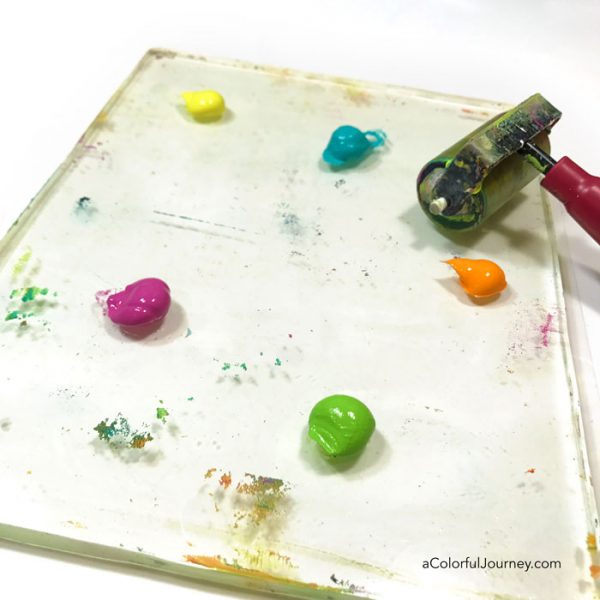 Throughout our 15 lessons together, you'll see step-by-step how I use the FUNdamentals while printing with trash, a common kitchen supply, fibers, pencils, cosmetic sponges, stencils, rubber stamps and more!
But what about all the prints that aren't home run amazing prints?  You bet I make blah prints all the time.  You'll get to see how I build up layers on those prints  and most importantly, why I make the choices that I do so you can apply it to your printmaking!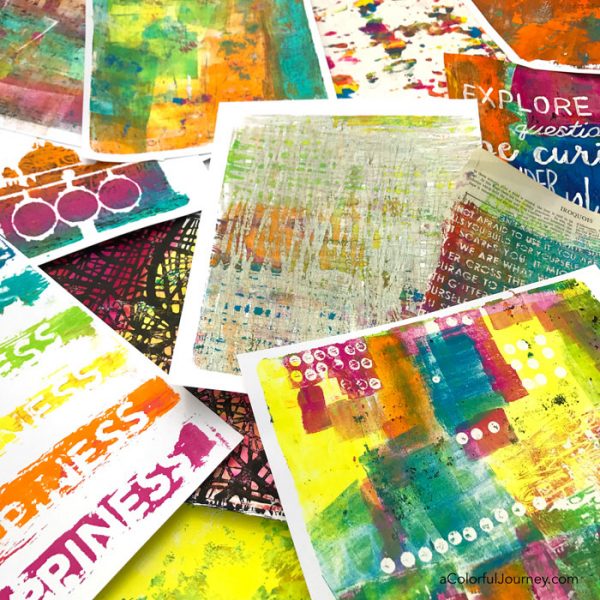 Words are one of my favorite elements to use in my art…but I don't like my handwriting.  Creating words on a gel plate lets me go right around this!
Life's busy. With a limited amount of time to be creative, if you want to skip the trial and error and get right to the fun of printing, then get ready to play!  Each video lesson is 10-20 minutes long so you can watch and get to the play.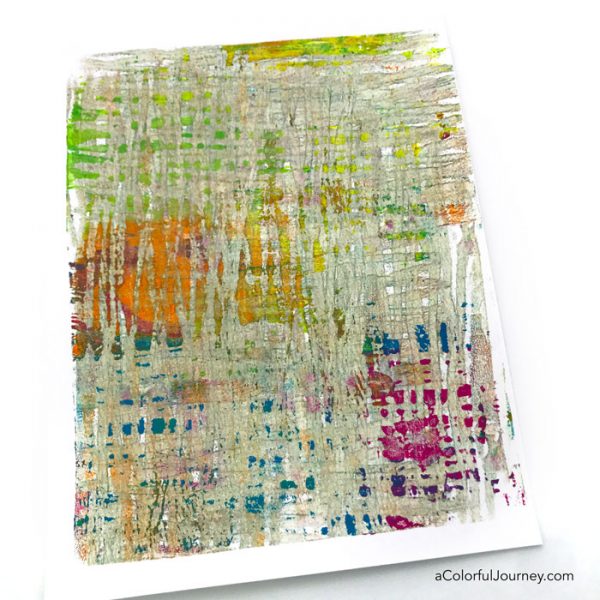 If you've ever felt like you're in a rut making the same kinds of prints and struggling to find new ways to use the gel plate, the 15 different lessons can help you out.  They are all downloadable with forever access so you watch them when it fits your schedule and as many times as you want!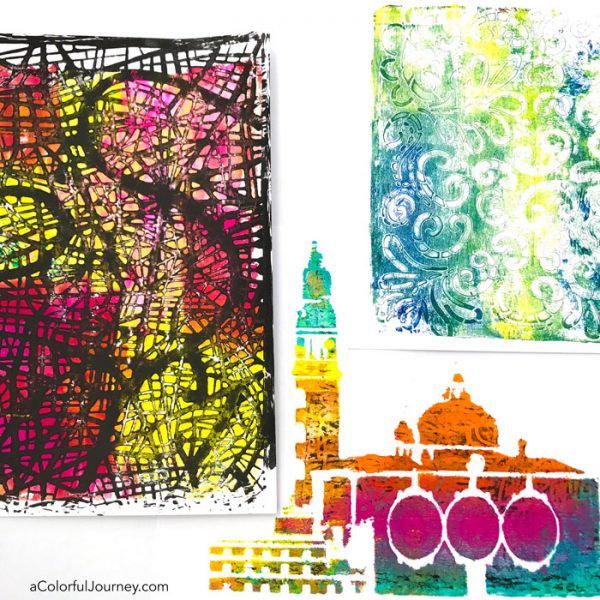 Gel Printing FUNdamentals
3 weeks with a new video every Monday- Friday plus all the getting started videos waiting for you now in the classroom!
3 Facebook Lives just for the workshop participants (and my husband has agreed to try his hand at more print making in all 3 just for us!)
downloadable videos (and can be downloaded on mobile devices too)
lifetime access to the class
private Facebook group and classroom
30 day money back guarantee. Why do I offer this? Because I want you to have the workshop that is right for you!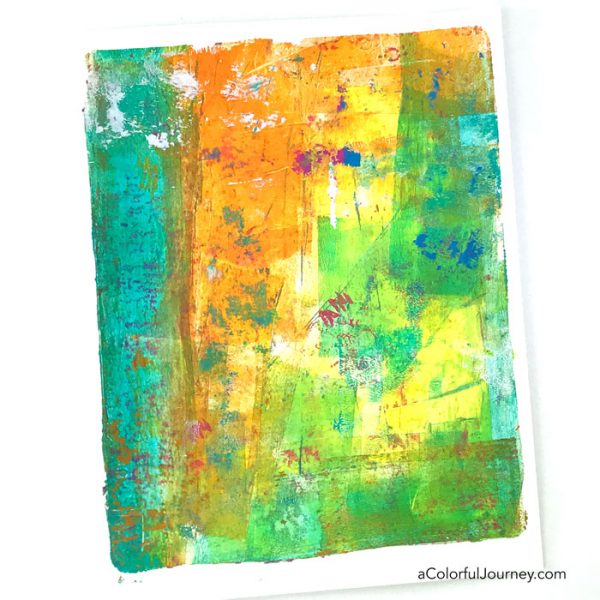 What are the basic supplies that you need?  In the getting started videos in the classroom, I go in detail about the sizes and types of products to guide you to finding the supplies that give you the looks you want in your prints.
Gel plates, I use the Gel Press Plates because they have the best squish and have held up very well to all my play over the years.  I like to use 2 side by side for several techniques.  This allows me to use paint in different ways and not waste a thing. The plates can be the same size or different sizes.  You don't have to have 2, instead you can simply use half of 1 plate for the first part and the other half for the second part of the technique.
Paint– any acrylic paint works.  In the getting started videos, I go into detail about the different kinds of paints for printing
Paper
What else will I be using?  I am a big believer in use what you have and substituting with what you like.  In the classroom is a detailed list of every little thing I am using, but you don't have to have all of that.
We'll be using things from the kitchen, from the trash, rubber stamps, StencilGirl stencils, and more.  StencilGirl has generously offered a 10% coupon to everyone in the workshop.
Registration is now closed, but if you'd like to be the first to know when it opens, get signed up for the waitlist.