The magic of paint pouring is the cells and those shapes of color that flow from the cup. But it can feel mysterious, or random when it happens if you don't understand what's happening but it doesn't have to be.
The best way to get an understanding of paint pouring and cells is by doing flip pours. I've created the online workshop, Flip Pour Secrets, to take the intimidation out of pouring as I guide you step-by-step through the entire process.
You'll find out how to mix your paint and pouring medium without a recipe
The importance of how you add it to the cup to create maximum cells
How to keep bright colors bright and skip the muddy look
and much much more.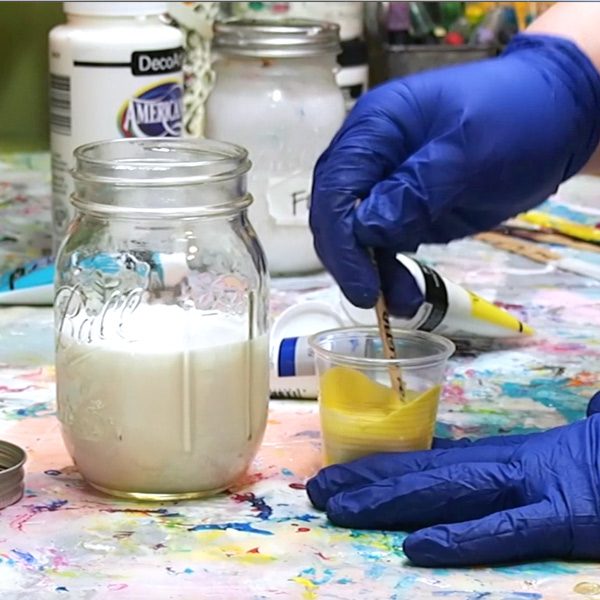 How do you know the exact amount of paint and pouring medium to use? Getting the needed ratio for making cells doesn't have to be tricky.
In Flip Pour Secrets, you'll see the 3 factors you need to be aware of to get the ratio just right every time without any measuring or recipes.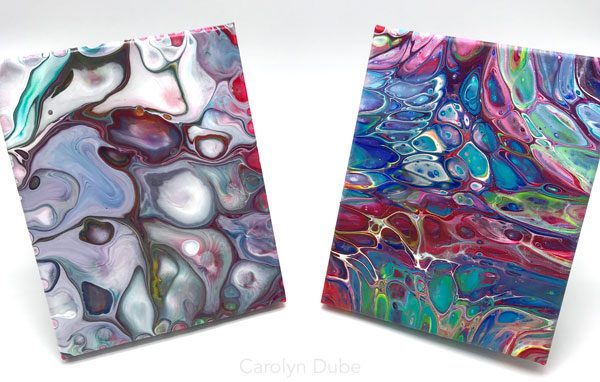 These 2 canvases were made using the same exact colors and were added to the cup in the same order. But the colors are very very different.
Why did that happen? And why were there great cells on only 1 of the canvases? Answers to these questions are inside Flip Pour Secrets.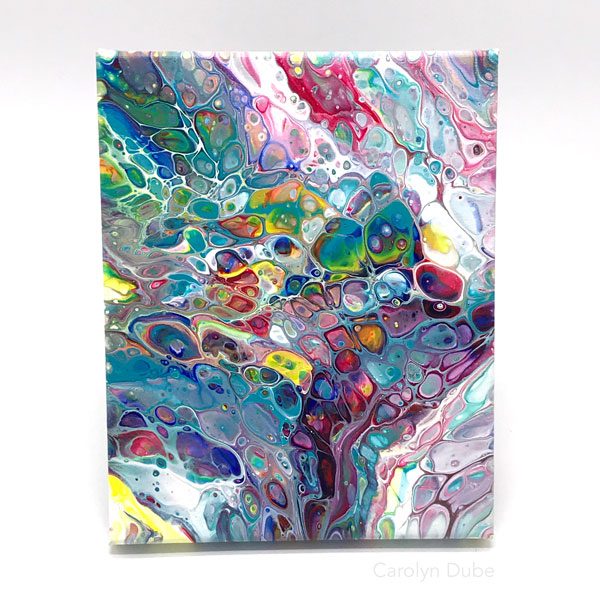 You get instant access to all the lesson in the workshop:
Setting up Your Space
Mixing Your Paints
Parfait Flips
Cannonballing
Making Decisions Easily
Why Add the White Paint
This workshop is currently closed BUT get your email on the waitlist and you'll be the first to know when registration opens back up!
This workshop includes:
6 step-by-step lessons
all downloadable videos
watch on mobile or desktop
lifetime access
14 day money back guarantee
How does the guarantee work? Sign up for Flip Pour Secrets and download everything to your hard drive. Check everything out for yourself – go through all the videos and information and if you decide that what you've learned hasn't helped you then all you need to do is send a one line email letting us know that this workshop isn't right for you for any reason or no reason at all and we'll refund you 100% of your money. No questions asked. No hassles and no hoops to jump through. It's really as simple as that.
You've got nothing to lose and beautiful poured paintings to gain!
This workshop is currently closed BUT get your email on the waitlist and you'll be the first to know when registration opens back up!
FAQ
Do I need to have a special paint? Nope, you can use any acrylic paint. In the workshop, I explain the differences between paints so you can understand how to mix any kind of paint. You'll see me make pours with both craft paints and artist grade paints.
Which pouring medium do I need? The process and techniques will work with any pouring medium. I'll be using Floetrol and Liquitex pouring medium. You only need 1 pouring medium so why am I using 2? Because this workshop is about understanding the process, I demonstrate the principles with 2 different mediums so you can see how your paint and pouring medium mixtures impact your final canvas.
How long do I have to watch the videos? These are all downloadable and you have lifetime access so that it can fit into your schedule. You can also watch them on mobile devices like your phone or tablet.Join Flip Pour Secrets